Welcome to The Pixel Project's "30 For 30" Father's Day Campaign 2012! In honour of Father's Day, we created this campaign:
To acknowledge the vital role Dads play in families, cultures and communities worldwide.
To showcase good men from different walks of life who are fabulous positive non-violent male role models.
Through this campaign, we will be publishing a short interview with a different Dad on each day of the month of June.
Our eighth "30 For 30" Dad is Devaraj Arul from Malaysia.
———————————————————————————
The Dad Bio (In His Own Words):
I was born in Kampung Pandan, Kuala Lumpur. I fondly remember this place as 'my kampung (hometown)' as in many ways it was back then in the early fifties. I studied at Pasar Road English School (2) and then went on to secondary education at the Victoria Institution.My first job was as a PR assistant at a local organisation. I then moved on to an advertising agency and doubled as a PR Manager for a local hotel. Subsequently I joined a private higher education institution and am currently heading the School of Media Studies.
I have two wonderful children, Melissa and Daniel, both of whom are also in the Education sector. My wife is also a teacher at a private international school. You could say that education is in our blood. My hobbies range from travelling, watching and reading the National Geographic channel and magazine to reading non-fiction books.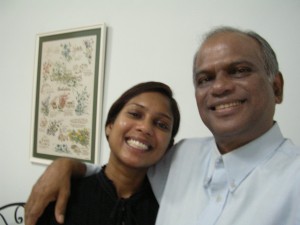 1. What is the best thing about being a dad?
There is a saying that "a father's job is never done." That's because even as a dad gets on with age, he never ceases to be a dad to his kids. A dad is forever. Amen.
But the joys of being a dad are fathomless, immeasurable even. A dad is a father, counselor, mentor, friend, companion, buddy, protector and role model. As the kids grow up a dad's responsibility shifts seamlessly, from one stage to another. And it is our innate sense of parenthood that enables us to deal with the problems and issues of growing children, albeit sometimes with trepidation.
The sense of joy comes through so many ways. The childish laughter of a small squealing child, the smile of a son who successfully puts together a crossword puzzle with the help of his dad, the look of satisfaction of a daughter who rides her tricycle the first time, the pride of going to college and graduating with a degree. The happiness of landing the first job and the companionship they offer when they become adults. Nothing on earth equals this.
2. A dad is usually the first male role model in a person's life and fathers do have a significant impact on their sons' attitude towards women and girls. How has your father influenced the way you see and treat women and girls?
My father was a traditional man who came from India and made his living here in the 1920's.He was not exactly well-educated but he took up English lessons and got a government job. He passed away when I was only 14 but what is still ingrained is the way he treated my mum and sister. Never was there a day he used harsh words on either one of them. He was always tender and loving to my mum. Even with his meagre salary he always lavished her with gold and sarees when he could afford them. Likewise, he doted on his daughter, giving her one of the finest weddings at the Chinese Assembly Hall.
I am absolutely certain that his life and the way he treated my mum and sister have been one of the major influences in my life. The impact it had on me is more than significant, it has, indeed, modeled my life and more so the way I have lived my life with my wife and daughter.
3. Communities and activists worldwide are starting to recognise that violence against women is not a "women's issue" but a human rights issue and that men play a role in stopping the violence. How do you think fathers and other male role models can help get young men and boys to take an interest in and step up to help prevent and stop violence against women?
This is vital question. I believe that violence against women is not only the domain of Women's Rights organisations. It is collectively and severally the responsibility of the male species, fathers and sons. It is no more the legitimate right of women but also the responsibility of men to fight this scourge. Women are to be respected, admired and loved.
I am in the education sector and what I see at the college level gives me some satisfaction. The boys here get along well with their female counterparts and give them the respect they deserve. But it is in the suburbs and rural areas that, I believe, the majority of violence against women occurs, although to some extent educated men also abuse their spouses and children.
Last year I had the privilege to 'walk a mile in high heels' for The Pixel Project on Father's Day. My daughter, Melissa Arul, who is volunteers with The Pixel Project persuaded me to take the 'walk'. I agreed, and in fact, looked forward to it, as I thought it was a great project by the organisers.
Role models are an important catalyst. We need to look for male role models who will also volunteer to go on road shows to schools to disseminate the importance of stopping the abuse and violence against women. The mass media especially the mainstream media should start focusing more on this subject. I see this as another vital fit in the fight against this predicament.
————————————————————————
Want to honour your Dad in a different way this Father's Day without breaking the bank?
We offer two (2) easy and fabulous options:
Option A: Make a Small Donation
Help us raise US$3000 or more this June by donating US$30 on behalf of your dad to our Celebrity Male Role Model Pixel Reveal campaign to help unveil our first superstar Celebrity Male Role Model – a beloved Nobel Laureate. US$30 will unveil 30 pixels and proceeds from the pixel sales are in benefit of the USA's National Coalition Against Domestic Violence and Malaysia's Women's Aid Organisation.
Option B: Dedicate a Song to Him
For just $0.99, you can download our first Music For Pixels song – a cover of 'The Rose' by AHMIR, YouTube's #1 R&B group and load it onto your Dad's computer's iTunes or digital music player. Not sure about it? Listen before you buy here: