Welcome to The Pixel Project's "30 For 30" Father's Day Campaign 2012! In honour of Father's Day, we created this campaign:
To acknowledge the vital role Dads play in families, cultures and communities worldwide.
To showcase good men from different walks of life who are fabulous positive non-violent male role models.
Through this campaign, we will be publishing a short interview with a different Dad on each day of the month of June.
Our seventh "30 For 30" Dad is Terence D'Alesandro from the U.S. Marine Corps.
———————————————————————————
The Dad Bio (In His Own Words):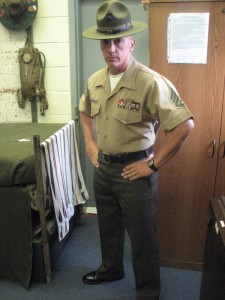 I was born in Columbia, South Carolina on 3 June 1968. I grew up there as well and graduated from Keenan High School in 1986. I am a graduate of South Carolina State University with a BA in Sociology in 1996. I am an active duty Marine Corps Gunnery Sergeant who has spent 15 years in the Corps in the infantry as well as two tours as a Drill Instructor, one at Parris Island, SC and one in San Diego, CA at the recruit depots. I'm a veteran of Desert Storm, Somalia, two tours to Iraq and one to Afghanistan as a Marine Corps infantryman.
My first son was born when I was 16 and I got full custody of him when he was 10 as a single parent and he's now a 27 year old Sergeant in the Marine Corps. I also have a 17 year old step-daughter and a 7 year old son. My hobbies are following professional and college sports, playing golf, running, working out and reading. I have been stationed in California twice, Virginia, North Carolina and South Carolina during my career as a Marine. I am going to retire in 5 years and enjoy my life and enjoy spending time with my children and their families.
1. What is the best thing about being a dad?
The best thing about being a father is seeing your children grow up, form their own personalities and identities, and mature into adulthood. I think it's the greatest thing you can experience in life. I love the mentoring and teaching that parenting provides to kids. I truly enjoy seeing them mature and begin to face life and its challenges, knowing that I did my best to prepare them to become independent individuals. I have no fear of them going off into adult life because I have faith that I prepared them for that to the best of my ability.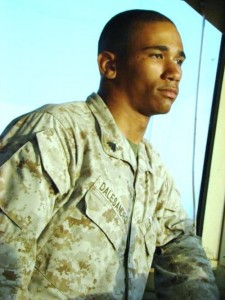 2. A dad is usually the first male role model in a person's life and fathers do have a significant impact on their sons' attitude towards women and girls. How has your father influenced the way you see and treat women and girls?
My father was the head of the household but he taught me that "you only have one mother and you will respect her and honor her for the rest of your life". My parents were divorced but my father insisted that I treat my mother like a queen because "she carried you and will love you on your worst days" and it was and is so true. I raised my oldest son to feel this way and I'm doing the same with my youngest. A young man's love for his mother is unmatched and it will translate into adulthood in how they deal with women.
3. Communities and activists worldwide are starting to recognise that violence against women is not a "women's issue" but a human rights issue and that men play a role in stopping the violence. How do you think fathers and other male role models can help get young men and boys to take an interest in and step up to help prevent and stop violence against women?
You have to teach young men how weak and disgusting it is for a man to put his hands on a woman. You have to teach young men to respect themselves and respect women and that nothing is ever worth putting your hands on a woman. It's easy for a man to abuse someone who isn't as physically strong as they are. It takes a weak-minded sorry man to ever, under any circumstances, abuse a woman. A man who does that is not a man at all. He's an immature, insecure, ill little boy inside, disguised as a grown man. You have to get young men to understand that and understand that the truly strong man walks away from a conflict instead of hurting a woman and degrading her and themselves at the same time.
————————————————————————
Want to honour your Dad in a different way this Father's Day without breaking the bank?
We offer two (2) easy and fabulous options:
Option A: Make a Small Donation
Help us raise US$3000 or more this June by donating US$30 on behalf of your dad to our Celebrity Male Role Model Pixel Reveal campaign to help unveil our first superstar Celebrity Male Role Model – a beloved Nobel Laureate. US$30 will unveil 30 pixels and proceeds from the pixel sales are in benefit of the USA's National Coalition Against Domestic Violence and Malaysia's Women's Aid Organisation.
Click here to donate: https://reveal.thepixelproject.net/buy-pixels/
Option B: Dedicate a Song to Him
For just $0.99, you can download our first Music For Pixels song – a cover of 'The Rose' by AHMIR, YouTube's #1 R&B group and load it onto your Dad's computer's iTunes or digital music player. Not sure about it? Listen before you buy here: