Welcome to The Pixel Project's "30 For 30" Father's Day Campaign 2012! In honour of Father's Day, we created this campaign:
To acknowledge the vital role Dads play in families, cultures and communities worldwide.
To showcase good men from different walks of life who are fabulous positive non-violent male role models.
Through this campaign, we will be publishing a short interview with a different Dad on each day of the month of June.
Our sixth "30 For 30" Dad is Kevin Grossman from California, USA.
———————————————————————————
About Kevin Grossman:
Kevin W. Grossman is the Chief Strategy Officer at Fisher Vista, LLC and HRmarketer.com. He has nearly 25 years of leadership experience in various capacities including marketing, HR and recruiting, technology and higher education. He's also a partner and collaborator of the TalentCulture community with as well as a co-founder of the online Twitter chat #TChat. Kevin received his BA in psychology from San Jose State University. He's a loving husband and proud father of two beautiful girls and a daddy who enjoys reading, writing, running, drumming and music.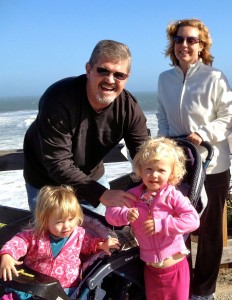 1. What is the best thing about being a dad?
It sounds almost cinematically cliché, as if from a brooding even brutal independent film with uplifting subtext and a hopeful ending, but it's true when I say it's getting to do right by me. In short: because my mother, sister and I grew up with an abusive father (actually one abusive biological father and one abusive step-father that finally led to my mother's third marriage and the man I proudly call Dad today), when my wife and I decided to have children, I wanted to ensure they would never have to endure that kind of damaging familial warfare.
In the same breath, I selfishly do right by doing right by my lovely wife and our lovely two little girls. That's the legacy I want for them to have, to take with them wherever they go in life for whatever they do, to share the legacy with significant others who will respond in kind.
To break the cycle of violence once and for all.
2. A dad is usually the first male role model in a person's life and fathers do have a significant impact on their sons' attitude towards women and girls. How has your father influenced the way you see and treat women and girls?
My mother married the man I now call Dad when I was 12 and my sister 10. By that time we were all pretty much damaged goods with our ability to trust being tentative at best. But, he was (and is) a good man who already had three daughters of his own. A straight-talking police detective, my new stepfather immediately showed us how a man can and should respect both women and men, family, friends and life. Everybody except the bad guys – he was a cop, you know.
Taking on parenting of older children and teenagers is no easy task, but he did it, with grace and no-nonsense, which is why we proudly took his name when he adopted us four years later. Both my dad and my mom both have been very ill of late, and so every moment with them is precious, as it should be at any point in life.
3. Communities and activists worldwide are starting to recognise that violence against women is not a "women's issue" but a human rights issue and that men play a role in stopping the violence. How do you think fathers and other male role models can help get young men and boys to take an interest in and step up to help prevent and stop violence against women?
By sensitising the desensitised. Meaning, we have to start intervening before anything escalates to violence, regardless of background or culture. Violence against women and children isn't okay and everyone has a voice to cry out for help and to give help to those who can't. So no to tolerating bullying or personal attacks or groupthink animosity "just because" is critical. No one deserves to be abused. Ever.
I have no illusions that we'll all hold hands peacefully and sing in perfect harmony worldwide, but I do believe men, especially fathers, can and should help prevent violence against women. Period.
Again, it's all about breaking the cycle of violence and the type legacy we want to leave. And I want to leave a loving one for my girls, one in which "good guys" abound – men and women – who truly want to live in a better world.
————————————————————————
Want to honour your Dad in a different way this Father's Day without breaking the bank?
We offer two (2) easy and fabulous options:
Option A: Make a Small Donation
Help us raise US$3000 or more this June by donating US$30 on behalf of your dad to our Celebrity Male Role Model Pixel Reveal campaign to help unveil our first superstar Celebrity Male Role Model – a beloved Nobel Laureate. US$30 will unveil 30 pixels and proceeds from the pixel sales are in benefit of the USA's National Coalition Against Domestic Violence and Malaysia's Women's Aid Organisation.
Click here to donate: https://reveal.thepixelproject.net/buy-pixels/
Option B: Dedicate a Song to Him
For just $0.99, you can download our first Music For Pixels song – a cover of 'The Rose' by AHMIR, YouTube's #1 R&B group and load it onto your Dad's computer's iTunes or digital music player. Not sure about it? Listen before you buy here: