Welcome to The Pixel Project's "30 For 30" Father's Day Campaign 2012! In honour of Father's Day, we created this campaign:
To acknowledge the vital role Dads play in families, cultures and communities worldwide.
To showcase good men from different walks of life who are fabulous positive non-violent male role models.
Through this campaign, we will be publishing a short interview with a different Dad on each day of the month of June.
Our fifth "30 For 30" Dad is Stu Chase from Canada.
———————————————————————————
The Dad Bio (In His Own Words):
I am in the Public Relations / Communications field, currently employed in the private sector as a communications manager with PricewaterhouseCoopers. I keep a personal blog at www.stuland.blogspot.com; it's basically a record of what the family is up to. I'm a bike commuter, lover of volleyball, kayaking and consider myself to be outdoorsy in general. I pretend to play guitar and I love music of all genres. I'm a proud dad of one son and one daughter.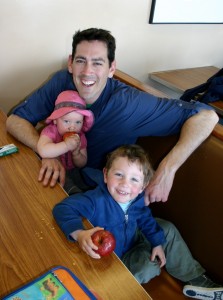 1. What is the best thing about being a dad?
It's hard to nail it down to one thing. Is it that moment of " I need you and you're the only thing that makes this better" when one of my kids comes running to me with a hurty knee or a stubbed toe, or is it the realization that I, despite being ten times older, am taught new things by my kids. It's great to be open to that possibility and see that as my kids grow, I grow, too.
2. A dad is usually the first male role model in a person's life and fathers do have a significant impact on their sons' attitude towards women and girls. How has your father influenced the way you see and treat women and girls?
My father was always utterly respectful of my mother. It was clear there was equal footing in the household and that intelligence was not something that belonged to one gender or the other. There was an appreciation for the fact that "dad was good at some things" and "mum was good at some things". As well, I grew up with another brother and a sister. Dad was never better or worse to any of us. I had no reason, in his actions towards us, to think that I was better than my sister.
3. Communities and activists worldwide are starting to recognise that violence against women is not a "women's issue" but a human rights issue and that men play a role in stopping the violence. How do you think fathers and other male role models can help get young men and boys to take an interest in and step up to help prevent and stop violence against women?
As a start, here's the approach we use to resolve the spats between our kids: "In this house, we use our words, not our bodies." By denying the physical part of anger, it levels the playing field for the kids. Can my son knock his sister to the ground? Yes. Should he, just because he's physically stronger? No. Thoughts and feelings need to be considered, and that is consistent across gender lines. Physical dominance is not okay.
I think men in general need to acknowledge the strong females they have in their lives, so that the generations below them can see women as equals. For example, my wife is a PhD with some impressive athletic achievements too. Her mother is a well-respected MD. My mother, sister, and sister in law are all teachers, with another sister in law on her way to medical school. Where women are able to be these people with these careers and achievements, how could anyone think its okay to be violent to try to control them?
Last, my son needs to know: if he sees violence against a girl or a woman, he has to speak up. Silence is a huge part of the problem.
————————————————————————
Want to honour your Dad in a different way this Father's Day without breaking the bank?
We offer two (2) easy and fabulous options:
Option A: Make a Small Donation
Help us raise US$3000 or more this June by donating US$30 on behalf of your dad to our Celebrity Male Role Model Pixel Reveal campaign to help unveil our first superstar Celebrity Male Role Model – a beloved Nobel Laureate. US$30 will unveil 30 pixels and proceeds from the pixel sales are in benefit of the USA's National Coalition Against Domestic Violence and Malaysia's Women's Aid Organisation.
Click here to donate: https://reveal.thepixelproject.net/buy-pixels/
Option B: Dedicate a Song to Him
For just $0.99, you can download our first Music For Pixels song – a cover of 'The Rose' by AHMIR, YouTube's #1 R&B group and load it onto your Dad's computer's iTunes or digital music player. Not sure about it? Listen before you buy here: