Welcome to The Pixel Project's "30 For 30" Father's Day Campaign 2012! In honour of Father's Day, we created this campaign:
To acknowledge the vital role Dads play in families, cultures and communities worldwide.
To showcase good men from different walks of life who are fabulous positive non-violent male role models.
Through this campaign, we will be publishing a short interview with a different Dad on each day of the month of June.
Our fourth "30 For 30" Dad is Joost Steffensen from the Czech Republic.
———————————————————————————
The Dad Bio (In His Own Words):
I was born in Denmark, but was raised in Holland. I studied engineering, but spent most of my life teaching languages. Currently, I live in Prague where I met my partner and together we have a beautiful five-year-old son who speaks four languages. I'm working for an IT service desk as a team leader which I'm enjoying very much. My hobbies include reading, writing, playing guitar and spending time with my family.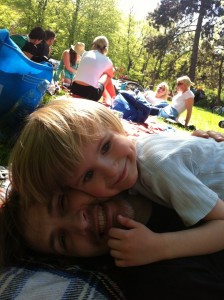 1. What is the best thing about being a dad?
The best part about being a dad is that it gives your life more focus. When you look at your child you can clearly articulate why you get up the morning, why you give 100% at your job and why you want to be there for your family. Being a dad allows you to be someone else's focal point, to provide an example, to tackle all the fundamental and the funny questions that life puts on your path. Being a dad is a positive thing, you can focus on shaping someone that's good and kind and that can bring sunshine to the world. To some extent that's easier than focusing on fixing what has already gone wrong.
2. A dad is usually the first male role model in a person's life and fathers do have a significant impact on their sons' attitude towards women and girls. How has your father influenced the way you see and treat women and girls?
My father has always made it clear that I'm to treat everybody with respect. He always told me that there are two types of people: "gentlemen" and everyone else. A gentleman is not just someone who opens doors for women, but someone who is indeed a "gentle" man, someone who looks and acts towards those around him in a gentle and thoughtful manner. I have never seen my dad treat my mother and sister nor any other woman with anything but respect and cordiality.
These are the lessons my dad taught me through his behaviour and what I try to keep in mind every day.
3. Communities and activists worldwide are starting to recognise that violence against women is not a "women's issue" but a human rights issue and that men play a role in stopping the violence. How do you think fathers and other male role models can help get young men and boys to take an interest in and step up to help prevent and stop violence against women?
As I was struggling with how to write this, my son comes in and asks me what I'm doing. So I tell him I'm writing something about men who are mean to women. And he asks me why the men are mean to women. I tell him I don't know and what would he do if he saw that. He said he would tell the men that it's not nice.
I guess right now it's still easy, and I know that he is at the moment equally mean or nice to the kids in his school regardless of gender, but that might change. Do I want him to know the extent of violence in the world? I remember that when I became aware of the existence of the war between Iran and Iraq (a long time ago) that it was something that I had a hard time letting go of. Do I want to introduce him to what's actually happening in Congo?
My first goal is to make sure he's happy and confident, sensitive and well-behaved. I'll try and monitor his behaviour for as long as I can and whenever I can I'll provide him with the right example. When he tells me stories of his behaviour or his friends that was out of line, I'll ask him to question it and how he reacted. When the time comes and he reaches the right age we'll sit down and talk this through all the way. I hope that by that time he'll already be light-years ahead of me.
————————————————————————
Want to honour your Dad in a different way this Father's Day without breaking the bank?
We offer two (2) easy and fabulous options:
Option A: Make a Small Donation
Help us raise US$3000 or more this June by donating US$30 on behalf of your dad to our Celebrity Male Role Model Pixel Reveal campaign to help unveil our first superstar Celebrity Male Role Model – a beloved Nobel Laureate. US$30 will unveil 30 pixels and proceeds from the pixel sales are in benefit of the USA's National Coalition Against Domestic Violence and Malaysia's Women's Aid Organisation.
Click here to donate: https://reveal.thepixelproject.net/buy-pixels/
Option B: Dedicate a Song to Him
For just $0.99, you can download our first Music For Pixels song – a cover of 'The Rose' by AHMIR, YouTube's #1 R&B group and load it onto your Dad's computer's iTunes or digital music player. Not sure about it? Listen before you buy here: