Welcome to The Pixel Project's "30 For 30" Father's Day Campaign 2012! In honour of Father's Day, we created this campaign:
To acknowledge the vital role Dads play in families, cultures and communities worldwide.
To showcase good men from different walks of life who are fabulous positive non-violent male role models.
Through this campaign, we will be publishing a short interview with a different Dad on each day of the month of June.
Our third "30 For 30" Dad is Ian Wilkinson from Texas, USA.
———————————————————————————
The Dad Bio (In His Own Words):
I am a technologist who has worked in A/V, large format theatres, and IT Support and Education. For fun, I play guitar, harmonica, and write songs, as well as build with Lego bricks. I am a scooter enthusiast and an active member of the 501st Legion (www.501st.com), an organisation that does community service while dressed as Star Wars characters. I am the proud father of Pixel, three years old, and her brother Sterling, who is not yet one year old.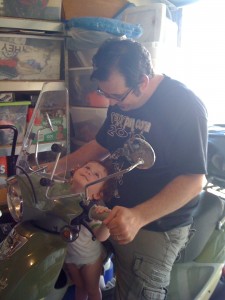 1. What is the best thing about being a dad?
I really enjoy the opportunity to view my family's past, present, and future in these little people. I can see traits of family long gone in my kids, which is fascinating. I really like the energy and enthusiasm that my kids bring into everything they do. I am very much amused at myself for having become this cliché of a parent who can so sincerely make statements such as the above.
Mostly, though, what I enjoy most is revelling in the simple joy that washes through me when I look at or even just think about my kids. I can't pin down exactly why I feel it, but it is very real, and very powerful.
2. A dad is usually the first male role model in a person's life and fathers do have a significant impact on their sons' attitude towards women and girls. How has your father influenced the way you see and treat women and girls?
My dad has been a great role model for my interactions with the women in my life. Dad never treated my sister or I differently, and he has always been careful to never, ever treat my mom the miserable way his dad treated my grandmother. No family decision was ever made in our household without my mother's equal involvement, and Dad has always made a point of including my sister in any activities that he involved me in.
(That said, my sister opted out of the hunting trips.)
3. Communities and activists worldwide are starting to recognise that violence against women is not a "women's issue" but a human rights issue and that men play a role in stopping the violence. How do you think fathers and other male role models can help get young men and boys to take an interest in and step up to help prevent and stop violence against women?
Men need to lead by living a good example- all men should treat women with respect, kindness, and courtesy… not because they are women, but because they are human beings, who are all worthy of respect, kindness, and courtesy as a matter of course. Living life in a loving and mindful way will naturally flow into all of their relationships and affect those around them for the better.
————————————————————————
Want to honour your Dad in a different way this Father's Day without breaking the bank?
We offer two (2) easy and fabulous options:
Option A: Make a Small Donation
Help us raise US$3000 or more this June by donating US$30 on behalf of your dad to our Celebrity Male Role Model Pixel Reveal campaign to help unveil our first superstar Celebrity Male Role Model – a beloved Nobel Laureate. US$30 will unveil 30 pixels and proceeds from the pixel sales are in benefit of the USA's National Coalition Against Domestic Violence and Malaysia's Women's Aid Organisation.
Click here to donate: https://reveal.thepixelproject.net/buy-pixels/
Option B: Dedicate a Song to Him
For just $0.99, you can download our first Music For Pixels song – a cover of 'The Rose' by AHMIR, YouTube's #1 R&B group and load it onto your Dad's computer's iTunes or digital music player. Not sure about it? Listen before you buy here: