Welcome to The Pixel Project's "30 For 30" Father's Day Campaign 2012! In honour of Father's Day, we created this campaign:
To acknowledge the vital role Dads play in families, cultures and communities worldwide.
To showcase good men from different walks of life who are fabulous positive non-violent male role models.
Through this campaign, we will be publishing a short interview with a different Dad on each day of the month of June.
Our second "30 For 30" Dad is David White from New Zealand.
———————————————————————————
About David White:
David White was born in Pahiatua in 1944 and attended schools there and Raumati, and was a founding student of Kapiti College in New Zealand . On leaving school, he took a temporary job at Whitcombe and Tombs (now Whitcoulls) and stayed with books, working for publishers and retail booksellers. He retired after selling the Highland Park Bookshop. He now lives in Matamata with his wife Pam. Until the death of his daughter Helen, his retirement consisted of driving a milk tanker for nine months of the year, and fulfilling dreams for the other three. Now responsible for his grandchildren, he is also actively involved in the prevention of violence towards women and is a White Ribbon Ambassador and author of HELEN: The Helen Meads Tragedy. Visit the White Ribbon New Zealand website at http://whiteribbon.org.nz/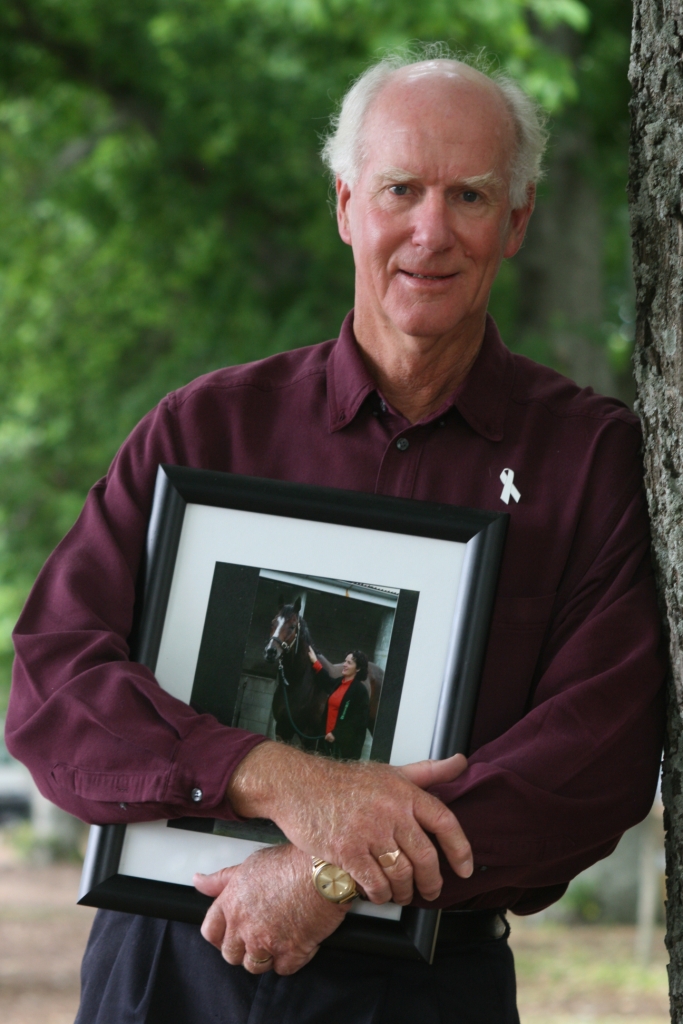 1. What is the best thing about being a Dad?
The gift of creating your own family. There was something quite unique in holding each of our three children for the first time, almost disbelief that Pam and I had been granted the privilege to have such a perfect baby each time.
For me the best time was while they were still young. Being able to play with them and watch their grow from dependant little beings to independent individuals. That stage of saying, "I can do it, Dad" while keeping them in sight in case help really was needed.
Now we have a broken grandchild to bring up. Our eldest daughter, Helen, was murdered by her husband, and her youngest is in our care. She was only nine when her mother's life ended. We had to become parents again, and to do it a second time around under these conditions was cruel. We were all broken people because of the tragedy and we all had a massive readjustment in our lives.
Now we are two and a half years down the track and several milestones easily come to mind: There was the first time she laughed again. The first time we heard her singing while climbing a tree in the backyard. The first time she wanted a school friend to come home to play.
These are the rewards of being a Dad.
2. A dad is usually the first male role model in a person's life and fathers do have a significant impact on their sons' attitude towards women and girls. How has your father influenced the way you see and treat women and girls?
My father a a role model. He was an unassuming man, he wanted no fuss made of him, no fuss when he died too young, and no flashy headstone. But the crowds came to his funeral, to pay their respects as he had treated all of them with respect.
"Treat no one with less dignity than how you want them to treat you," was what he told me from an early age. He practised what he preached, he expected no less from me. I have three older sisters and it was with them that the standard was set from my youngest memories.
He was never one to raise his voice, rarely even to show anger, and he abhorred violence.
The war showed him enough of that. He was a loving man, a gentleman in the true sense of the word. It was as though he found a reason to put each woman he met on a pedestal, each to be respected for their own reason.
I am now 67 and Dad died more than 40 years ago, but I still stand when a woman enters the room and give up my seat on public transport for a woman who is standing. I can hear his disappointment if I didn't.
3. Communities and activists worldwide are starting to recognise that violence against women is not a "women's issue" but a human rights issue and that men play a role in stopping the violence. How do you think fathers and other male role models can help get young men and boys to take an interest in and step up to help prevent and stop violence against women?
I have to doubt that answering question 3 would have held much merit if Helen was still alive.
Having a daughter murdered changes many things in the way you think. It certainly changed my commitment to speaking out about stopping the violence towards women.
I became an Ambassador for the White Ribbon campaign because of it, and it was an easy choice to make. It gives me the opportunity and platform to take a stand and show that violence is the wrong path to go down, that the end result is always a tragedy.
I tell young men and boys that it takes a level of bravery on their part to help prevent violence against women, a level that is far more important than the level of cowardliness of those who abuse women behind closed doors. They should help to stop that, as the result otherwise is that another father has to walk in my shoes, and that is where none should have to go.
————————————————————————
Want to honour your Dad in a different way this Father's Day without breaking the bank?
We offer two (2) easy and fabulous options:
Option A: Make a Small Donation
Help us raise US$3000 or more this June by donating US$30 on behalf of your dad to our Celebrity Male Role Model Pixel Reveal campaign to help unveil our first superstar Celebrity Male Role Model – a beloved Nobel Laureate. US$30 will unveil 30 pixels and proceeds from the pixel sales are in benefit of the USA's National Coalition Against Domestic Violence and Malaysia's Women's Aid Organisation.
Click here to donate: https://reveal.thepixelproject.net/buy-pixels/
Option B: Dedicate a Song to Him
For just $0.99, you can download our first Music For Pixels song – a cover of 'The Rose' by AHMIR, YouTube's #1 R&B group and load it onto your Dad's computer's iTunes or digital music player. Not sure about it? Listen before you buy here: