"Alone we can do so little; together we can do so much." – Helen Keller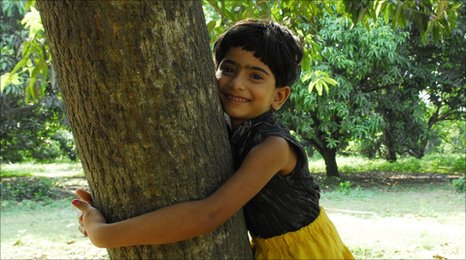 When I read BBC News' story about Dharhara village in rural Bihar in India has an unusual tradition that saves girls' lives, I could not help but echo what Nandani Singh, one of The Pixel Project's supporters, remarked: "Now THAT is what I call innovation at its best!"
And it all revolves around one simple act that is both economically astute and full of positive symbolism:
Planting fruit trees to mark the birth of each little girl.
As fruit harvests bring in much higher revenue than traditional crops, virtually all the families in the entire village are able to afford the dowries demanded by prospective bridegrooms once their daughters reach marriageable age. There are no "missing" girls and women because there is no female infanticide, nor do their daughters suffer from dowry murder.
Bonus is that Dharhara is literally the only village for miles around in this particularly parched region that is lushly shaded… all thanks to the fruit trees.
The true genius of Dhahara's unusual tradition is that it kills several birds with one stone. As one villager succintly puts it:
"This is our way of meeting the challenges of dowry, global warming and female foeticide. There has not been a single incident yet of female foeticide or dowry death in our village."
In an Indian state that is, according to the BBC, infamous for being the capital of dowry murder, this is a striking example of the power of positive cultural practices in preventing violence against women.
The smile of little Sneha – one of the little girls of Dharhara – hugging one of her fruit trees in the picture above, says it all.
Perhaps the three most potent lessons we can take away from the Dharhara case are the following:
1. It is all about positive solutions and putting them into action. The villagers of Dharhara did not just blindly follow the dowry tradition, nor did they sit around lamenting about gender-based violence. They came up with an elegant solution that fulfilled their intention of wiping out dowry deaths and female foeticide in their village while still honouring the dowry tradition.
In addition, by tying the solution to the lucrative fruit trade and with fruit trees frequently living on for several decades with good care, long after their daughters have married, the families will still have a welcome source of income.
2. There is always hope in the fight to end violence against women. Every day, in the most unexpected corners of the world where gender-based violence is at its worst and most deeply ingrained in the culture, there are people who take effective action every day to combat the violence.
3. It takes EVERYBODY working together to effectively prevent, stop and end violence against women. The fruit tree solution became positive practice that has been passed down from generation to generation and is still going strong because ALL the villagers – young, old, male, female – all fully buy into it.
The Dharhara case illustrates the type of positive, practical, action-oriented and solutions-oriented team approach that all of us working to end violence against women should take. Indeed, the more we (activists, nonprofits, think tanks, grassroots supporters) coordinate our efforts and present a positive and united front in our work to end violence against women, the more we will be able to swing global opinion our way and the more we will be able to shape and change the attitudes around us.
Wishful thinking?
Too idealistic by half?
Impossible?
Perhaps.
Then again, if a tiny village in India can do it, so can we no matter where we are in the world.
It's time to stop violence against women. Together.
– Regina Yau, Founder and President – The Pixel Project