Welcome to The Pixel Project's Voices Of Dads Against VAW blog interview series! This series takes our original 30 For 30 Father's Day interview series to the next level by opening this interview platform all year round to dads worldwide with one (1) dad interview published per month.
We created this interview series:
To acknowledge the vital role dads play in families, cultures and communities worldwide.
To showcase men from different walks of life who are fabulous positive non-violent and non-sexist male role models.
To provide dads worldwide a positive platform to share ideas about stopping sexism, misogyny, and violence against women and girls.
To date, over 150 dads have completed this simple yet thought-provoking interview. If you are a dad who is interested, you can fill in the interview form here.
For our February 2021 interview, meet  Prem Kumar Vijayan from India.
Picture courtesy of P.K. Vijayan.
---
The Dad Bio:
Dr P.K. Vijayan teaches English literature at Hindu College, Delhi University. He has a PhD in Development Studies from the International Institute of Social Studies, The Hague. That research was published in 2020 as a book, Gender and Hindu Nationalism: Understanding Masculine Hegemony. He reads, writes, teaches, and whenever allowed to or invited to, talks about men, masculinity and violence.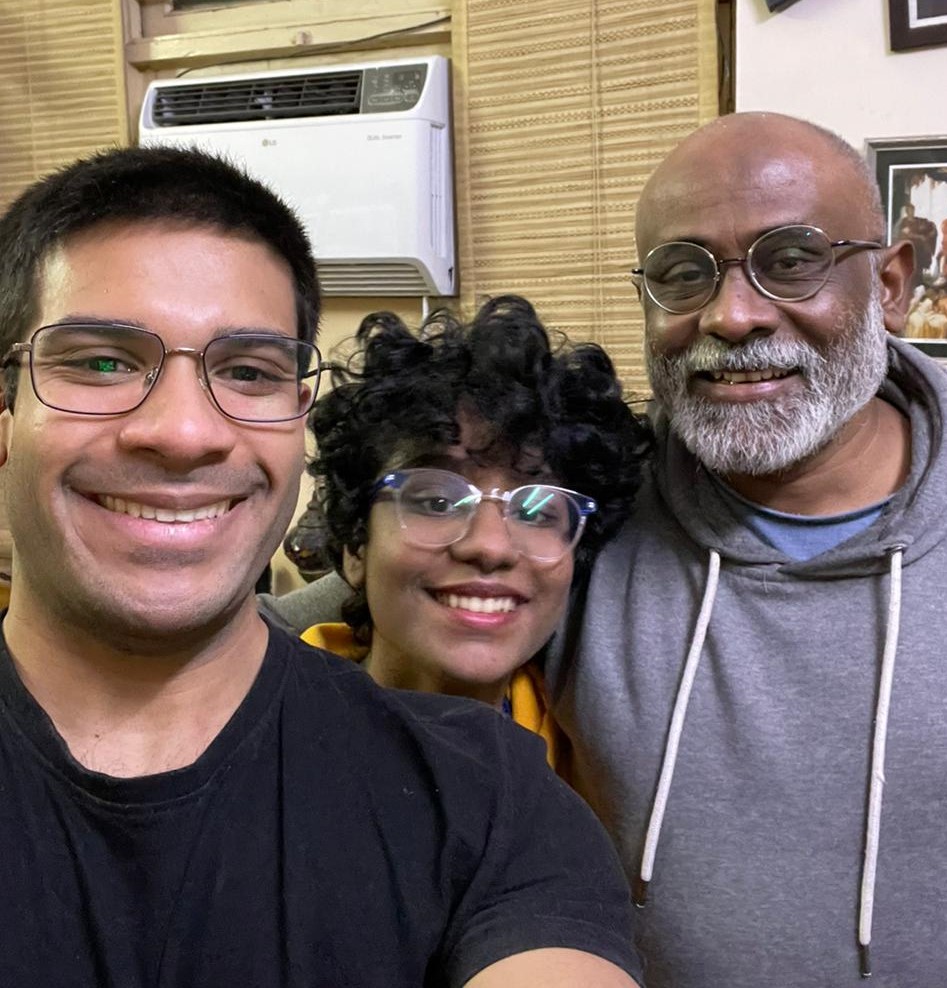 1. What is the best thing about being a Dad?
Every day I learn something from my children (no exaggeration). Both my children are keenly gender sensitive, not only because my partner and I strive to be so, but because they themselves have deliberately and consciously cultivated that sensitivity. As a result, there are moments when they point out my own gendered conditioning, and I am happy to say that we strongly encourage them to speak openly and freely about these issues.
2. A dad is usually the first male role model in a person's life and fathers do have a significant impact on their sons' attitude towards women and girls. How has your father (or father figure) influenced the way you see and treat women and girls?
My father was a major influence on the way in which I relate to women. He always made it a point to take on household chores that were (and remain) traditionally the domain of women. Both he and my mother also ensured that I did the same. I don't recall ever being treated with greater favour by either of my parents in relation to my three sisters. No decision, big or small, was ever taken without consulting my mother, and vice versa. For their generation, and social background, I believe they were very progressive.
3. Communities and activists worldwide are starting to recognise that violence against women is not a "women's issue" but a human rights issue and that men play a role in stopping the violence. How do you think fathers and other male role models can help get young men and boys to take an interest in and step up to help prevent and stop violence against women?
I believe the most important aspect of this struggle is to get boys and men to listen to girls and women earnestly and sincerely, and without dismissing their feelings or disrespecting their sentiments. If a girl or a woman feels threatened, intimidated or even just put-off by something they do or say, it is crucial for them to understand that they cannot, must not dismiss that as "drama" or whimsicality but take it seriously. They need to learn that boys cannot behave toward girls in the way they behave toward other boys, nor men to women in the way in which they behave toward other men. And as importantly, they need to realise that there is nothing either disempowering or emasculating in doing so.