Welcome to part two of our August 2020 Inspirational Interview with Jenni Tuominen, Managing Director of MONIKA (Multicultural Women's Association, Finland), a nationwide multicultural women's NGO that promotes the equality and inclusion of immigrant women in Finland and prevents violence against women. 
Ms Tuominen has worked for over 17 years to prevent violence and discrimination against women, with a focus on migrant women. She has experience establishing and organising low threshold and crisis services for women, including victims of human trafficking and honour-related violence. She has been especially active in creating multicultural teams and managing diversity. MONIKA, which consists of 40 colleagues of many backgrounds, is recognised as an exceptional organisation among Nordic countries due to its diversity. 
In this part of the interview, Ms Tuominen talks about how her organisation has made decision makers aware of the specific types of violence immigrant women face and the organisation's future plans.  
Part 1 of this interview was published on 30 August 2020.
Photos courtesy of MONIKA.
---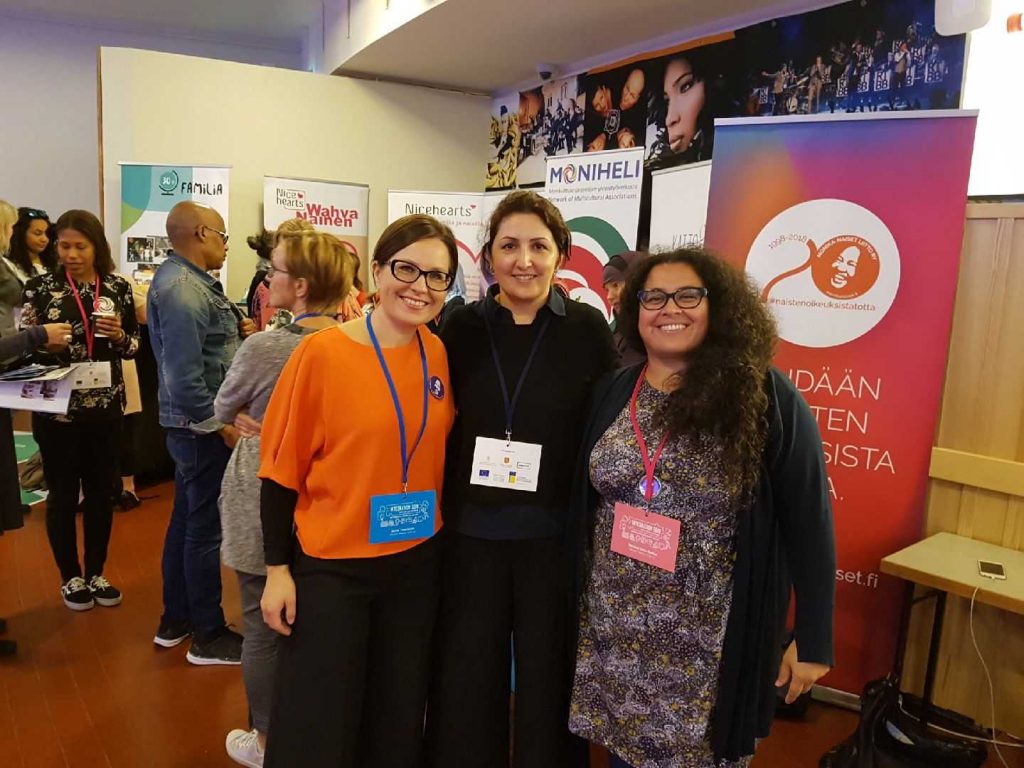 6. Over the years, what sort of impact has MONIKA had on Finland's approach and attitudes towards violence against women?
MONIKA has been one of the only NGOs to raise the issues faced by immigrant women in social debates and to advocate for their rights. During all our years in operation, we have strongly highlighted the challenges and problems in many legislative and expert groups, and in nationwide training of decision-makers and organisations. 
Awareness of our services and work has spread widely, especially at the national level, but also on a European level. Our lobbying work has also paid off. We have been actively involved in various anti-violence campaigns and have ensured that the perspective of immigrant women is heard.
Much remains to be done, but our work has made decision-makers more aware of the issues of immigrant women who have experienced gender-based violence.
7. How do you think men and boys can help to end violence against women?
The perception that Finland and the other Nordic countries are dream countries for equality is very strong. Behind this myth is the reality that violence against women is still common in Finland. Changes in attitude begins from realising and acknowledging this reality. Achieving equality requires everyone's participation — it cannot be only a women's struggle. Therefore, engaging men and boys in the fight for women's rights is highly important. It must be clear to everyone that violence is always a crime and this education must start from early childhood.
8. Tell us about MONIKA's plans for the future. What campaigns, programmes, or projects do you have coming up in the next 5 years?
Our overall mission is to ensure a safe and equal life for every woman of immigrant background in Finland. We are campaigning for this with a slogan: Let's make women's rights a reality! The work to end violence against women requires longstanding financial resources and attitude change.  
In the next five years, we will continue to work to achieve this goal step by step: by encouraging strong and active advocacy work among decision-makers because violence against women and girls is a political issue. It means that every country should shoulder its responsibility to build societies where women's rights are respected and their bodily integrity is protected. Indeed, the Istanbul Convention is one very important tool to make women's rights a reality because it sets a comprehensive set of standards to prevent violence and guarantee the right of every woman to live free from violence. 
We will also continue to develop our services to become even more accessible in line with the diversity of the target group. This means that our services are multilingual, women- and child-friendly, and accessible regardless of location. We will also take into account issues related to mobility, sight, hearing, communication, and electronic communication. 
9. How can The Pixel Project's supporters engage with and support the efforts of MONIKA to stop violence against women?
We welcome all to join our work to make women's rights a reality! Our services and activities take place in Finland, but it is always possible to join the MONIKA movement by sharing information about our work in your networks and in social media, or by donating to our organisation.  
10. In your considered opinion, how can we end violence against women for good?
We need to invest in improving the equality of women and increasing the social participation of women around the world. Through these improvements, we can move towards eliminating violence against women. Lately there has been a global backlash to women's rights, but it won't stop us — it will empower us to keep taking action.
Nationally, we should start by identifying the fact that, even in a safe country like Finland, for example, there is still a huge amount of work to be done to make gender equality a reality. Strong political will and commitment are needed. Every country must work hard, step by step, towards a more equal world without violence against women. The role of NGOs like MONIKA in this work is significant as we continue highlighting grievances and demanding an end to violence against women.