Welcome to part two of our May 2019 Inspirational Interview with E. Laurie Shiell-Smith, executive director of the Centre Against Abuse (CAA) in Bermuda, which she has led for the last 10 years.
During her tenure, CAA became accredited under the Bermuda National Standards Committee and is seen as the leading agency in the country for providing services to victims of domestic abuse and sexual assault, and also community awareness on these topics. Ms. Shiell-Smith has represented Bermuda at various Caribbean workshops and conferences and was appointed as the chairperson of the Bermuda Women's Council between 2010 and 2014.  During her tenure the Council worked on a number of women's issues in Bermuda, which included working towards having CEDAW (United Nations Convention for the Elimination of All Forms of Discrimination Against Women) extended to Bermuda. 
In this part of the interview, Shiell-Smith talks about the impact CAA has on Bermuda's attitudes towards violence against women as well as what men and boys can do to help stop the violence.
Part 1 of the interview was published Sunday, May 26, 2019.
All pictures courtesy of Centre Against Abuse.
---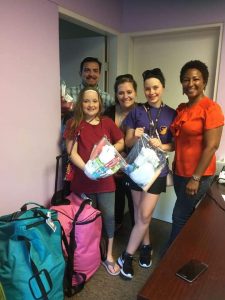 6. Over the years, what sort of impact has CAA had on Bermuda's approach and attitudes towards violence against women?
CAA has seen Bermuda become more open to discussions about violence against women. When we initially would go on radio shows to bring community awareness, no one would call.
Now when we go on air, the telephones do not stop ringing, and we get calls from men and women. We believe the more we speak about this topic and bring awareness, the more people will recognise that there is help available to support them and this need not be a topic that is taboo.
7. What do you think men and boys can do to help end violence against women?
CAA used to provide a Batterers Intervention Programme, but due to a lack of funding we had to do away with that programme. Thankfully, this programme still continues, but just not under our umbrella.  This programme assists those who are abusers and want to change their ways.
For all boys and men, they can:
Call out bad behaviours with their friends and not encourage the behaviours
Talk to others about responding appropriately to challenges
Talk to other males about treating girls and women with respect
Model respectful behaviours
Show up to our events with their sons, and even help out at our events

8. Tell us about CAA's plans for the future. What campaigns, programmes or projects do you have coming up in the next five years?
Over the next five years, one of our plans is to be more present in the middle schools and provide awareness consistently during those years, so that by the time they hit high school they know the correct behaviours, understand red flags and also know resources available to them.
9. How can The Pixel Project's supporters engage with and support CAA's efforts to stop violence against women?
Pixel Project supporters can like our Facebook and Instagram pages, and also share our posts on their pages to get the information out there. The more voices that spread the message, the more people can be reached and encouraged to end violence against women.
Pixel Project supporters can go to our website, www.centreagainstabuse.bm to donate funds as well.
10. In your considered opinion, how can we end violence against women for good?
We can end violence against women by:
a) Working from a governmental level, by putting laws in place at all levels that:
consistently punish those that are abusers, which includes required attendance to a batterer intervention programme
support survivors by providing greater protection and easier reporting structures to press charges and obtain a protection order
provide a curriculum through the education system from nursery through college that teaches non-abusive behaviours, red flags and how to obtain help
b) Working from a community level, by ensuring that bystanders know how to respond when they see or hear domestic violence
c) Working from a family level to model respectful behaviours and know how to immediately address abusive behaviours
d) Working from a personal level to self-check ourselves to ensure that we are not abusive or reinforcing abusive behaviours.