Welcome to part one of our November 2018 Inspirational Interview with Jaf Shah, executive director of Acid Survivors Trust International.
Jaf Shah started as a programme manager working on projects in South Africa for a charity whose patrons included Nelson Mandela and Desmond Tutu. He has implemented multiple British government- and UN-supported projects. He has worked on projects in Asia, Africa, South America, Eastern Europe and the Middle East. He was an award panelist for Stars Foundation Impact Awards which awards grants to not-for-profits which evidence impact in delivering protection and health of children in low-income countries.
Part 2 of the interview will be published Monday, November 26, 2018.
All photos courtesy of Acid Survivors Trust International.
________________________________________________________________________________________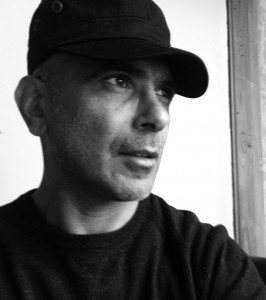 1. How and why did you join the movement to end violence against women, and how did you come to work with Acid Survivors Trust International (ASTI)?
I have worked in the social justice, human rights and international development sector for over 25 years, and as a consequence I travelled a great deal to many different countries in most regions of the world. A commonality is the issue of inequality between genders. It is a constant. In this environment, violence against women and girls is normalised, and acid violence is just one manifestation of that violence. I had become aware of acid attacks long before I joined ASTI, and was of course shocked and appalled by this particularly brutal and horrific form of violence.
I would like to take this opportunity to correct much disinformation on the subject of acid violence. It is not a problem that originated in poor countries in the global south. Its origins are in the West dating back as far as the early 19th century.
2. ASTI is currently "the only international organisation whose sole purpose is to end acid violence at a global level." What is acid violence, and why does it disproportionately affect women and girls?
Acid violence is a premeditated form of violence. Women and girls are overwhelmingly the targets of attacks, and men are most commonly the perpetrators. Violence often occurs as a result of domestic or land disputes, a violent act of revenge towards a girl or woman who has rejected a marriage proposal or spurned sexual advances. Children also become victims as a consequence of attacks on their mothers, as well as sadly on occasion being targets themselves. Acid attacks are therefore most common in societies with unequal relations between men and women, and where the rule of law is weak.
Injuries are usually directed at the face, causing life-altering disabilities including disfigurement and blindness. The premeditated act is designed to disfigure, maim and push the victim of the attack into a state of extreme social isolation through shame and stigma associated by her changed facial appearance.
3. Can you tell us more about ASTI's approach to stopping acid violence and the services you provide for victims, survivors, and communities?
ASTI adopts a multi-prong approach. We aim to bring about changes in attitudes (challenge behaviour on violence and gender) to help address the underlying root causes of acid violence and advocate for changes and effective implementation of laws such as tightening controls on sales of acid and appropriate justice for survivors.
ASTI has partnered with UN Women and the British Government's Department for International Development implementing programs in multiple countries to ensure that survivors access appropriate medical and psychological care but also have access to opportunities that can further their well-being and economic dependence. We have worked with local in-country partners to raise awareness through media work to encourage survivors to report attacks and access key services such as legal support to pursue justice. We also work with survivors so that they are agents and advocates for change.
4. What are the specific challenges that ASTI faces in your work to eradicate acid violence?
Sadly, we face multiple challenges:
Firstly, at an organisational level we are a small charity addressing a global challenge. Issues around capacity (staffing) and lack of funding limit the scope of our activities.
Secondly, an indifference of governments to the scale of suffering and the impact of an acid attack on a survivor, the family and the wider community.
Thirdly, as a consequence of the indifference of governments and key institutions many survivors are not able to access the support they desperately need whether that be medical, psychological, legal or financial.
Fourthly, successful rehabilitation and reintegration of survivors into mainstream society requires multiple interventions to occur simultaneously. For example, survivors often live in a state of fear of reprisal if their perpetrator is not caught. This in turn creates extreme levels of anxiety, which makes recovery more difficult.
5. ASTI has partners in Bangladesh, Cambodia, India, Nepal, Pakistan and Uganda. Why did you choose to have partners in these countries, and what are some of the projects and initiatives that they work on?
ASTI helped create local partner organisations in the aforementioned countries. These countries were identified due to worrying levels of attacks. The positive news is that Bangladesh, Cambodia and Pakistan have seen dramatic decline in the number of attacks over recent years. We have collaborated with our in-country partners on medical and psychosocial support, advocacy, research and awareness raising programmes. For example, in Nepal we have helped secure support for a burns unit in Kathmandu as well as raise awareness in rural areas through street theatre. In Pakistan we have helped secure support for awareness-raising radio campaigns that have reached millions of people.