Welcome to part one of our October 2018 Inspirational Interview with Susan Jack, training and development worker with Glasgow Women's Aid.
Ms. Jack trained as a nurse at The Western Infirmary and then completed a degree in History and Social Policy at the University of Glasgow. Following a year of work in the Social Policy department, Susan took up her post as a Training & Development worker with Glasgow Women's Aid in 2002. She was born in Glasgow and as a child lived in Switzerland, Iran, and Birmingham before settling again in Glasgow. Today, she lives with her two teenage daughters and is passionate about challenging the abuse of women and children.
Part 2 of the interview with Susan Jack will be published on Monday October 29th, 2018.
All pictures courtesy of Glasgow Women's Aid.
__________________________________________________________________________________________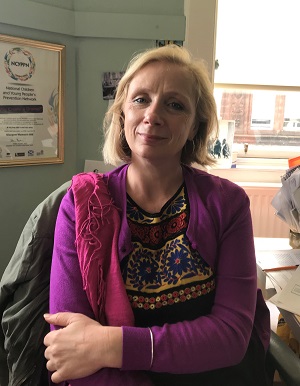 1. How and why did you join the movement to end violence against women and how did you come to work with Glasgow Women's Aid (GWA)?
From a young age I had been aware of Women's Aid and the important work that they carry out. I knew that violence against women was a huge social problem and as a feminist organisation they were challenging the patriarchal structures in society that perpetuate this abuse. When I saw a job advertised by Glasgow Women's Aid in 2002, I immediately applied and was lucky enough to get the position of Training and Development worker. Sixteen years later, I'm still here!
As the Training and Development worker, I am in a position to work with people from a wide range of backgrounds. This gives me the opportunity to inform participants of the root causes of abuse and the impact to those affected. Domestic abuse continues to be a significant social problem; with an estimated 1:4 women experiencing domestic abuse at some point in their lives, so it's hugely important that we continue to raise awareness.
2. GWA has been providing advocacy and support services to families and the communities within Glasgow since it started in 1973 and is affiliated with Scottish Women's Aid. How did GWA come to be founded?
In 1973, as part of the Second Wave of the women's movement, women were coming together in awareness-raising groups and discussing their own experiences. Many women talked about the abuse they had experienced from their partner.
As a result of this, a core group of women managed to get Glasgow City Council (Corporation as it was then) to give them a flat that could be a safe refuge for women and their children. The flat that they were given was in the Gorbals and was considered unfit for human habitation. I have to say, our refuge provision has improved a great deal since then! I would also like to mention that the founding members of GWA were all volunteers and are truly inspirational women.
3. Can you tell us more about GWA's approach to stopping domestic violence and the services you provide for victims, survivors, and communities?
GWA is a feminist organisation which recognises that the forms of gender-based violence, carried out against women and girls, are a result of the continuing imbalance of power in society. We provide information, support and temporary refuge accommodation. Upon leaving the refuge, we have a Follow On service. We also have an Outreach service for women, children and young people, a Play Therapist and the Cedar Team. We also use social media as a way of raising awareness around these issues.
4. How has GWA's approach and remit evolved since 1973?
Our service has developed in a way that has been directed by the women, children and young people that we have supported. In 1973, the focus was purely on refuge provision but as we learnt from women, the service developed to include a public access office and support for women and children that are not accessing refuge accommodation.
In 1973, GWA was run by volunteers but we now have 40 paid workers. Until 2006, the organisation was run as a Collective, however as GWA grew, it became problematic running the organisation this way. Like many charities, in recent years we have had to develop our fundraising skills in order to maintain the standard of our service provision.
5. Over the decades, what sort of impact has GWA had on Scotland's approach and attitude towards domestic violence?
Women's Aid groups have played a pivotal role in raising awareness around domestic abuse. Attitudes have changed, but not as much as they need to. In the 1970's, on-street campaigning was more common and has been replaced in part, by social media. Scottish Women's Aid, as the overseeing body of Women's Aid in Scotland, have directly worked with the Scottish Government to address the experiences of women and children and to ensure that they receive the best possible support. This includes working with COPFS.
Many children and young people have been supported by workers, to take their personal input to law makers. Not only is this empowering, it also influences people that are in a position to make a change.