Welcome to The Pixel Project's "30 For 30″ Father's Day Campaign 2016! In honour of Father's Day, we created this campaign:
To acknowledge the vital role dads play in families, cultures and communities worldwide.
To showcase men from different walks of life who are fabulous positive non-violent and non-sexist male role models.
To provide dads worldwide a positive platform to share ideas about stopping sexism, misogyny, and violence against women and girls.
This is our 5th annual 30 For 30 campaign and through it we will be publishing a short interview with a different Dad on each day of the month of June.
Our eighth "30 For 30″ 2016 Dad is Jerry Strausbaugh from the USA.
__________________________________________________________________________________________
The Dad Bio
Jerry is originally from a little town in Southeastern Ohio called Albany. He is the Executive Director of Appleseed Community Mental Health Center, an agency in Ashland, Ohio that provides mental health, employment, housing, domestic violence, juvenile court, corrections, and school-based programmes in the community. His hobbies include blogging , researching and speaking on topics in mental health, leadership and spirituality, and hiking and hanging out with his cool family. Jerry has been married to his wife Jane for 27 years and has three daughters, Melisa, Abby and Krista.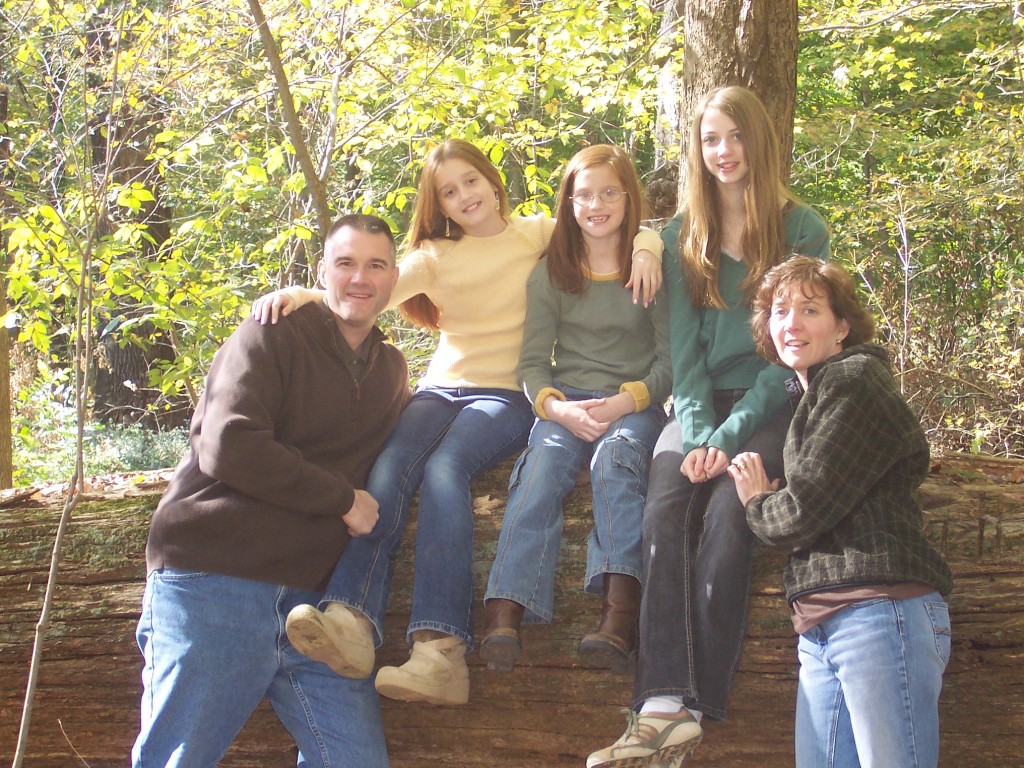 1. What is the best thing about being a dad?
Wow where to start? I have three daughters. They are 23, 21, and 18. I love hanging out with them, conversing with them and laughing with them. Over the years I have such awesome and fun memories of doing all kinds of fun things together. Maybe one of the best things has been seeing them grow into the young women they are designed to be and being able to help guide them and nurture them to unleash their potential.
A dad is a coach, protector, mentor, buddy, and cheerleader all rolled into one. Fathers show their daughters they deserve respect by treating them with respect. I believe one of the most important actions of a father is the being careful about the words he uses to describe his daughters. I made it a regular practice to tell my girls how courageous they were, how hardworking they were, how gifted they were and how beautiful they were. A wise psychologist once told me, "the YOU statements of childhood become the I statements of adulthood." I tried to make sure my daughters grew up with a positive and strong picture of who they were and are.
2. A dad is usually the first male role model in a person's life and fathers do have a significant impact on their sons' attitude towards women and girls. How has your father influenced the way you see and treat women and girls?
I grew up in the 1960s and 70s. The two primary ways that I learned how to treat women was first by watching how my father treated my mother, grandmother and two elderly females in our neighbourhood; and secondly by watching how he reacted when my brother or I ever were disrespectful to our mom.
On Sundays our family would pick up two elderly neighbour ladies for church. My dad always waited for them to come to the door no matter how long it took. He held the car door for them. He listened without interrupting. He constantly demonstrated kindness.
My father was always welcoming when my grandma would visit. He made sure my brother and I knew we were to be patient, helpful and kind to her because she deserved respect.
My father treated our mother like an equal partner. He thanked her for the meals she prepared. If she was sad he would listen. He never took her for granted. When my brother or I would show any disrespect he made it clear in no uncertain terms that our mother, like all women, was to be honoured. We never forgot the example he set for us.
3. Communities and activists worldwide are starting to recognise that violence against women is not a "women's issue" but a human rights issue and that men play a role in stopping the violence. How do you think fathers and other male role models can help get young men and boys to take an interest in and step up to help prevent and stop violence against women?
Changing the behaviour of a culture starts one person and one family at a time.
For young men and boys to develop respect and esteem for women they must be taught early. Role modelling is the greatest form of teaching. A father must begin by showing respect for his children's mother and for his daughters. As he shows respect through his behaviour he must couple that with telling the young men in his life why he does this. He must make it clear that women of all ages are to be respected and valued for their intrinsic and unique gifts and qualities.
Equally, whenever a father is with his son watching media and women are disrespected or harmed, the male role model must voice his disagreement with it. A father should never make jokes or mock women for their looks and should challenge or correct his sons when they do. He must instruct his sons to challenge others when they belittle women. Like the Jewish tradition found in Deuteronomy 11, fathers must teach this truth to their boys when they are home, when they walk on the road, when they lie down, and when they get up.