This month's Inspirational Interview is with Tania Rashid, a freelance correspondent, multimedia journalist working in print and photography, and the producer of the short documentary, "A Crime Unpunished: Bangladeshi Gang Rape" She has hosted and produced films for Vice on HBO, Vice News, Al Jazeera English, and CNN International. Rashid was one of the first reporters on the ground when the 9-story garment factory, Rana Plaza collapsed in Savar, Bangladesh 2 years ago. During her time at CNN International, Rashid worked as correspondent and producer and covered the elections and controversial hanging of Quader Mollah, the leader for Bangladesh's largest Islamist party called Jamaat-e-Islami. She also covered human interest stories for Vice News in Bangladesh on gang rape, lives of sex workers, and the effects of toxic tanneries on it's laborers. Most recently Rashid hosted a piece for Al Jazeera's 101 East on child marriage. Rashid received her B.A. in 2007 from UCLA where she majored in history and global studies. She received her masters in broadcast journalism and documentary from Columbia University in 2012.
The second part of her interview will be posted on Monday, March 29, 2016.
All pictures are courtesy of Tania Rashid.
________________________________________________________________________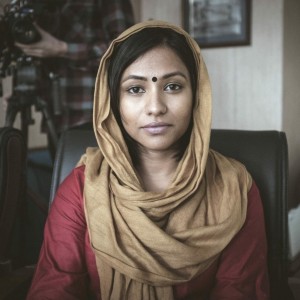 1. What inspired you to become a multimedia journalist who not only works in print but also film and photography?
My passion for telling good stories is what made me want to become a multimedia journalist. I believe that through the visual arts such as video and photography, there are so many stories that can be told. I appreciate print but there is another kind of feeling when someone can see that you are there, that you are part of a story and part of a moment with someone. When you can capture those things on camera, it becomes much more immersive and people can see a human side to what is happening in the world.
2. You have talked about "digging for a truth in places where nobody wants to go" as part of your work as a journalist. Indeed, the issue of violence against women (VAW) is definitely a place that many people do not want to go either because it is regarded as a taboo topic or a non-issue by many cultures. What galvanised you to dig for the truth on the human rights issue of VAW in your work as a journalist?
I dig for a truth in places where nobody wants to go. If someone does not go there, then no one will know. I like to cover issues that are hard to access. It is the reason why I looked into violence against women and took it upon myself for two reasons: I have had a long history of violence against women in my family and it hits home for me and drives my passion. Violence against women is also an under-reported story that needs to be heard and told.
In Bangladeshi culture, violence is overlooked and no one is held accountable. When you lay out the facts and you tell it like it is, it allows the viewer to see for themselves that injustice is happening every day, in front of you. There is so much happening in the world and it is our place, as journalists, to go in there and give people these stories and give voice to people who are often not heard by mainstream media. It is my honour to tell these stories of the world beyond us.
3. Tell us about your short documentary "A Crime Unpunished: Bangladeshi Gang Rape" that was released by Vice News. How did you come to make this documentary and what were the challenges you faced when confronting the issue of rape in Bangladesh?
A Crime Unpunished was a very difficult film to make. It is a story I had been wanting to do for a long, long time and, finally, VICE News commissioned it. It was a very difficult story to do because there is no woman who actually wants to talk about being gang raped. I was fortunate enough to meet with Rohima who shared her story. When I met her, it was just 30 days after her rape and it was very, very difficult to see her in such a vulnerable position. She was blamed for it and, I believe, she still lives in hiding.
Rape in Bangladesh remains a huge problem. Incidents of gang rapes of girls and women are reported daily in the news. While these crimes are happening so often, it is not being addressed. No one is telling the story of the survivor and that is why I decided to do the documentary. I wanted more than the perspective of the women being raped – we also need to know why the men do it; and that is why I interviewed the gang rapists to hear what they had to say about it.
4. Prior to "A Crime Unpunished", you have also reported on Daulatdia, the largest legal Bangladeshi brothel and the largest bordello in the world. How did you come across Daulatdia and what motivated you to tell the story of the women and girls who work there?
I came upon Daulatdia after I was trying to do an exposé in a brothel called Tangail but it was demolished by local politicians. So the second largest brothel next to the Tangail brothel was the Daulatdia! I wanted to give voice to these women who are disrespected and shunned upon by society. I wanted to show their voice, and that they are humans, and my goal was to get that human connection. I wanted to show the human connection and their lives, their world, and the injustices that brought them there.
5. How do you think men and boys in conservative communities and cultures like Bangladesh help end violence against women?
I think there are male activists who are involved with ending issues like child marriage and violence against women and other injustices happening but their voices are not on a mass scale. Men need to be held accountable and until that happens, I do not see change happening in Bangladesh.