We continue our interview with photographer Grace Brown. In this part of the interview, Grace talks about her work as a speaker and how people can get involved in Project Unbreakable.
Grace's work for Project Unbreakable has been featured on CNN, TIME, The Guardian, and The Huffington Post. In 2012, she was named one of Jezebel's 25 Up and Coming Women, and was given the "Heart of Gold" award by the Joyful Heart Foundation. She also is a portrait and yoga photographer and currently resides in New Jersey.
You can read the first part of her interview here
________________________________________________________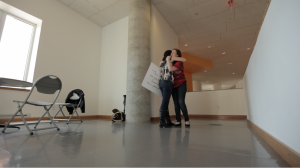 7. We understand that you give lectures at U.S. universities and colleges. What do you offer in your workshops and lectures?
We share a little bit of the history behind the project and share stories behind the images. We dispel myths surrounding sexual violence and discuss the very important topic of consent.
8. If one of our readers wants to take part in your project, how should she/he contact you?
If you would like to submit your own image, feel free to send it to us. Our email for submissions is projectunbreakablesubmissions@gmail.com. Our general email is projectunbreakable@gmail.com, where you can contact with any other questions you may have.
9. What is next for Project Unbreakable?
We are actually now expanding to involve survivors of domestic violence and child abuse, and are working on setting up photo days for those topics. We want to be able to reach as many people are possible.
10. How can our readers support your work?
We would love for you to share it if you find it powerful. We also have an online store where you can buy bracelets and donate to the project.
.
11. In your considered opinion, how can we end violence against women for good?
Ideally I would hope that we could end violence against people in general, not just women. But I think the first step is to simply talk about it. I think that's how we will get there – small steps.