We continue our interview with Ewa Grochowska. In this part of the interview, Ewa talks about her art activism and how her charity Freedom4Ewa impacts other survivors.
Ewa started Freedom4Ewa in 2012, combining her art as a healing force in her life with her activism to end domestic violence. She provides support and art supplies to other survivors on their healing journey.
You can read the first part of her interview here.
_______________________________________________________________________________________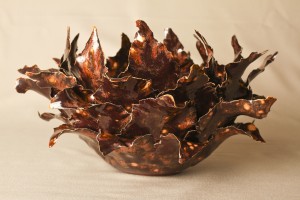 5. The Freedom4Ewa Project has clearly been a turning point in your recovery and your work is absolutely beautiful. Tell us about the project and when did you became inspired to turn your pain into creativity.
Art has always been the one constant in my life and it has always helped me to overcome any internal struggles that I had growing up in a violent house as a young child. Art helps to heal. For me, visual art is life-saving. The day I started Freedom4Ewa was the day that I was told to sweep what I went through under the rug. I refused to do so. Instead I decided to speak up and take action in order to end this vicious cycle not only in my own family but in other families as well.
I am a pottery artist / ceramic sculptor and a domestic violence activist who is helping other survivors in their journey to freedom so that they are able to live in love. To accomplish this I am donating my time and art supplies to provide children living in domestic violence shelters with art programmes. I also go around and speak at schools, to individuals, and non-profit organisations for kids where I share my story of survival. I share my story to reach out to other victims and survivors so that they know that they are not alone. Each individual piece of pottery represents a part of the survival process that I myself have conjoined with the love of art. Each piece evokes a stage in the healing process of surviving domestic violence.
6. You have some exhibitions coming soon. What are the responses you receive from your buyers and supporters? Is there any particular way in which you curate and set up your shows to maximise raising awareness about violence against women?
The responses I receive for my efforts are immensely positive and life saving to both myself and the individuals that I have come in contact with. When I speak about the abuse I have endured, I know that I am reaching the person that is listening as I can see the emotion on their face and hear it in their voice. What I do, through my art and my activism, is about healing myself and helping others in the aftermath of domestic violence and preventing individuals from ever being exposed to these types of relationships. I integrate my ceramic art with informational pamphlets on my tables. I also type up my story and placd it in the center of my main display table so that people know what I have survived and what I am doing now to help in spreading awareness in the fight against ending domestic violence.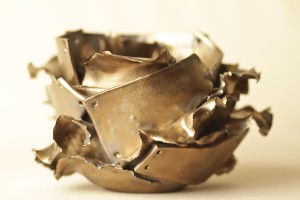 7. Where can our readers buy some of your inspired artwork?
Readers can buy my artwork during art festivals and gallery shows. Upcoming this year:
I will have a gallery showing at the Brooklyn Waterfront Artist Coalition where three of my pieces were chosen to be a part of a National Juried Figurative Ceramic Sculpture Exhibit from September 27 – October 26, 2014 located on 499 Van Brunt Street, Red Hook, Brooklyn, 11231
I will also be selling my ceramic art at Baruch College in the Newman Conference Center, Room 750 151 E 25th St., NYC on October 23 from 8:00am-9:30am. I will be a part of the panel discussion with the Center Against Domestic Violence where we will be discussing Domestic Violence and the Healing Power of Art.
In early 2015 I will be showing and selling my work at the Hygienic Art Gallery in New London, CT
If anyone is interested in purchasing my work they can go on to my facebook page and they can also email me at freedom4ewa@gmail.com.
8. For our readers who are feeling empathy with your experience today and are stuck in the cycle of an abusive relationship, what advice can you give them?
The advice that I can give victims who are currently stuck in an abusive relationship is know that you are not alone. If you reach out and ask for help, people will help to save you from the abuse. Know that if you don't have someone in your life that you can reach out to, you can reach out to me. Once your partner has abused you they will not stop and it will ultimately lead to a life full of torture and ultimately death. Do not allow anyone to harm you and take-away your life. You have the right to live in love.
There is a life waiting for you where you will never have to live another day of abuse. You are worth loving, give yourself the life that you deserve. The transition from victim to survivor is a process but it is one that you can and will handle with immense strength. Think about how strong you've been up to this point with suffering abuse every day. You can handle anything.
9. In your considered opinion, how can we end violence against women for good?
We can end violence against women by acting to make a change. More women and men need to step up and spread awareness on violence in general. We need to teach our children high self-esteem because I truly believe that abusers "sniff out" low self-esteem and use that to take control of their victim. We need to band together and teach both men and women that they deserve love and that love does not hurt. This all starts at home, parents need to make a conscience effort to make sure that their homes are safe and loving because a child is a product of their environment. I grew up in a violent household and I am breaking the cycle by taking a stand.