This month's Inspirational Interview is with Ruth Jones, the Director of the National Centre for the Study and Prevention of Violence and Abuse who specialises in domestic and sexual violence. Ruth has been recognised for her work in the domestic and sexual abuse sector with a number of awards including the award for best UK Universities Applied Researcher (2010), was awarded the title of Worcestershire Woman of the Year in 2011 and was named one of 12 inspirational women of Europe in 2012.

Part II of the interview will be published on February 24th.
____________________________________________________________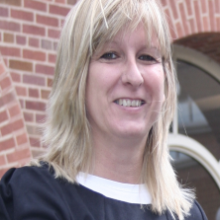 1. When did you first become involved and interested in the area of domestic violence and violence against women?
I have always been interested in this issue, having grown up in an abusive family. Before entering academia, I volunteered at domestic abuse services and then became an employee as a support worker and then a Trainer/Training Manager. I remain passionate about addressing this issue and working towards the prevention of it.
2. You are a Senior Lecturer at the University of Worcester where have you been instrumental in developing a MA in Domestic Violence – the first qualification of its kind. Please tell us more about it.
The MA in Professional Development: The Dynamics of Domestic Violence was first developed as a Postgraduate Certificate in 2003 and ran for the first time in 2005. The course was developed in response to the Labour government White Paper 'Safety and Justice (2003), which outlined the need for educational programmes for domestic violence workers. Evidence for the need of such a qualification was also highlighted in a local (West Mercia) Audit of Domestic Violence services (2004), in which the lack of a nationally recognised professional qualification for domestic violence support staff was seen by domestic abuse workers as problematic.
On a personal level, I wanted to enable domestic violence workers who do a fantastic job to get the professional recognition and status which they deserve, and educate multi-agency staff to become key domestic violence workers within their agencies; with the ultimate aim of giving 'victims' effective support.
The Postgraduate Certificate is the first postgraduate professional qualification in domestic violence in England and Wales, and has drawn interest from professionals across the United Kingdom and beyond. In 2010, an independent review gave the course the gold standard and recommended that the course be expanded to a Masters Degree. The MA in Professional Development: The Dynamics of Domestic Violence commenced soon after. The University of Worcester now offer a range of taught courses on domestic and sexual violence from Foundation degrees to Doctorates and we launched the only Postgraduate Certificate in Advocacy for Victims of Sexual Violence in 2012.
3. You received Woman of the Year Award in 2011 and you have been awarded an OBE in the 2013 Honours list. What is your greatest achievement to date?
On a professional basis, my greatest achievement is the knowledge that I have equipped students to go on to support 'victims' of domestic violence effectively and thus to save lives. I am incredibly proud of all the students I work with and of the partnerships that I have with service providers and service users, all of whom make this course as successful as it is.
4. What do you think about current domestic violence laws in the UK. Are they fit for purpose? What needs to be done in 2014?
We have come a long way historically in relation to legislation and policy to address domestic violence, but there is currently no specific statutory offence of 'domestic violence' in the UK. Many forms of domestic violence are crimes (i.e. assault, false imprisonment, criminal damage, harassment, murder/attempted murder, rape etc.) and there are a number of pieces of legislation that provide the tools for the prosecution. Most commonly used have been the Offences Against the Person Act of 1861, the Criminal Justice Act of 1988, the Protection from Harassment Act of 1997 and the Sexual Offences Act of 2003. This has, however, led to prosecution being fragmented and incident-based, when domestic abuse is rarely a single incident but an on-going pattern of behaviour with life threatening consequences.
The Domestic Violence, Crime and Victims Act of 2004 represented the biggest overhaul of domestic violence legislation for over thirty years and brought new powers for the police and the courts to tackle offenders, and the Protection of Freedoms Act of 2012 has allowed for stalking to become an offence and for 'coercive control'; a term used in the cross government definition of domestic violence to describe "an act or a pattern of acts of assault, threats, humiliation and intimidation or other abuse that is used to harm, punish, or frighten their victim" to be prosecuted.
These are all moves in the right direction but, I would like to see domestic violence made an offence in its own right. I also believe that the introduction of legislation and policy can only work if it is accompanied by training/continuing professional development (CPD) events and awareness raising campaigns that need real investment.
5. The petition by Karen Ingla Smith "Stop Ignoring Dead Women" collated information on the deaths of a 140 women in 2013. Ms. Smith would like to see a systemic change in approach to the way the Home Office collates information on male violence against women. What do you think about Smith's recommendations and campaign?
Karen Ingla Smith is an inspiring feminist and I back her campaign to highlight the issue of violence against women. At the University of Worcester, we take a similar view to Ingla in that we take a 'zoom in' and 'zoom out' approach. This means that we 'zoom in' i.e. focus on discrete forms of violence and abuse such as domestic violence, sexual violence, trafficking, female genital mutilation, forced marriage etc. We then 'zoom out', to see how this type of violence/abuse overlaps with other forms of violence and abuse and sits within cultural norms dictated by dominant discourses. Thus we look at cross-cutting issues, theories of causation and preventative initiatives. I am in agreement with Ingla then when she says that concentrating on domestic violence is not enough. We have to stop ignoring the connections and patterns and I endorse the 'Counting Dead Women' campaign because it calls for (amongst other things) a connection to be made between the different forms of male violence against women and the need for data recording that shows a more holistic picture.