WORLDWIDE, 25 November 2013: The Pixel Project, the global virtual volunteer-led 501(c)3 non-profit working to end Violence Against Women (VAW) worldwide, is proud to announce the "Who Is Your Male Role Model?" campaign – a series of short YouTube Public Service Announcements (PSAs) from good men speaking about the role good non-violent male role models play in helping prevent and stop VAW in their communities. The campaign will run from 25 November 2013 (International Elimination of Violence Against Women Day) through to 8 March 2014 (International Women's Day). A new PSA will be released every week.
The PSA series showcases good men from different walks of life talking about their life experiences and practical solutions for shaping positive male behaviour and attitudes towards women and stopping VAW. Specifically, participants talk about: who their male role model is; what they think a good non-violent male role model is like or should be; and the actions they are taking as male role models in their communities and professions to help stop VAW. The men taking part in the campaign include a documentary filmmaker, a college professor, music artistes, and technology professionals.
Regina Yau, Founder and President of The Pixel Project, said: "This campaign is not simply a way for good men to publicly say NO to violence against women. It is a platform for them to lead by example as male role models by sharing their ideas and experiences to show other men and boys that stopping violence against women is an urgent human rights issue and that there are many positive ways to stop the violence in their own communities. We salute The Pixel Project's partners and male allies for stepping up to help us get this campaign off the ground!"
This campaign is also created in support of The Pixel Project's upcoming Celebrity Male Role Model Pixel Reveal campaign aims to raise US$1 million in aid of the U.S.'s National Coalition Against Domestic Violence (NCADV) and The Pixel Project by revealing a world-exclusive million-pixel collage of mystery Celebrity Male Role Model portraits online at the rate of one pixel for every dollar donated to the campaign. The distinguished line-up of mystery Celebrity Male Role Models includes a Nobel Laureate, a Pulitzer Prize Winner, and a superstar Environmentalist. The Pixel Reveal campaign is due to launch in 2014.
Rita Smith, Executive Director of NCADV said: "We are at a critical stage in the work to end violence against women, and the time is now for good men who care to come forward and stand alongside advocates all over the world to end the violence. Together, we can make a difference by reducing the violence, changing social norms that excuse the use of violence, and create safer and more just communities all across the world."
The first PSA to be released features Victor M. Peña, a U.S.-based college professor originally from Cuba. Mr. Peña, who is bilingual, recorded English and Spanish language versions of his PSA to help us widen our global outreach efforts.
English Version:
Spanish Version:
——————————————————————————————————–
For further information, please contact:
About The Pixel Project (www.thepixelproject.net)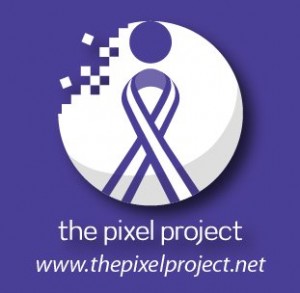 The Pixel Project is a complete virtual, volunteer-led global 501(c)3 nonprofit organisation whose mission is to raise awareness, funds and volunteer power for the cause to end violence against women using the power of the internet, social media, new technologies and popular culture/the arts. Their flagship campaign, the Celebrity Male Role Model Pixel Reveal campaign, which is due to be launched in 2014, aims to raise US$1 million for the U.S.A.'s National Coalition Against Domestic Violence and The Pixel Project by getting a global audience to collectively unveil a million-pixel mystery collage of Celebrity Male Role Models at US$1 per pixel.