Welcome to The Pixel Project's "30 For 30″ Father's Day Campaign 2013! In honour of Father's Day, we created this campaign:
To acknowledge the vital role Dads play in families, cultures and communities worldwide.
To showcase good men from different walks of life who are fabulous positive non-violent male role models.
Through this campaign, we will be publishing a short interview with a different Dad on each day of the month of June.
Our eleventh "30 For 30″ 2013 Dad is James Allison from Virginia, USA.
—————————————————————————————————
The Dad Bio
I live in Brambleton, Virginia, with my lovely wife and daughter, my mother-in-law, a very dog-like cat and a very cat-like dog. I work in downtown Washington, DC, as a project support manager at a multidisciplinary science journal. On my own time, I am an aspiring fantasy novelist. I have an interest in all things geeky, particularly fantasy and sci-fi adventures. I follow local, national, and international politics. In the past, I have been an election officer (running the local elections) and have recently started volunteering for local candidates.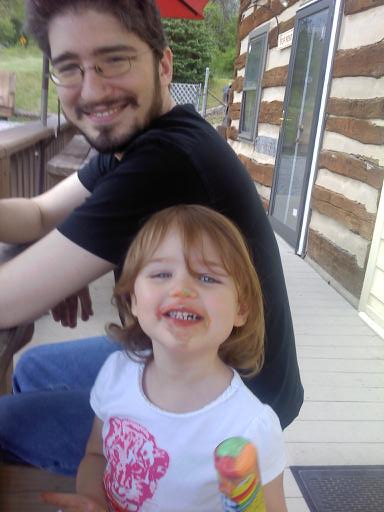 1. What is the best thing about being a dad?
So far the best thing has been watching her grow and change, learning things and developing her own personality. It's been wonderful to share some of the songs and stories I liked best when I was a child, and then watching the things she chooses on her own.
2. A dad is usually the first male role model in a person's life and fathers do have a significant impact on their sons' attitude towards women and girls. How has your father influenced the way you see and treat women and girls?
I didn't see much of my dad during my childhood. He worked very long hours, and was usually exhausted by the time he got home. He really did see his role as providing for his family. I don't think we ever really discussed how you're supposed to act around women, or what the expectations were. Basically, the rules were that you treated your family and classmates with respect, period. By the time I was interested in dating, I was attending an all-boys Catholic high school. I don't think he ever saw the need to pick up the discussion at that point.
3. Communities and activists worldwide are starting to recognise that violence against women is not a "women's issue" but a human rights issue and that men play a role in stopping the violence. How do you think fathers and other male role models can help get young men and boys to take an interest in and step up to help prevent and stop violence against women?
The first and most obvious one is to not practice violence themselves – against women, or against men. No man wants to think of himself as weak; we might as well use this fact to a good end. If giving in to anger is widely seen as a sign of mental weakness, I think you'd get a lot less violence in general. Parents, teachers, and (especially!) coaches need to be involved in this effort. It would be a really easy jump for a coach to move from, "Don't let the opponent make you angry," and "Don't let your anger control your actions," to, "Apply this to all areas of your life." Sports are not the enemy, lack of self-control is; and the best athletes are the ones who have the most self-control.
————————————————————————
Want to honour your Dad in a different way this Father's Day without breaking the bank?
We offer two (2) easy and fabulous options:
Option A: Make a Small Donation
Help The Pixel Project keep our anti-Violence Against Women campaigns and projects sustainable by making a small donation on behalf of your dad to us.
Click here to learn how your donation will be used and to donate: https://www.thepixelproject.net/getting-involved-an-introduction/donate-to-the-pixel-project/

Option B: Dedicate a Song to Him
For just $0.99, you can download our first Music For Pixels song – a cover of 'The Rose' by AHMIR, YouTube's #1 R&B group and upload it onto your Dad's computer's iTunes or digital music player. Not sure about it? Listen before you buy: