Welcome to The Pixel Project's "30 For 30″ Father's Day Campaign 2013! In honour of Father's Day, we created this campaign:
To acknowledge the vital role Dads play in families, cultures and communities worldwide.
To showcase good men from different walks of life who are fabulous positive non-violent male role models.
Through this campaign, we will be publishing a short interview with a different Dad on each day of the month of June.
Our twelfth "30 For 30″ 2013 Dad is Carlos Lacerda from Portugal.
————————————————————————————-
The Dad Bio
Carlos Lacerda is currently the Managing Director for Microsoft Malaysia. His 17-year tenure at Microsoft included roles as Information Worker Business Group Lead for Western Europe; Business and Marketing Officer roles in both Microsoft Portugal and Microsoft Italy; as well as Retail Sales Manager and Enterprise Account Sales Manager for Microsoft Portugal. Carlos has a degree in Engineering from the Technical University of Lisbon (IST), Portugal; a Post-Doctoral degree in Business & Administration from the Lisbon University Institute (ISCTE), Portugal; an Advanced Business and Administration degree from AESE/IESE Business School, University of Navarra, Lisbon, Portugal and Madrid, Spain; as well as Marketing Coursework at the Kellogg School of Management, Northwestern University, Chicago, Illinois, USA.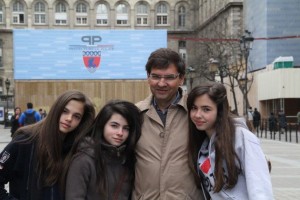 1. What is the best thing about being a dad?
It's having a family, enjoying the time together, having their support in the difficult moments and have fun in the good ones. Children are a wonder, as they go through different stages of their lives, you marvel at their development, as we guide the children through right and wrong, they blossom into little adults. I truly appreciate what my parents have done for me as I see my own children grow up
2. A dad is usually the first male role model in a person's life and fathers do have a significant impact on their sons' attitude towards women and girls. How has your father influenced the way you see and treat women and girls?
In my mind, a dad and a mom cannot be dissociated. In my culture (from Southern Europe) the concept of family is very strong and both women and men, boys and girls are part of the same team, have the same rights and opportunities. Respect and dignity is the right of every person, man or woman, girl or boy, and I was brought up with these values. It is these value that I hold close to my heart and to a great extent has influenced my working life too.
3. Communities and activists worldwide are starting to recognise that violence against women is not a "women's issue" but a human rights issue and that men play a role in stopping the violence. How do you think fathers and other male role models can help get young men and boys to take an interest in and step up to help prevent and stop violence against women?
While I absolutely agree that it is a human rights issue, it is not just violence, but also the fact is they have a right to be dignified and that is the basic human right, dignity. As a father I feel very strongly that my daughters should be treated with dignity and given equal rights alongside their male counterparts. A father who sets the rights example is the best guidance he could provide to his sons. Every one of us has a role to play in our families and communities. When we dignify the women it will help us address violence against women.
————————————————————————
Want to honour your Dad in a different way this Father's Day without breaking the bank?
We offer two (2) easy and fabulous options:
Option A: Make a Small Donation
Help The Pixel Project keep our anti-Violence Against Women campaigns and projects sustainable by making a small donation on behalf of your dad to us.
Click here to learn how your donation will be used and to donate: https://www.thepixelproject.net/getting-involved-an-introduction/donate-to-the-pixel-project/

Option B: Dedicate a Song to Him
For just $0.99, you can download our first Music For Pixels song – a cover of 'The Rose' by AHMIR, YouTube's #1 R&B group and upload it onto your Dad's computer's iTunes or digital music player. Not sure about it? Listen before you buy: