Welcome to The Pixel Project's "30 For 30″ Father's Day Campaign 2013! In honour of Father's Day, we created this campaign:
To acknowledge the vital role Dads play in families, cultures and communities worldwide.
To showcase good men from different walks of life who are fabulous positive non-violent male role models.
Through this campaign, we will be publishing a short interview with a different Dad on each day of the month of June.
Our tenth "30 For 30″ 2013 Dad is Niklesh Sharma from India.
—————————————————————————————-
The Dad Bio
My name is Niklesh Sharma and I am an Indian National working in Malaysia from last 5 years. I am a hotel management Graduate who have been working with hotel industry for more then 20 years and currently I have opened an international pastry school, The Academy of Pastry Arts Malaysia, in 2010. I became father to Kashish (born 2003) and Kritika (born 2007) and I don't think I could have asked for more. Even though I am busy with work , I ensure that I spend a quality time with my daughters whether it is listening to them telling me about school or playing games and taking part in other fun activities with them.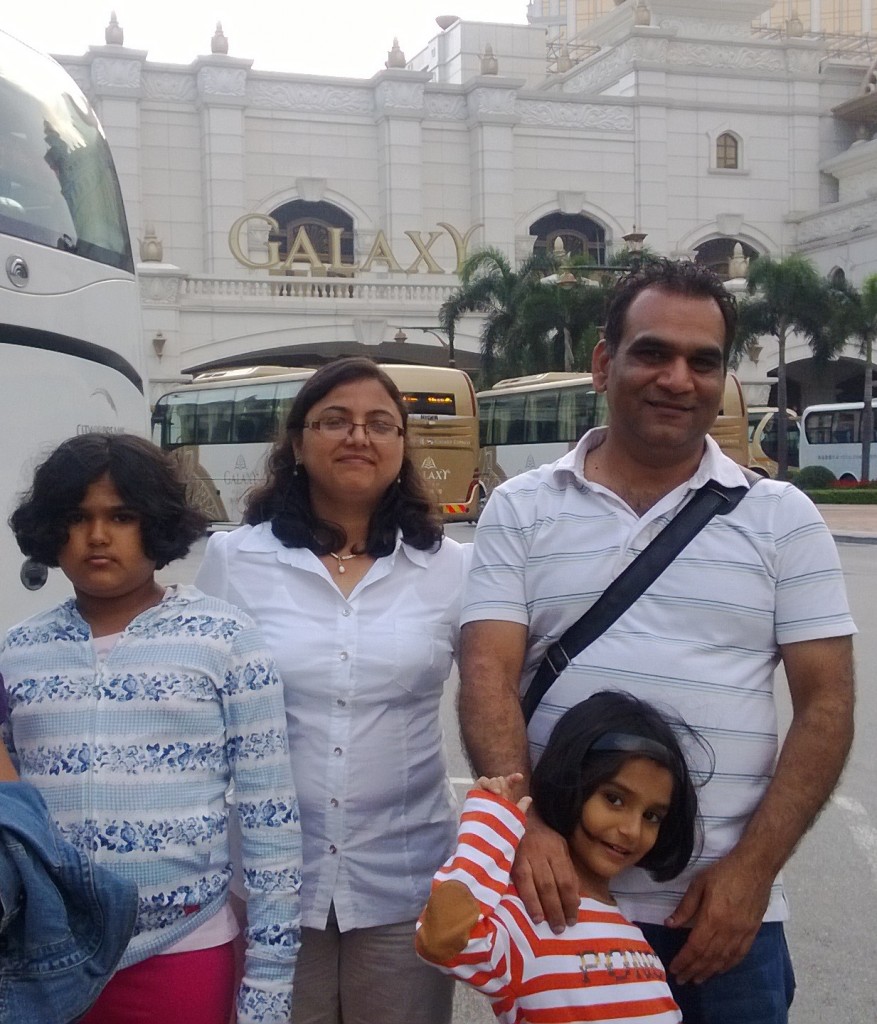 1. What is the best thing about being a dad?
There is nothing better then seeing your kids grow before your eyes. Nothing makes you more complete then spending a quality time with your kids. A sense of responsibility , calmness and caring develops in you naturally.
2. A dad is usually the first male role model in a person's life and fathers do have a significant impact on their sons' attitude towards women and girls. How has your father influenced the way you see and treat women and girls?
I have modeled my behaviour towards women based on my father who is a family man with a lot of good values and respect for women and girls. The way he treats everybody equally , taking advice from my mother , and showing so much concern and thoughtfulness for all the females in our family always impresses me.
3. Communities and activists worldwide are starting to recognise that violence against women is not a "women's issue" but a human rights issue and that men play a role in stopping the violence. How do you think fathers and other male role models can help get young men and boys to take an interest in and step up to help prevent and stop violence against women?
I personally believe in the impact of family culture where values and ethics are inherited from older generations to younger generations organically. Violence of any kind starts at home. I strongly feel that what you see in your home or around your home will definitely affect your views.
Therefore, fathers should set good non-violent examples for the young men and boys that they raise, and involve them in joint decision-making with the women and girls in the family. This would help young boys and men develop a sense of belonging and security, respect for other people's views and also the ability to share concerns in a non-violent manner.
————————————————————————
Want to honour your Dad in a different way this Father's Day without breaking the bank?
We offer two (2) easy and fabulous options:
Option A: Make a Small Donation
Help The Pixel Project keep our anti-Violence Against Women campaigns and projects sustainable by making a small donation on behalf of your dad to us.
Click here to learn how your donation will be used and to donate: https://www.thepixelproject.net/getting-involved-an-introduction/donate-to-the-pixel-project/

Option B: Dedicate a Song to Him
For just $0.99, you can download our first Music For Pixels song – a cover of 'The Rose' by AHMIR, YouTube's #1 R&B group and upload it onto your Dad's computer's iTunes or digital music player. Not sure about it? Listen before you buy: