Welcome to The Pixel Project's "30 For 30″ Father's Day Campaign 2013! In honour of Father's Day, we created this campaign:
To acknowledge the vital role Dads play in families, cultures and communities worldwide.
To showcase good men from different walks of life who are fabulous positive non-violent male role models.
Through this campaign, we will be publishing a short interview with a different Dad on each day of the month of June.
Our ninth "30 For 30″ 2013 Dad is Matthew Khaw from Kuala Lumpur, Malaysia.
——————————————————————————————————-
The Dad Bio
Matthew Khaw Kien Choy is currently the Technology Evangelist for Microsoft with more than 13 years of working experience in the IT industry. He is married to Cyrene Kong who is also in the IT industry. They are both blessed with 2 children, a girl and a boy. His activities and past time changed ever since he has kids. As a parent, he wants to spend quality time with his kids and enjoy time with them through all the activities. He spends time in park, play grounds, travelling with kids, playing Xbox with kids, figuring and playing family games.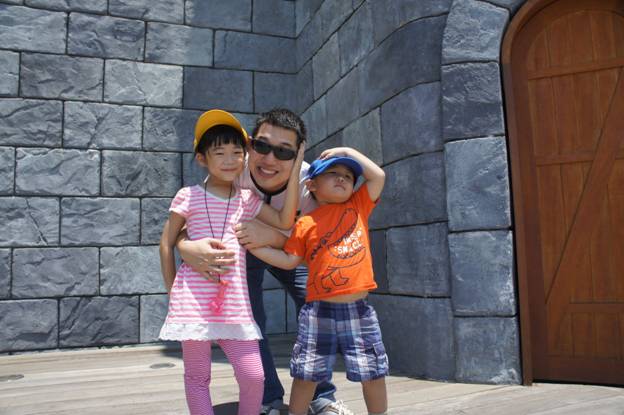 1. What is the best thing about being a dad?
It's about discovering life all over again. No matter what happens in my career, being a father give me a different sense of challenge and satisfaction. Both Gabriel and Gloria have their own characters. Gloria is a book smart, sensitive and quiet child while Gabriel is street smart and aggressive. Being a dad would mean that you get to watch them grow up every day and learning how both of them can get along with each other and other people. You will get to wear the hat of being a driver, referee, teacher, bodyguard, clown, story teller, and perhaps a disciplinarian at times.
2. A dad is usually the first male role model in a person's life and fathers do have a significant impact on their sons' attitude towards women and girls. How has your father influenced the way you see and treat women and girls?
My dad has always been a patient and a highly approachable father. Being in a family of 5, he treated all of us equally. I have an elder brother and a younger sister. This allows us to learn how to interact with one another. This also helps us to have respect and treat women and girls in the right way.
3. Communities and activists worldwide are starting to recognise that violence against women is not a "women's issue" but a human rights issue and that men play a role in stopping the violence. How do you think fathers and other male role models can help get young men and boys to take an interest in and step up to help prevent and stop violence against women?
Learning how to deal with emotions without violence needs to start from young age. In the age of media and internet, this have been increasing difficult for everyone. It's all about education, practising it yourself and showing the right example to our children. You need to have absolutely zero tolerance for violence at home. For all families, conflict does happen and when it happens, it is ultimate learning opportunity for everyone. We make it a point to ensure that no matter how bad the situation/argument is, we always take a time off from the situation and spend quality and happy time with the kids.
————————————————————————
Want to honour your Dad in a different way this Father's Day without breaking the bank?
We offer two (2) easy and fabulous options:
Option A: Make a Small Donation
Help The Pixel Project keep our anti-Violence Against Women campaigns and projects sustainable by making a small donation on behalf of your dad to us.
Click here to learn how your donation will be used and to donate: https://www.thepixelproject.net/getting-involved-an-introduction/donate-to-the-pixel-project/

Option B: Dedicate a Song to Him
For just $0.99, you can download our first Music For Pixels song – a cover of 'The Rose' by AHMIR, YouTube's #1 R&B group and upload it onto your Dad's computer's iTunes or digital music player. Not sure about it? Listen before you buy: