Welcome to The Pixel Project's "30 For 30″ Father's Day Campaign 2013! In honour of Father's Day, we created this campaign:
To acknowledge the vital role Dads play in families, cultures and communities worldwide.
To showcase good men from different walks of life who are fabulous positive non-violent male role models.
Through this campaign, we will be publishing a short interview with a different Dad on each day of the month of June.
Our eighth "30 For 30″ 2013 Dad is Evan Grae Davis from USA. _____________________________________________________________
The Dad Bio
Husband, father, adventurer, activist; Evan Grae Davis has traveled the world with camera in hand for nearly two decades advocating for social justice through writing and directing short documentaries and educational videos championing the cause of the poor and exploited.Evan recently released his first feature length documentary film asking why nearly 200 million women are missing in the world today– killed, aborted and abandoned simply because they are girls.It's a Girl is currently screening in hundreds of locations around the world, including colleges and universities, film festivals, at the European and British Parliaments and, recently, on Capitol Hill in Washington DC. With nearly half a million people joining the cause to end gendercide so far as a result of his film, Evan is on a mission to mobilise a movement to restore dignity and value to the girls of India and China.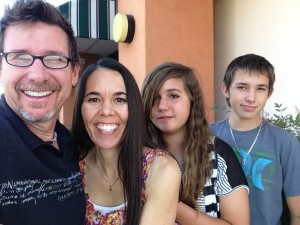 1. What is the best thing about being a dad?
The honour of helping to bring new life into the world, and the responsibility to raise children to be happy, healthy and purpose-driven citizens of the world is the most amazing privilege! It's unfortunate that we so often start out with so little real idea of how to do it right and make so many mistakes along the way. But even the mistakes can often be an opportunity to teach and build a better relationship. I love being a dad and watching my kids grow and develop, day by day, into who they are going to be. They each have their own unique temperament, personalities and perspective on the world and I can't wait to see what they choose to do with their lives.
2. A dad is usually the first male role model in a person's life and fathers do have a significant impact on their sons' attitude towards women and girls. How has your father influenced the way you see and treat women and girls?
I grew up in a family culture that took honouring and respecting women very seriously. Men in the community took other men to task if they ever yelled at a woman, or worse laid a hand on her in anger. Boys never hit girls, including our sisters, without dire consequences. It was also a culture of chivalry; opening doors, or offering your seat to a woman was the honourable thing to do.
But it was also a family culture laced by patriarchy, with strong views about the roles of women in the family and community coming from my grandparents' and previous generations. My father did a lot to reject chauvinistic views on the roles of women, and modelled a strong reliance on my mother as an equal partner in all matters of life. But the rules about behaviour towards women and girls still came with a strong underlying suggestion that we treat women thus because they are the weaker sex and should be protected and handled gently.
I teach my own son much of what I was taught about honouring and respecting women, but am careful not to suggest in the process that women are weaker in any way. I also teach my daughter (and model in how I treat my wife) to expect nothing less from men and boys.
3. Communities and activists worldwide are starting to recognise that violence against women is not a "women's issue" but a human rights issue and that men play a role in stopping the violence. How do you think fathers and other male role models can help get young men and boys to take an interest in and step up to help prevent and stop violence against women?
It's been said before, but merits repeating: our children's attitudes towards the treatment of women come from a lifetime of watching the way we behave towards women and assimilating those attitudes. The best thing we as fathers can do is to honour and respect our wives, mothers, sisters, aunts and all of the other women we come into contact with day to day. I can tell my son to respect women all I want, but if I demean his mother, or make insulting comments about "women drivers", or behave differently towards his sister than I do him, he is going to pick up on my attitudes and emulate them. It is also important to be aware of the kind of role models our children are learning from at school, from music, movies, magazines and other media, and from their peers.
The best thing I can do as a father, is be the man today that I want my son to be and my daughter to marry (if she so chooses) when they are my age.
_____________________________________________________________
Want to honour your Dad in a different way this Father's Day without breaking the bank?
We offer two (2) easy and fabulous options:
Option A: Make a Small Donation
Help The Pixel Project keep our anti-Violence Against Women campaigns and projects sustainable by making a small donation on behalf of your dad to us.
Click here to learn how your donation will be used and to donate: https://www.thepixelproject.net/getting-involved-an-introduction/donate-to-the-pixel-project/

Option B: Dedicate a Song to Him
For just $0.99, you can download our first Music For Pixels song – a cover of 'The Rose' by AHMIR, YouTube's #1 R&B group and upload it onto your Dad's computer's iTunes or digital music player. Not sure about it? Listen before you buy: