This month's Inspirational Interview is with Mallika Dutt, the founder of the global human rights organisation, Breakthrough and the Bell Bajao campaigns. Mallika has mastered the art of blending multimedia campaigns, cutting-edge pop culture, social media and authentic community engagement to develop innovative campaigns and tools for teaching democracy and justice, and bring awareness to end violence and discrimination against women. Her unique delivery has earned her accolades in the global human rights community. Mallika holds an honorary doctorate in humane letters from Mount Holyoke College, graduated from NYU Law School, holds a Masters in International Affiars and South Asian Studies from Columbia University and an A.B. in International Affairs from Mount Holyoke College, and is the recipient of numerous awards.
_______________________________________________________________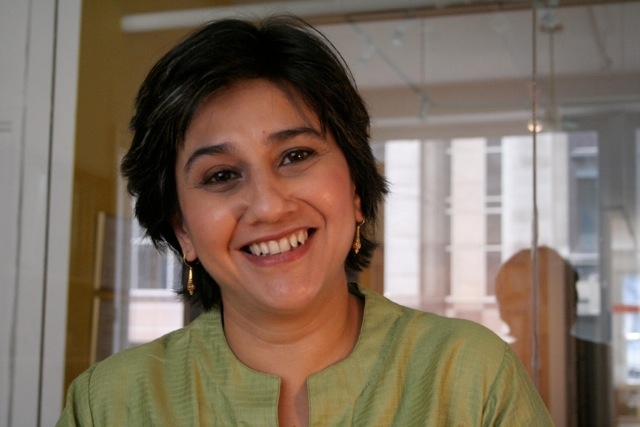 1. How did Breakthrough begin?
Breakthrough was really an afterthought to the larger question that I was asking myself about two decades ago: How could we create a culture that prevented abuse as opposed to always having to deal with its aftermath? Preventing abuse required a deeper culture change than traditional human rights advocacy was then focused on and so I began to experiment with the use of popular culture and mass media to address violence against women. I produced a music album and music video called Mann ke Manjeere (Rhythm of the Mind) that I released and distributed in 2000 in partnership with Virgin Records. It became part of the top ten in India for six months. It was following that success that I decided to create Breakthrough – a human rights group that combined media, arts and technology combined with community mobilization and other strategies to challenge both discrimination toward and violence against women.
2. Breakthrough campaigns on a number of human rights issues including racial abuse, violence against women, discrimination against immigrant communities and HIV and AIDS. You aim to invoke lasting change through community engagement, training leaders for the future and innovative multimedia projects. Tell us about some of your recent campaigns against violence against women in particular and the results they have yielded at both grassroots, national and International level.
Our most recent campaign in India, Bell Bajao (Ring the Bell), was created in 2008. Bell Bajao called on men and boys to challenge domestic violence by interrupting violence is now going global. Phase two of the campaign is One million men – One million promises to end violence against women. Bell Bajao – Ring the Bell – Campaign
We are launching the campaign during the upcoming UN Commission on the Status of Women, which is focused on preventing and eliminating violence against women and girls. Our aim is to encourage men from all walks of life to make concrete and actionable promises to challenge violence and discrimination against women – in the home, classroom, workplace, or on the streets. It builds on the success of Bell Bajao in India which ended up reaching more than 150 million people through TV and other forms of media as well as our community mobilization efforts in a states like Uttar Pradesh and Karnataka.
The idea of reaching out to men to become part of the solution to ending violence with concrete actions in Bell Bajao resonated not only in India but globally as well. The campaign has already been adapted in China, Vietnam and Malaysia. In India, the idea of "ringing the bell" to interrupt violence found its way into four soap opera episodes as well as a number of school drama competitions.
Since the inception of this campaign, we have seen some great results in changes in knowledge, attitudes and behaviour at the community level in the states that we've worked in and that's been very heartening. However, long-lasting sustainable change requires ongoing work and as you know, it's usually a challenge to raise the resources that one needs particularly for women's rights issues. To counteract this challenge, we use strategic partnerships as a key strategy to ensure scale and impact for the longer-term goal of sustainable change. That enables us to do a lot more with limited resources.
3. The New Delhi gang rape and murder sent waves of revulsion, anger and sorrow around the world. Out of the G20 countries, India has been voted the worst place to be a woman. What are the cultural beginnings of this epidemic of violence against women? How has it escalated to such a level?
Patriarchy and misogyny are a global problem and the way in which it manifests itself in various geographies and cultures is simply a matter of scale and expression. India is a challenging country for women because the while our constitution and our laws protect and promote women's rights we have a crisis of governance and enforcement that allows men who abuse women a great deal of impunity. When you combine a failure of governance and enforcement of women's rights with an underlying culture that devalues women you end up with a crisis where women and girls are unsafe in the home and on the streets.
4. The protests from both men and women in the wake of the gang rape are clearly encouraging. To the outside world, it seems as though it could be a tipping point in the struggle in discrimination against women in India. Do you think this will mark a genuine beginning of change towards women in India?
The aftermath of the gang rape in India has created a global spotlight on the issue of violence against women in an unprecedented way. It was very heartening to see young men on the streets joining with women to protest the lack of safety for women and demanding change. The issue of violence is no longer something that gets dismissed as inevitable and unchangeable. The women's movement is now at the forefront of demanding that the government change the laws and also create more effective enforcement mechanisms. It's going to take a lot of effort, but I think that we are in a moment that could mark the tipping point in the struggle against violence against women not just in India but globally.
——————————————————————————————————————————
Part 2 of our interview with Mallika Dutt will be posted tomorrow.