Welcome to The Pixel Project's "30 For 30" Father's Day Campaign 2012! In honour of Father's Day, we created this campaign:
To acknowledge the vital role Dads play in families, cultures and communities worldwide.
To showcase good men from different walks of life who are fabulous positive non-violent male role models.
Through this campaign, we will be publishing a short interview with a different Dad on each day of the month of June.
Our thirtieth (and final) "30 For 30" Dad is Tim Busbey from the USA.
———————————————————————————
The Dad Bio (In His Own Words):
For the past 16 years, I have worked as a writer. For the first 11 years, I worked in the newspaper industry as a writer and editor. I have spent the past five years working in marketing communications. Currently, I am the content writer for a law firm in Cleveland, OH. I am also working on my first novel, "The Truth," the first in a series. I love reading, watching movies, and coaching my daughters' soccer and softball teams. I am the father of 4 girls and 1 boy.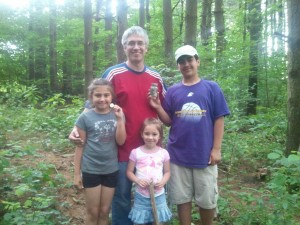 1. What is the best thing about being a dad?
I love watching my kids grow and mature. I love when I am able to help them learn how to do something. When they are having trouble with homework or need help with a sport, I enjoy being able to show them how to do it and then watch the light bulb click on when you can see that they really get it. Being able to influence and shape them into loving, caring, giving, compassionate, intelligent people is my highest goal and seeing my kids exhibiting those traits is my biggest joy in life.
2. Who is the most influential male role model in shaping your attitude towards women and girls? How has he influenced the way you see and treat women and girls?
Jesus Christ is my biggest role model in shaping my attitudes toward women and girls. He taught us that everyone is equal and should be treated with love and respect. I try to live in that same way every day and do my best to help women and girls understand their value. I try and do it with my daughters and with any women or girls I come in contact with. When I coach my daughters' softball and soccer teams, I try hard to make sure all the girls on the team feel valued and respected and special, just like Jesus would have done. I truly believe each of them is special and some of them may not have a positive male role model or influence in their lives, so I try to be that for them, in whatever small way I can.
3. Communities and activists worldwide are starting to recognise that violence against women is not a "women's issue" but a human rights issue and that men play a role in stopping the violence. How do you think fathers and other male role models can help get young men and boys to take an interest in and step up to help prevent and stop violence against women?
The key is to make sure that young men and boys understand the value of a woman. Teach them from an early age that women are not property. They are equal partners. The best way you can do that in your home is to love your wife and treat her with love and respect. That way your sons can see how a woman should be treated. If a young man understands that women are precious gifts from God, they are more likely to be concerned about how they are treated and be involved in helping make sure women and girls can live a life without the fear of violence.
————————————————————————
Want to honour your Dad in a different way this Father's Day without breaking the bank?
We offer two (2) easy and fabulous options:
Option A: Make a Small Donation
Help us raise US$3000 or more this June by donating US$30 on behalf of your dad to our Celebrity Male Role Model Pixel Reveal campaign to help unveil our first superstar Celebrity Male Role Model – a beloved Nobel Laureate. US$30 will unveil 30 pixels and proceeds from the pixel sales are in benefit of the USA's National Coalition Against Domestic Violence and Malaysia's Women's Aid Organisation.
Click here to donate: https://reveal.thepixelproject.net/buy-pixels/
Option B: Dedicate a Song to Him
For just $0.99, you can download our first Music For Pixels song – a cover of 'The Rose' by AHMIR, YouTube's #1 R&B group and load it onto your Dad's computer's iTunes or digital music player. Not sure about it? Listen before you buy here: