As part of our 'Inspirational Interviews' series featuring some of the bravest and most formidable activists working to end violence against women around the world, we are pleased today to share our interview with the maker of the film The Line, Nancy Schwartzman.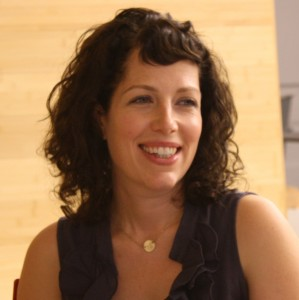 About Nancy Schwartzman
On the website Whereisyourline.org, 'The Line' is defined as a movement, a film, and something 'up to you'. It is the brainchild of filmmaker Nancy Schwartzman, whose unconventional method of dealing with a topic addressed with too little urgency—date rape—has earned her plenty of praise, and changed plenty of lives.
'The Line' is a 20-minute documentary that features Nancy's personal confrontation with date rape: both the perpetrator and the social system that allows the perpetration of date rape. It is based on her own personal experience. The Pixel Project had the opportunity to chat with her and find out more about the experience of making the film, discussing it, and the subject of the film itself – date rape.
I've known survivors of date rape and many of them do not confront their rapists, preferring to suffer in silence instead. How did you come to decide that you needed to confront him?
I spent a lot of time talking to survivors about what they lost after an assault, what had changed for them in their lives. The more questions I asked, the more one question rose to the top: Why? Why did this happen? Why did he do it? I knew that he was the only person who could answer that question.
Was there a particular reason that you chose to document this in the form of a film (first and foremost) instead of other media?
I worked briefly in documentary photography and I caught the film bug right at the time when digital cameras got small and affordable. I had produced a friend's thesis film and thought "hey, I'll make my own film!" I had no idea what that meant, or what that would entail. I started gathering footage, but then, unrelated to the filmmaking, I was assaulted. So whatever I was exploring on camera stopped mattering, and that was the story I needed to tell through filmmaking.
Tell us about your crew. How did you find them, and what drew you together towards making 'The Line'?
The Line was a labor of love. In the beginning, it was just me! I had a wonderful friend who helped film my confrontation, found me the best hidden camera and microphone, and supported me emotionally. I brought in a handful of really talented editors into the process to help me make sense of the footage I was gathering, and who gently empowered and helped me tell my story. When I flew to Nevada to interview sex workers about consent, I cast a wide net looking for a cinematographer. It was the first time I hired anyone to shoot for me, and I knew what was most important was the feeling that person gave me in my gut. The person I hired made me feel calm and confident, and later became my husband!
On the Whereisyourline.org website you mentioned that you conduct workshops on activism to confront and transform rape culture, highlighting especially the need to work and prevent burnout. It took you years to produce 'The Line' – what was the drive that kept you going during rough times?
The drive that kept me going was hearing the countless stories just like mine. I'd visit college campuses and show a segment of the film to students and they would flood the front of the room following the screening. Every time a film fund would turn me down, essentially saying "your story isn't important" students would tell me "this story is important, because it is my story." I was privileged enough to have access to film equipment, so I felt the responsibility to make the film.
In 'The Line', you highlighted the difficulty of rape survivors seeking justice through the legal system. What do you think can be done by ordinary men and women who wish to see a change in legal systems when it comes to addressing rape?
Ordinary men and women can express their outrage and get informed. On the peer to peer level, learn the laws, learn the lawmakers who support justice for rape survivors, vote for them. Raise awareness among your friends, call out sexism, point out victim-blaming. For those who work outside the system –educate. Encourage your school to teach violence preventation in school, focus the dialogue around sex education to highlight pleasure and respect. Most men are allies in this work, charge them to learn more, and stop being bystanders, and show them men in the field doing this work.
6. I am a Malaysian woman and there are a number of things in the film, especially in relation to the understanding of a female body's sexuality among conservative women in Israel, that I can empathize with – the higher the standards of demure behaviour is, the easier it is for women to fall from the image of the 'perfect victim'. Do you have any advice for women who may be facing condemnation (directly or indirectly) because they do not comply with the image of the 'perfect victim'?
There is no perfect victim. Societies that do not hold perpetrators accountable for their behavior will find any way imaginable to blame the victim. If you are demure, you may be too pretty, or from the wrong class, or riding the wrong bus, or outside during the evening. There is no shortage of excuses societies invent to avoid what is unquivocably true: if you were raped, it is because you were unlucky enough to be in the presence of a rapist. No matter what you were wearing, where you were walking, what you did in the past, present or future.
Has 'The Line' been screened outside of the United States? If it has, how has response been among audiences of these countries?
The Line has screened in Dakar, Dhaka, Istanbul, Ankara, Toronto, Liberia, Taiwan and Israel. I had a very supportive audience in Israel and a very spirited one in Ankara! We had a lively discussion about women's rights in a global context. I did not attend the other screenings, but wanted to!
On a similar note, how has audience reaction been like from the different screenings of 'The Line' that you've attended?
I was nervous to show the film in Turkey, outting myself as both a Jewish and promiscous woman, but the conversation was marvelous, and went on for two hours! Women and men engaging in the debate, not afraid to call out each other's biases. In Omaha, Nebraska it was so quiet in the room I thought tumbleweed was blowing through. Culturally, midwestnerners don't discuss these matters, so getting that conversation going was a challenge. Over all the reaction is the same – people have a lot to share, and questions for how to best support survivors. I think the Where is your line? stickers are a great way to make the conversation interactive.
If someone is faced with the need to help someone who has experienced date rape, what advice would you give him or her?
I always tell people to listen and listen without judgment. Even an innocent question like "why did you go home with him?" or "why did you go out so late?" will sound like you are blaming the victim. Listen and get informed. Where are the advocates and help centers in your area? Where is the hospital or victim's center? What is the hotline number? Let them know what resources are available. Believe them. Don't tell them they have to do anything – but whatever they want to do, you'll be right there with them.
Nancy has just finished her second documentary, xoxosms, on the topic of Love 2.0: intimacy and technology in the 21st Century. Find out more about her projects by following Twitter @thelinecampaign, @xoxosms and the Facebook page at http://facebook.com/thelinecampaign.