As part of the 16 Days of Activism in 2010 we wrote a post about 16 female role models, "the bravest and most formidable women activists working to end violence against women around the world." We are pleased today to share the first in a series of inspirational interviews with these wonderful women. We begin with part one of our interview with Holly Kearl, anti-street-harassment activist.
About Holly Kearl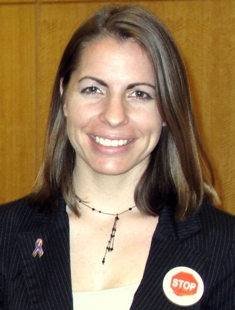 As a long distance runner, Holly Kearl knew from firsthand experience the way sexual harassment from the streets affects women and hampers their achievement. Now Holly is among the world's leading voices in anti-street harassment activism. Her book, Stop Street Harassment: Making Public Places Safe and Welcoming for Women is a key work on the topic of street harassment. She has written articles for publications like The Guardian and The Huffington Post, and constantly raises awareness through the Stop Street Harassment website and blog.
It is small wonder that The Guardian named her a Hero of 2010 and The Pixel Project recognized her as one of its 16 Female Role Models who have transformed personal pain into positive action. In this 2-part interview, The Pixel Project speaks to this 28-year old superwoman on the whats, hows, and whys of her journey into anti-street harassment activism: from the reasons she embarked on it to the obstacles that she faced and overcame. Most importantly, Holly shares her advice on what you can do if you encounter street harassment and how you can do your part to stop it.
Tell us about yourself. What is your background and how did you come to be an anti-street harassment activist?
I'm 28 years old and I live in a Virginia suburb of Washington, DC. I work three blocks from the White House downtown DC and I am a program manager for the women's equity nonprofit AAUW. I've worked there for almost four years, since finishing my master's degree in 2007.
Here are a few pieces of my background that have influenced my current role as an anti-street harassment activist:
Growing up, my family moved often because of my father's job and by the time I went to college, I had lived in the following states: Indiana, Pennsylvania, Ohio, Iowa, Kentucky, California, and Virginia. One year in high school I attended four schools when we moved within a state as well as moved out of the state. I really hated moving and being new, especially mid-school year, but, on the plus side, it exposed me to more of the country, varied people, and new opportunities. Today I am still in touch with people in most areas I lived and they make up an important extended network in my life. My family has always travelled a lot and I've been to nearly all 50 US states and 14 countries, which again has broadened my horizons in meaningful ways and makes me comfortable travelling all over the country to speak about street harassment.
As a young teenager I learned that some of my close female family members were survivors of rape, incest, and domestic violence. It made me acutely aware of those issues and inspired me to volunteer at a domestic violence shelter in high school. I've been involved in addressing gender violence issues in some way ever since.
I am a long distance runner. I ran my first 5k at age 8 and my first marathon at age 14. I ran cross country and track starting in middle school. On the weekends and breaks from school and now that I'm out of school, I've often run alone. I always experience the most street harassment while running alone. In college there were days when I ran alone for an hour and 10 different men harassed me. Twice men followed me, terrifying me. The sheer volume of harassment on my runs made it impossible for me to ignore it.
My older sister was born with many physical and mental disabilities. She died several years ago but she was my best friend and from day one I was her helper and advocated for her inclusion (very necessary in the pre-Americans with Disabilities Act days). Because of her, I have been aware of inequality my whole life and I've been a quiet but persistent activist for most of my life.
These different aspects of my life, plus the realization that few people were speaking out against street harassment, came together a few years ago and inspired me to do something about street harassment and to start using my voice and my online platforms to speak out.
How did you come to write "Stop Street Harassment"?
In 2007 I wrote my master's thesis at George Washington University on street harassment. In 2008, several reporters interviewed me about my research, including a reporter for CNN who featured my research in a homepage article on CNN.com. The response to street harasment was huge on the blogosphere and among people who reached out to me. At the suggestion of my very supportive parents, in the fall of 2008 I decided to write a book on the topic, especially as there are so few books that even give it cursory attention.
Many people, women included, tend to think of street harassment as an inevitable part of life. Is it tough getting people to care about street harassment as a form of violence against women when people usually think of domestic violence or rape when discussing violence against women?
Most women I talk to immediately recognize that most forms of street harassment are violence against women (sexually explicit or sexist comments, following, groping, flashing, and masturbation). Not every woman feels that actions like whistling or nonsexually-explicit comments like, "Hey baby, looking good" are forms of harassment or violence. In American society, the sexual objectification of women by strangers is normalized, acceptable, and framed as complimentary and that's what many people, including women, believe. So yes, it is hard to get everyone to view it that way.
Also, sometimes I hear from men who don't understand why I primarily focus on men harassing women. They don't like having their experiences excluded. But I have very specific reasons for focusing on men harassing women. This is what I post on my blog in anticipation of that response:
While women also may harass men in public, gender inequality means that the power dynamics at play, frequency of the harassment, and the underlying threat of rape is rarely comparable. For these reasons, this blog focuses on men harassing women.
Also, while public harassment motivated by racism, homophobia, transphobia, or classism—types of deplorable harassment which men can be the target of and sometimes women perpetrate—is recognized as socially unacceptable behavior, men's harassment of women motivated by gender and sexism is not. Instead it is portrayed as complimentary, a joke, or "only" a trivial annoyance. Plus people tend to blame women for its occurrence based on what they are wearing or what time of day they are in public.
I always tell them I'm happy to be an ally and to cross-promote the work of people who focus on other types of harassment that impact men. I see focusing on men harassing women in public spaces as my niche for now though since not many people are addressing it or, again, see it as a problem.
How did you get over the challenges you faced in the early days of your work to eliminate street harassment?
One of my early challenges was blogging and knowing how to use it to educate people about street harassment. When I started my blog in 2008, I'd never run a blog and I didn't know how to really do it. It took me a year to get my stride and once I started blogging regularly and working more to let people know about my blog, the more visitors I've had and the more stories I've had submitted for publication on my blog. I am continually thinking about how I can write better posts and make my content more compelling.
Another challenge I worked to overcome was a fear of public speaking. Last spring I knew I wanted to give talks about street harassment once my book came out in the fall and so my boss at AAUW let me take a few public speaking courses, which helped. I also knew practice would help and so even though I was scared, I agreed to lots of speaking requests. Speaking to small groups for some of my earlier talks helped. Now I still get butterflies in my stomach before speaking, but it's nothing like the terrified feelings I had before. I'm still working on messaging and trying to craft the most effective ways to educate people about this very complex issue in short amounts of time.
Do you get much support from other feminist and/or anti-violence against women activists?
AAUW, the women's non-profit I work for, is very supportive of my work. For example, they promote my book to AAUW's 100,000 members and donors and encourage and fund me to speak to AAUW groups around the country. The AAUW members I've talked to about this issue have all been very supportive.
I often reach out to other women who have written about street harassment and to groups working on this issue or general gender violence issues to promote their work, seek their advice, and find opportunities for collaboration.
I've had the privilege of collaborating with many great anti-violence groups and also have support from activists at many organizations. Some of these organizations include: HollaBack, RightRides, Blank Noise, UK Anti-Street Harassment Campaign, Jagori, Roger's Park Young Women's Action Team, Gender Across Borders, Defend Yourself, Helping Our Teen Girls in Atlanta, Girls for Gender Equity, RAINN, Men Can Stop Rape, the Men's Anti-Violence Council, A Long Walk Home, The Line, Students Active for Ending Rape (SAFER), Feministing.com, Ms. magazine, and of course everyone at Pixel Project.
Part two of our interview with Holly Kearl will be published tomorrow, Monday January 31.