Below is a guest post from our partners at the National Coalition Against Domestic Violence.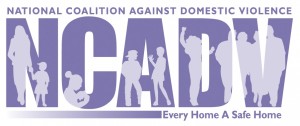 Dear Friends and Supporters,
On Monday, December 20, 2010, President Barack Obama signed the bill which reauthorizes the Child Abuse Prevention and Treatment Act (CAPTA) and the Family Violence Prevention and Services Act (FVPSA). I was among the handful of leaders for the domestic and sexual violence movement who witnessed this under-trumpeted, but long overdue signing ceremony in the Oval Office turning this legislative initiative into law.
We had just a few seconds to speak to the President, so our words were carefully crafted. Knowing that all our friends and supporters were counting on me, I stuck out my hand.
"Thank you Mr. President. I'm Rita Smith from the National Coalition Against Domestic Violence…" His eyes looked to the next person, but I continued. "…And we hope you mention the Violence Against Women Act in your State of the Union address." I held his attention for the briefest moment and then the people in line behind me got restless. I had used up my 30 seconds.
As he moved on, I thought about the thousands who will die and millions who will get beaten and raped next year by those who are supposed to love and care for them, so I started to develop the grassroots strategy that will ensure VAWA is passed next year with bipartisan support. We have a strong core of supporters already: Senators Hatch, Grassley, Enzi, Graham, Snowe, Collins, Murkowski, Brown, Kirk, and Lamar Smith in the House. As we build our strategy, we'll keep the local advocates informed so they can help us build the numbers of this group to the critical mass we need.
The small group who were in the Oval Office to witness the President sign the FVPSA/CAPTA bill yesterday–Sen. Dodd, Harkin, and Enzi, Rep. Miller and Moore, Tina Tchen, along with Luz Marquez, Kierstan Stewart, Sue Else and myself–support VAWA, and also support the need for the President to say VAWA and then do VAWA.
As I walked away I said to myself, "Wait – I had so much more to say," as did the other advocates in the room. I was hoping he could read our minds. If so, he would know:
The national policy efforts to pass VAWA are underway. The first meeting was this past Thursday morning with a very diverse group of advocates representing thousands around the nation. The efforts are being led by Terri Harper Cuthbertson, Esq. with the support of a long-time advocate, Patricia Reuss, who led the successful efforts to pass the first VAWA in 1994.
The omnibus would have allotted increased support for violence against women programs which have seen an increase in demand for their services while their budgets continue to spiral as a result of the economic downturn. Additionally, the road ahead looks bleak for violence against women programs as discussions of major cuts to human needs programs gain more attention and popularity. People are hurting and in their greatest time of need, the cutting of social services–the only lifeline many people have–is not in the best interest of our society.
We need the President's very visible and vocal support for human needs programs unlike ever before, particularly with VAWA reauthorization on the horizon.
As we say goodbye to 2010 and prepare for a new year, NCADV pledges to continue to look at the "state of the union" through the eyes of survivors and children witnessing violence. We have and will always stand up and speak out and will never shrink from our advocacy for the girls and women, boys and men who rarely get to tell their story or stick up for themselves in the Oval Office much less the courtroom, emergency room or the media.
Please consider a year-end donation to NCADV to say "we've got your back." Your support will be used to expand our message, increase our diverse constituency and mount the campaign to pass VAWA next year. We'll spend your donation wisely, count on you for ideas and suggestions, keep you informed every step of the way and promise that you'll never have to read our minds.
In Peace,
Rita Smith
Executive Director
NCADV