Mark your calendars and tell all your friends! The Pixel Project and its supporters are kicking off October (Domestic Violence Awareness Month in the U.S.) with one of the biggest charity bake sales ever!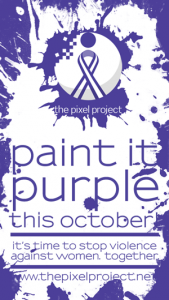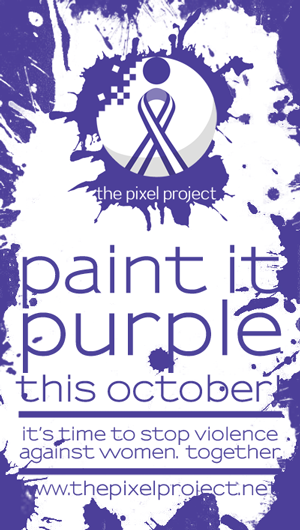 Starting from Saturday 2 October, 2010, 'Paint It Purple' parties will be held around the world. Our kick-off party will be in Kuala Lumpur, closely followed by parties in Singapore, Toronto, Canada; Nova Scotia, Canada; and Cardiff in Wales and Bournemouth in Devon in the United Kingdom.
Other parties in Austin, Texas; Denver, Colorado; Seattle, Washington; and Washington DC will be held throughout October. All will focus on raising awareness and funds to help end violence against women, while also celebrating our efforts with purple-themed cupcake party. At each party, attendees will also record a PSA for our Wall of Support.
Many more private parties are scheduled in locations as diverse as Dubai and Cairo and our virtual blog party will be ongoing throughout October 2010. There is still time to register for putting on a private party or virtual blog party—just visit our "Paint It Purple" parties page, click through the links there to download the registration form, fill it in and send it back as soon as possible.
To take part in the blog party, you will have to do a special blog post and publish it at any time this October. Similarly, private parties will need to be held within October.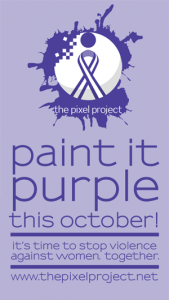 If you can't attend any of the parties, never fear! You can still participate by helping us to "paint" the internet purple using a plethora of virtual goodies ranging from twibbons to Facebook avatars. You can download them from here from 1 October through to 31 October 2010.
Bonus: All participants in any of the "Paint It Purple" campaign activities, be it the "Paint It Purple" parties, recording a PSA for our Wall of Support or social media campaign, will each be counted as an "action" towards helping UNIFEM's "Say NO – UNiTE" campaign's bid to raise 1 million grassroots actions against VAW by November 2010 (http://www.saynotoviolence.org).
Regina Yau, Founder and President of the Pixel Project, said: "For many years, Domestic Violence Awareness Month (DVAM) has been a critical period for raising public awareness about DV in the United States. Through the "Paint It Purple" campaign, The Pixel Project aims to broaden the significance of DVAM by taking it global to spread awareness about DV and other forms of VAW in communities across the world. By making "Paint It Purple" a fun, creative and inclusive campaign that anyone can become involved with, we hope to further galvanise widespread support for action to end gender-based violence which continues to affect millions of women and girls."
Got questions about the campaign or how you can participate? Watch our blog or email us at paintitpurple2010@gmail.com.
Let's do it everybody – let's paint it purple this October for the VAW cause!
It's time to stop violence against women. Together.