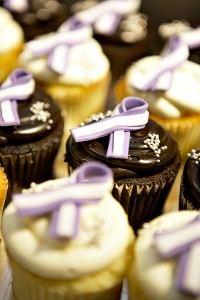 This past weekend, the first of our Paint It Purple parties were held on the ground, around the world. We'll post more details of those parties when they become available. (You can also check our Facebook page for pictures.)
In the meantime, here are some links to the virtual blog parties that were held in conjunction with the Paint It Purple campaign.
Painter Shana marked the occasion in words and in art on her On the Edge of Art blog.
Amy and her friends from FSU Alpha Chi Omega joined forces to bake and decorate cupcakes for a women's shelter in their area. There are a couple of posts connected to this blog party—one from Amy and another posted on the Alpha Chi Omega blog.
Amy's friend Britain also blogged about helping with the Paint It Purple blog party on her Simply Southern blog.
I (Crystal, Pixel Project Blog Editor) also made my contribution through my Achilles Effect blog.
Stay tuned for more Virtual Blog Party news soon!