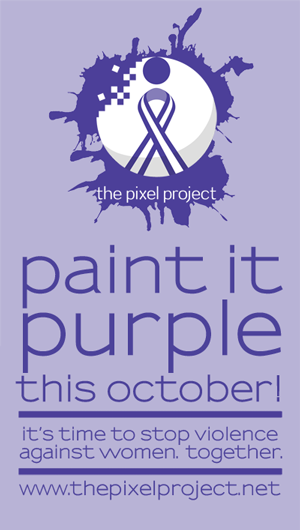 Today is the official launch of our latest campaign. The "Paint It Purple" campaign is a global campaign that will be held throughout October 2010 to:
Raise awareness about Domestic Violence (DV) and other forms of Violence Against Women (VAW) around the world.
Raise voices for our global "Wall of Support" YouTube chorus speaking out against VAW.
Raise funds for The Pixel Project, our partners and participating VAW organisations around the world.
We are leveraging the U.S.'s National Domestic Violence Awareness Month to spread awareness about DV and other forms of VAW in communities worldwide.
How "Paint It Purple" Works
The "Paint It Purple" campaign comprises two initiatives:
1. An Online Social Media Campaign (starting 1 October 2010) to inspire volunteers, partners, supporters, bloggers, friends, family and the global public to help The Pixel Project "paint" the Internet purple (the colour of the VAW and DV cause) through a viral and very visual campaign using twibbons, buttons, banners and blogskins.
"Paint it Purple" badges, banners, buttons, blogskins and other virtual goodies will be available on the Pixel Project website starting October 1, 2010.
2. An On-the-Ground, Media-Friendly Event – "Paint It Purple" Parties (2 October 2010). "Paint It Purple" Parties will be held by The Pixel Project in conjunction with our partners and any other VAW organisation or grassroots community group who wish to:
Support the global fight to end DV and all forms of VAW
Jointly raise funds and awareness for their chosen VAW/DV charity and The Pixel Project.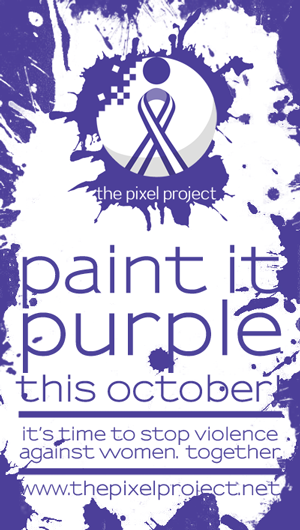 The "Paint It Purple" party is designed to be an easy-to-organise awareness-raising and fundraising event all rolled into one featuring two core activities:
Raising advocacy – Getting everyone to record their video endorsements for The Pixel Project's "Wall of Support" – a global YouTube chorus of people from all walks of life standing up to call for an end to violence against women.
Raising funds – A global Charity Cupcake Bake Sale featuring special "Paint It Purple" cupcakes
All official parties will be held on 2 October, 2010 at 2:30pm local time.
Private "Paint It Purple" Parties can be hosted and held throughout October 2010.
The virtual "Paint It Purple" Blog Party will be held on 2 October 2010 with participating bloggers posting their "Paint It Purple" blog posts through the day.
Full support is available in the form of media kits, ribbon stencils for the cupcakes, a full organiser's checklist and a sample programme! (You can even customise your event by adding your own activities.) VAW organisations who host a party will share in the proceeds from the event.
We currently have parties confirmed in Toronto, Kuala Lumpur, Singapore, Wales (UK) and Denver, CO (USA).
Visit our "Paint It Purple Parties" page for all the details on hosting your own "Paint It Purple" party!
Any further queries? Email the "Paint It Purple" campaign team at PaintItPurple2010@gmail.com.
And be sure to stay tuned to The Pixel Project blog, Twitter feed and Facebook page for more information on this exciting campaign!