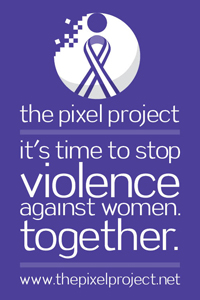 With the recent Time magazine cover featuring Aisha, an Afghan woman who had her ears and nose cut off, the Mel Gibson scandal and Roman Polanski's release, Violence Against Women has been prime time news for the past few months.
The million dollar question is: What are you going to do about it?
Here are 10 simple ways to stop violence against women by helping The Pixel Project:
1. Virtual volunteering with us – If you have a few hours to spare per week, consider joining The Pixel Project team which includes volunteers from 4 continents, 12 timezones and over 10 cities worldwide. Have internet connection, will volunteer, we say!
2. Twitter Ambassador programme – A micro-volunteering program engaging Twitter users to spread awareness about VAW through regular re-tweets.
3. Twitter Tag Team – Join our team working behind our Twitter account to bring the global public VAW helplines from more than 20 countries, and the latest news and information about VAW round the clock.
4. Facebook page – Join our page to join a one-stop shop of up-to-date VAW news, ideas to stop VAW and a discussion forum for supporters and survivors to raise awareness about VAW.
5. "Wall of Support" programme -A growing chorus of people from around the world and all walks of life speaking up to end VAW in person, on video via YouTube. Why not make your own – stand up and have your voice counted!
6. Spread the word about The Pixel Project's work through our banners and buttons. Just right click, save the button/banner of your choice and upload as your Twitter, Facebook or LinkedIn avatar!
7. Share your stories on our blog – Where you are a survivor, a supporter, an activist, an advocate or a volunteer for the cause, we would love to hear from you!
8. Support our partners – The Pixel Project has partnered up with a diverse roster of partner organisations worldwide including UNIFEM's "Say NO – UNiTE" campaign, The White Ribbon campaign and The Sisterhood is Global. Check out our monthly Call-to-Action Calender to find out which of our partners' activities will be happening near you!
9. Partner with us – If you are a non-profit organisation or charity working to end VAW, we'd love to hear from you!
10. Be a Social Media Ambassador – Do you have a Facebook account? A Twitter account? A blog? Take part in our social media campaigns and daily social media conversations. Better yet: Encourage your friends and family to get on board the cause by joining us on Facebook, following us on Twitter or checking out our website!
(And of course, once our online donation portal is up, we'll let you know!)
It really is time to stop violence against women. Together.