Welcome to Part 1 of our August 2022 Inspirational Interview with Baia Pataraia, executive director of Sapari in Georgia.
Baia Pataraia is a human rights lawyer and civil activist. Since 2013, she has chaired the prominent women's organisation Sapari. In 2014 Baia founded the Georgian Women's Movement, the nation's largest informal feminist group, which perform various advocacy activities and social campaigns. Currently, she also chairs the board of Human Rights House Tbilisi. In 2021 she received the Kato Mikeladze Award for Women Human Rights Defenders.
Part 2 of this interview will be published on 29th August, 2022.
Photos courtesy of Sapari.
---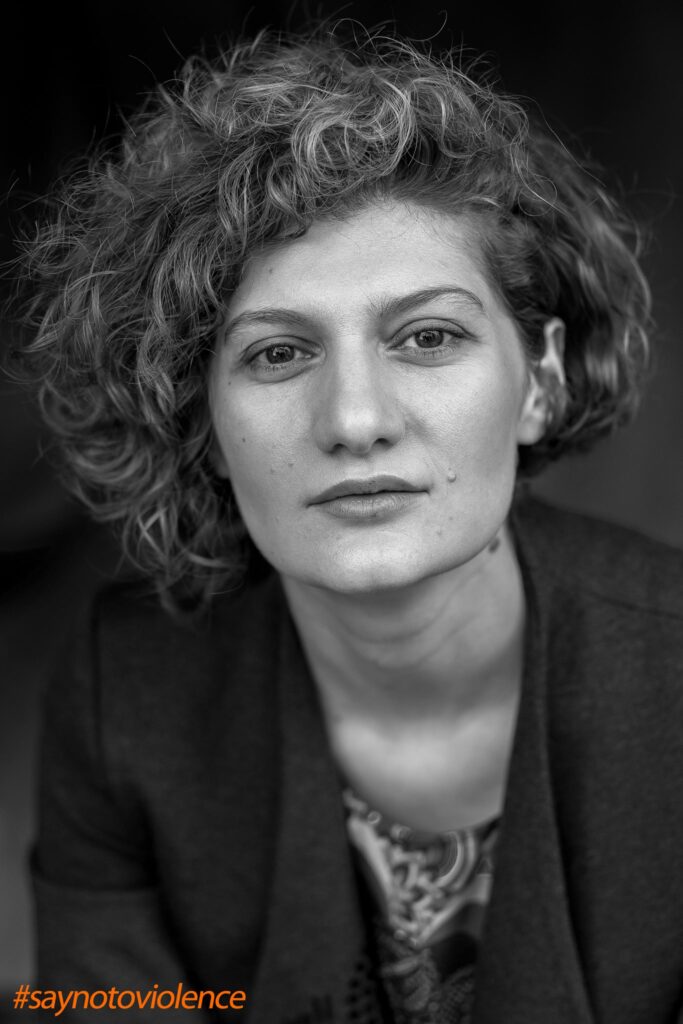 1. How and why did you join the movement to end violence against women (VAW)?
In 2008, as a volunteer lawyer, I met with victims of domestic violence for the first time, and their stories struck me. I decided to fight violence against women from any positions I'd find myself in my career. Eventually I started searching for feminist groups and organisations, but it took a while.
In 2012, together with young women, we formed an Independent Group of Feminists and appeared before the public as feminists. At that time extremely few people would call themselves feminists. In 2014 we founded the Georgian Women's Movement — an informal initiative, which exists online and has more than 4,000 women members now. All of these groups caused a real new wave of feminism in Georgia. Today the women's movement is one of the strongest social movements locally.
2. Sapari was established in 2001 as "a rehabilitation center for victims of domestic violence." How did Sapari come to be founded? 
I learned about Sapari only in 2008, and the organization was already 7 years old and had an amazing woman chairing it, Natalia Zazashvili. Sapari was one of the very first women-led organisations combating domestic violence in Georgia. Sapari was offering one of the first shelters for the victims of domestic violence and offered psychosocial rehabilitation and legal consultations to the victims. By then there were no legal regulations on domestic violence in Georgia.
Initially Natalia would attend all my consultations and provide feedback. She taught me how to show empathy to the victims, how to listen to the victims and how to gain their trust. She believed that legal consultations were also part of healing. After so many years, Sapari has the same values and understanding of rehabilitation.
3. Could you give us an overview of the services and programmes that Sapari provides for the victims and survivors of VAW in Georgia?
One of the main services of Sapari is legal assistance to the victims of VAW. With many years of experience, a team of professional and gender-sensitive lawyers offer free consultations and court representation nationally and internationally. We also have social workers in our team, who do the very first assessments of the needs of our beneficiaries and help them to obtain all relevant and available social services in Georgia.
4. One of Sapari's most recent initiatives is Gandzi, a bilingual Georgian-Armenian platform that was established in November 2021 in partnership with the United Nations Population Fund (UNFPA) Georgia Country Office to promote the prevention of harmful practices against women and girls and aims at raising awareness of reproductive rights and health among ethnic minorities. What impact has Sapari made through Gandzi in terms of educating communities about VAW?
To start with, should be noted that long before the creation of Gandzi, back in 2019, we created the bilingual Georgian-Azerbaijani platform Panjara. So Gandzi was created based on the successful experience of Panjara.
Just in half a year, Gandzi became a friendly and safe space for ethnic Armenian youth in Georgia. On this platform Armenian-speaking youth can receive information about their human rights, on women's rights, on reproductive health, on the pandemic, etc. Gandzi is valuable for all for its young bloggers, more than dozens of ethnic Armenian youngsters who share their experiences, aspirations, challenges, thoughts and much more.
In addition, Gandzi creates informal education opportunities for young people in Javakheti region. The best parts of bilingual platforms is that both majorities and minorities have opportunity to learn regarding each other's life, traditions and concerns and creates a unique space for intercultural dialogue.
5. Since 2001, what sort of impact has Sapari had on Georgia's approach and attitudes towards VAW?
Sapari is a very vocal watchdog organisation. We identify gaps and advocate for legislative and systemic changes. We closely cooperate with media and do many campaigns via social media, to raise sensitivity and awareness on the issues related to VAW.
Together with the Georgian Women's Movement and other feminist activists, groups and organizations, we achieved some significant changes. The legislation has improved, police and prosecutors are performing better, and the public is convinced that VAW is real and a severe societal problem in Georgia. Now VAW and women empowerment is on the political agenda of most of the political parties.