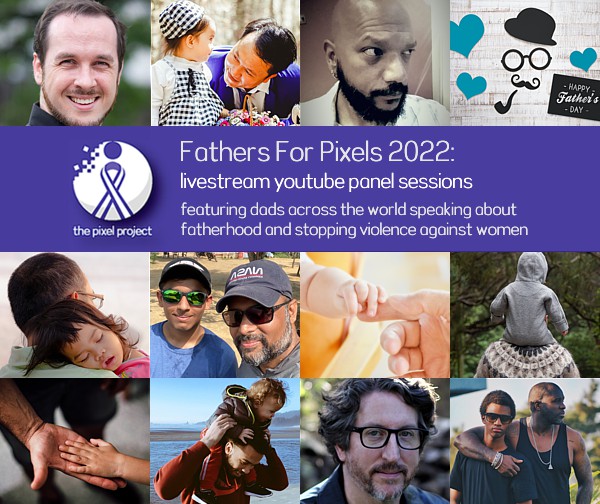 MAY 17th, 2022 (WORLDWIDE): The Pixel Project , a 501(c)3 anti-Violence Against Women non-profit, is proud to announce their third annual Fathers For Pixels livestream panel series 2022 which is part of its Fathers For Pixels programme to engage men in efforts to end violence against women (VAW).
The Fathers For Pixels livestream series is a series of panel discussions taking place throughout June 2022 in honour of Father's Day. This year's livestream YouTube sessions feature dads and sons who actively work to galvanize their communities to tackle misogyny, sexism and violence against women. On selected Saturdays throughout June, 2 to 3 panellists from a range of perspectives, backgrounds, and experiences will discuss a specific topic related to fatherhood and violence against women.
This year's topics include:
These sessions will provide a starting point for fathers, families, and communities who are interested in encouraging healthy masculinity, cultivating positive fatherhood, and building a world free from VAW. Each discussion will include tips and ideas from panellists regarding tackling toxic masculinity, conscious parenting against sexism, and raising the next generation of boys to be non-violent, non-sexist, and non-misogynist men. There will also be a Q&A segment for viewers to ask questions during the livestream.
Every panel session will be recorded and archived on a playlist on The Pixel Project's YouTube page as a free public resource.
Regina Yau, Founder and President of The Pixel Project, said: "This year's Fathers For Pixels livestream series continues our efforts to engage men as allies and stakeholders in a collective effort to end VAW and to acknowledge the vital role that dads play in their families, cultures, and communities. We are excited to kick off the campaign by collaborating with our longtime partner Breakthrough India on this year's 'Fathers Raising Feminist Sons' session to feature our first Indian father and son – the Kishore family from New Delhi. Following that, our Father's Day 2022 weekend session will welcome acclaimed Read For Pixels authors Paul Tremblay, Marshall Ryan Maresca, and Errick Nunnally for a discussion about the role and impact of positive paternal role models in speculative fiction and pop culture. It is our hope that these sessions will provide fathers worldwide with useful and actionable ideas for navigating the challenges in parenting their boys and being healthy non-violent male role models for their peers and their communities."
---
More information about Fathers For Pixels can be found at http://bit.ly/Dads4Pixels
Fathers For Pixels livestream session dates and times can be found here.
---
About The Pixel Project (www.thepixelproject.net)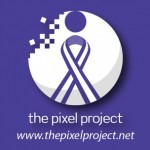 The Pixel Project is a complete virtual, volunteer-led global 501(c)3 non-profit organisation whose mission is to raise awareness, funds and volunteer power for the cause to end violence against women at the intersection of social media, online communities new technologies, and popular culture/the Arts.