Welcome to part two of our October 2020 Inspirational Interview with Konnie Yoifa, the Port Moresby Operations Director of the Bel isi PNG Initiative case management centre and safe house, both operated by Femili PNG.  
Femili PNG's mission is to work with clients, partners and communities to improve responses to family and sexual violence through case-management, partner support, training, monitoring, research and advocacy. Ms. Yoifa has been working with Femili PNG since 2014, starting as a Child Protection Officer and Training Coordinator before moving into her current position in 2019.
In this part of the interview, Ms. Yoifa talks about the impact of Covid-19 on her organisation and future plans to expand their reach into other provinces of Papua New Guinea.
Part 1 of this interview was published 25 October 2020.
Photos courtesy of Femili PNG. 
---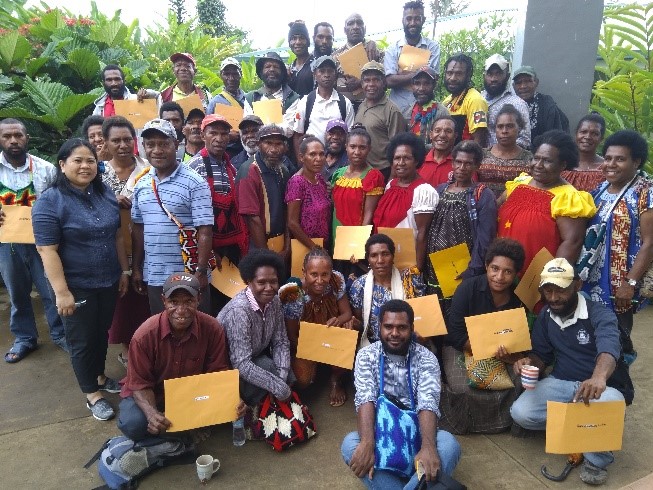 6. With the Coronavirus pandemic currently raging on, the rates of VAW, including domestic violence, have been surging worldwide. How has the pandemic affected VAW in Papua New Guinea and what are some of the ways Femili PNG has adapted in order to continue helping women and girls while adhering to the safety measures needed to curb the virus?
With the current pandemic, businesses were really affected and as a result, many people were made redundant or laid off from work. With the increase in unemployment and two lockdowns in Port Moresby, we assumed that there would be an increase in violence. However, from Femili PNG's Port Moresby client data, there has not been a substantial increase. Rather, we have noticed an increase in other crimes. This may be due to the lockdowns, where there has been reduced access to public transport and, therefore, fewer survivors being able to travel to access our services.
I would not speak for other provinces, but for the Femili PNG case management centre in Lae, there has been a huge increase in the number of clients accessing services. This may be due to COVID-19 or as a result of a recent high-profile domestic violence murder in PNG which has caused many survivors to seek help. 
For Femili PNG, prior to having positive COVID-19 cases in Papua New Guinea, we developed our COVID-19 Response Plan and had it in place prior to the outbreak here. This plan has allowed us to continue operations even during lockdown. Our teams have been observing the preventive measures in place to protect themselves and our clients. 
7. How do you think men and boys can help to end violence against women? 
There are organisations working with men and boys in PNG to address VAW and their programs have been effective in helping men and boys prevent VAW in the areas which they operate. It would be good if we could look at the approaches that have a positive impact and try to implement those approaches to help men and boys end violence. Femili PNG does this through our training and outreach programs, working with community leaders, but also in schools to start awareness with children.
Another approach we can use as parents is to educate our males to have respect for all females regardless of who they are. And it should start when our children are small so they can grow up respecting females. This will help in the fight against VAW. 
8. Tell us about Femili PNG's plans for the future. What campaigns, programmes, or projects do you have coming up in the next 5 years?
Femili PNG is planning to extend to the PNG highlands to set up a case management outpost. Currently Femili PNG is negotiating with the Community Development Office of Eastern Highlands Province to set up two Femili PNG caseworkers in their office. This will be a trial to see if the outposted caseworker model works, and if so, we may look to roll it out in other provinces. We are hoping to obtain funding for the outpost in Goroka under the UN Spotlight Initiative.
Also under the UN Spotlight initiative, Femili PNG is aiming to provide training and technical support to safe houses and community organisations in three other provinces in PNG, as well as family and sexual violence (FSV) related laws training to village court magistrates, officials, and community leaders in another three provinces. 
9. How can The Pixel Project's supporters engage with and support the efforts of Femili PNG to stop violence against women?
Femili PNG is supported by many individual donors and funders. Our operational funding is provided by the Australian Government in partnership with the Government of Papua New Guinea as part of the Pacific Women Shaping Pacific Development program. We have also been privileged to receive support from other organisations such as UNDP and Oil Search Foundation (for COVID relief), Digicel Foundation (for training) and Mundango Abroad (for outreach), among many others.
We are really grateful for all of the support received. Like most NGOs who work in the area of FSV, we are dependent on these donations to operate. If any Pixel Project supporters were interested in donating to Femili PNG, details can be found here: femilipng.org/donate/
We are grateful for any support of the work of Femili PNG – please follow us on Facebook or Twitter. Together we can advocate for change and to work to stop violence in our communities.
10.In your considered opinion, how can we end violence against women for good?
In my opinion, ending violence for good will be challenging. Different people have different attitudes and behaviours. Firstly, it begins with those of us who are parents. We should start teaching our children to have respect for people, regardless of who they are, whether they are female or male. And if there are any cultural practices or beliefs that promote violence, we must do away with them. Otherwise, these practices or beliefs will only be used as an excuse to continue the violence.  
Another way to minimise the violence is to focus on early childhood education programmes in schools. The education department could include classes on types of abuse and the consequences so children can learn more about it and contribute to reducing violence.