Welcome to part one of our February 2019 Inspirational Interview with Joe Samalin, Co-Founder of MenChallenging in the United States.
Joe Samalin is a consultant and trainer on preventing sexual violence, and the co-founder of MenChallenging, an online campaign for men challenging gender violence. Joe has worked on domestic violence, sexual violence, and anti-stalking with a wide range of communities, including with fraternities and other groups of college students, for over 15 years. Joe enjoys video games and ultimate frisbee, is fluent in Japanese, and – sorry – is a cat person not a dog person.
Part 2 of the interview will be published Monday, February 25, 2019.
All photos courtesy of Joe Samalin and MenChallenging.
---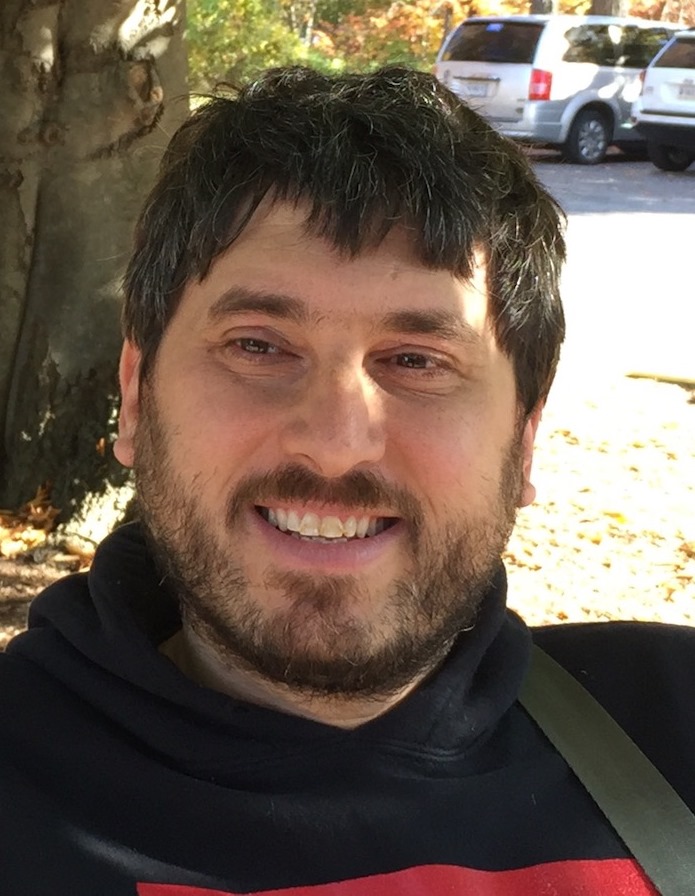 1.   You have spent close to two decades educating men and boys about the importance of helping stop violence against women and building health masculinity, including previously working at Breakthrough which is one of our longtime partners. What motivated you to become a longtime male ally to the anti-Violence Against Women movement? 
Like many men, my first awareness of violence against women comes from knowing someone who experienced it – in my case, my mom. In college at my first Take Back the Night rally, I realised what an epidemic such violence is as woman after woman testified to experiencing domestic violence, sexual assault, sexual harassment, or some combo of the three. That was my a-ha moment. I had to, needed to, do something. My journey in this work towards violence prevention is not a choice. And as my awareness and understanding grows and deepens, as more and more survivors disclose their experiences to me personally or publicly through #MeToo (Created by Tarana Burke), I realise that I also must continue challenging myself and other men to learn and do more.
2. What are the changes that you have seen over the past two decades in relation to the involvement of men and boys in stopping violence against women (WAW)?
Over the last 10-15 years there has undoubtedly been an explosion in awareness of and action taken against gender-based violence, especially by men and boys around the world. This is an absolute necessity if we are truly going to change our culture so that gender-based violence becomes unacceptable.
But, as men, we enjoy so many privileges, so we also need to be critical and accountable. Men have been joining discussions and actions on gender violence at such a pace that we are not doing the critical internal work around power and privilege. Often, we are not only being hypocritical in our work but often wind up causing the very harm we seek to eradicate. I have seen an increase in harassment and violence committed by men doing anti-violence work and an increasing gender pay gap as well. We must acknowledge this and do everything we can to challenge it.
3. There are a number of very well-known and well-regarded male ally movements to stop VAW and address toxic masculinity including A Call to Men and the White Ribbon campaign. What inspired you and Ben Atherton-Zeman to start the MenChallenging initiative and how is it different from what the others are doing? 
MenChallenging is an online campaign that challenges all men to donate funds as a first step – put out money where our mouths are – to supporting survivors of gender-based violence. It is also a resource for men to get involved and take simple, direct actions. Finally,  MenChallenging brings men together to change our culture of toxic masculinity by engaging the men in our lives directly, peer-to-peer, as well as networking them nationally.
Our goal is to enhance the work of the individuals and organisations such as those you mentioned, by filling in the gaps and creating connections between those organisations and programmes already out there. So, MenChallenging does not have programmes and is not an organisation in the traditional sense; we are a campaign, an online resource, and a hub that bring in more and more "everyday Joes" to take action and challenge gender violence in our everyday lives.
4. What are some of the core strategies that MenChallenging will be using to engage men and boys with the intertwined issues of VAW, sexism, and misogny, and to bring about change in their attitudes towards women and VAW? 
As an online campaign and resource, MenChallenging offers men and easy way to challenge violence – raise and donate money to support survivors. We do not need men to all hold PhD's in Gender Studies or Critical Race Theory (though that would be lovely!), but to take at least one small step to challenge violence.
Integral to MenChallenging's work is supporting organisations that work with survivors from marginalised communities whether Deaf or Hard of Hearing, women of color, transgender folks, and others.
Also, we are very clear that just because someone might be a member, staff person, volunteer, or even co-founder of MenChallenging, does not mean they are less likely to commit gender-based violence that other men. This is a critical piece of accountability we take very seriously, and we believe it sets a strong foundation to address any violence that takes place within the work we do.
5. Different communities and cultures need different approaches with regards to getting them to engage with the issue of VAW. Could you tell us about some of the activities that MenChallenging is currently developing and how you think they might be adapted to engage with men and boys in the different communities? 
MenChallenging is designed to be widely accessible to a wide range of individual men and communities. Individuals can always give funds, take action on their own, and join in any of the campaigns we are partnering on. MenChallenging is currently partnering with Roll Red Roll (https://rollredrollfilm.com/) – a powerful new documentary on the Steubenville, OH rape case from 2012. Since the case and film focus on the culture of high school football players, we are creating actions that those communities can take to challenge gender violence and rape culture.
Organisations such as non-profits, churches, schools, teams, and boy scout troops can work with us to create unique and specialised actions for their specific group to take. We also partner with resources that cater to specific populations. For example, during the Brett Kavanaugh justice confirmation hearings some of our members worked together to create a video, challenging Kavanaugh as fathers.