Welcome to part two of our inspirational interview with Bettina Baldeschi, CEO of International Women's Development Agency.
Bettina joined IWDA in 2012 as Director of Communications and Fundraising, leading the transformation of the organisation's brand identity, media profile and communications strategy. Bettina later served as the Director of IWDA's Individual Deprivation Measure (IDM) program – a world-first, gender-sensitive and multidimensional measure of poverty. Before joining IWDA, Bettina held a number of executive roles with Oxfam Great Britain, and also worked with UNHCR in Canberra. She earned a Bachelor of Arts (Hons) in Communication Studies from the University of East London and a Master of Studies, Gender and Development, from the University of Oxford.
In this part of the interview, she discusses the role men can play in ending violence against women, as well as IWDA's future plans.
You can read the first part of the interview here.
____________________________________________________________________________________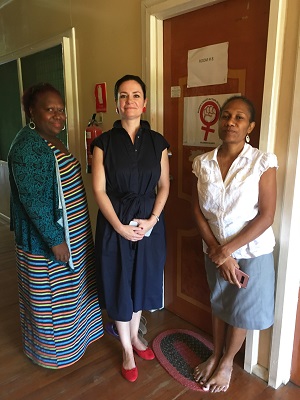 6. How do you think men and boys can help to end violence against women?
Men are overwhelmingly the perpetrators of gender-based violence. In order to eliminate this violence, the attitudes of men need to change.
A great example of this is the work of one of our partners, the Nazareth Centre for Rehabilitation, which is based in the Autonomous Region of Bougainville, Papua New Guinea. The team at the Nazareth Centre run programmes for male advocates who reinforce the work of women in pushing for gender equality, elimination of violence and respectful relationships. The programme also provides counselling and training to men who have committed violence against women in order to prevent further abuse.
Nazareth Centre's male advocates have shown there are already many men who are standing proudly alongside women in the fight for gender equality. The more boys and men that can be supported to change their behaviours and attitudes, the more women can lead safe, free and equal lives.
7. Tell us about IWDA's plans for the future. What campaigns, programs, or projects do you have coming up in the next 5 years?
We are currently midway through our 5 years' Strategic Plan, so we are about to review our achievements to date and recalibrate if needed to ensure we're delivering the greatest impact and value in our work. Systemic change will continue to be a central part of our work, because we must do all we can to tackle the structural inequalities that stand in the way of gender equality.
One of our programmes that exemplifies systemic change is the Individual Deprivation Measure (IDM), which is a new, gender-sensitive and multidimensional measure of poverty. It has been developed to assess deprivation at the individual level and overcome the limitations of current approaches that measure poverty at the household level. The IDM is the Australian Government's single-biggest investment in plugging the global gender data gap. It's our aim to have this ready for global use by 2020, so watch this space!
8. How can The Pixel Project's supporters engage with and support the efforts of IWDA to stop violence against women?
There are many ways you can get involved with the work of IWDA. You can learn more about our work at www.iwda.org.au, where we also upload our latest research and policy briefs. You can sign up for our emails so we can keep you updated on how to take action.
Generous supporters are the lifeblood of IWDA, so there is the opportunity to make a one-time or regular donation on our website too. And of course, we can all play a role in ending violence against women by calling out behavior that supports or validates the abuse of power.
9. In your considered opinion, how can we end violence against women for good?
It requires a variety of responses, with a strong focus on prevention and changing gender norms to cultivate a more equal world. Significant work is required to address the inter-generational nature of gender-based violence, including an increased focus on early prevention and education. And of course, we need adequate funding coupled with strong and sustained leadership from all sectors of society.