Welcome to part one of our July 2018 Inspirational Interview with Naomi Mwaura, the founder of Kenya's Flone Initiative which focuses on addressing violence against women in Kenya including street harassment and workplace harassment in the public transportation industry.
Naomi holds a bachelor's degree in psychology (Honors). As a fellow of the Mandela Washington Fellowship for Young African Leaders, she also completed a civic leadership fellowship at Tulane University, New Orleans, USA. Naomi has over seven years' experience in project management and community development and is among seven African women to be named as "BBC 100 Inspirational and Influential Women" in 2017. She is also co-founder of Udada Festival Trust, an organisation that highlights and celebrates women in the arts.
Part 2 of Ms. Mwaura's interview will be published on Monday 30 July 2018.
All pictures courtesy of the Flone Initiative.
__________________________________________________________________________________________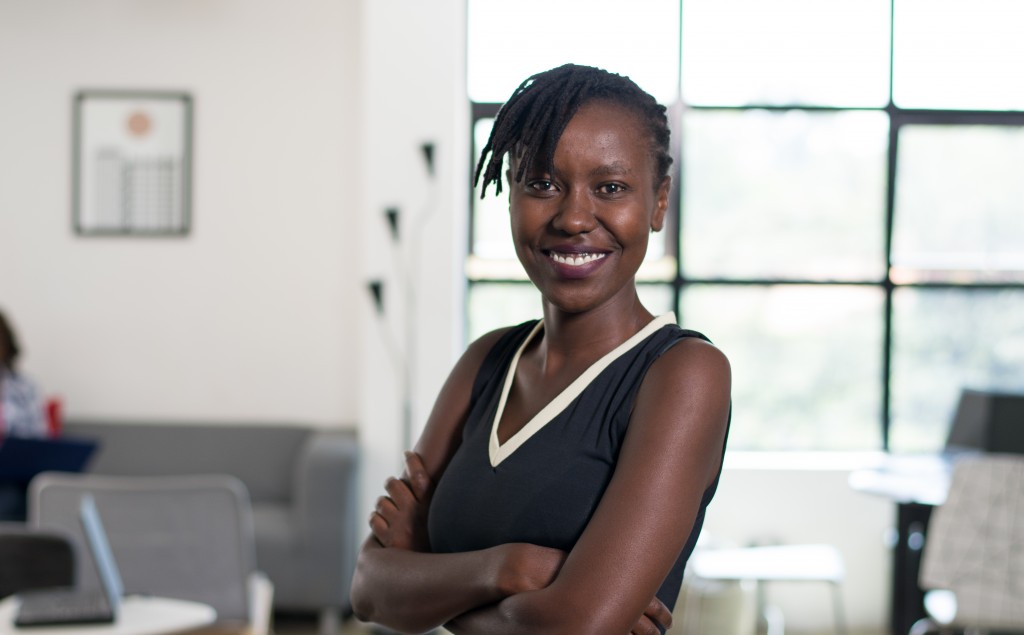 1. How and why did you join the movement to end violence against women?
I was on leave from my job in a university and saw a video clip of a lady being stripped of her clothes in a small town called Nyeri in Kenya. My best friend and her mother lived in Nyeri, and I asked her if I could stay with her family while I planned a demonstration against the stripping of the lady. I would commute from her home to meetings. On the day of the demonstration, we had more press than demonstrators, so we decided to hold a press conference. The incidence and our call for action received media attention. For the next couple of weeks, my friends and I developed a proposal to train public transport operators on sexual violence and received funding from the pan-African feminist organisation FEMNET. A couple of months later, I quit my job at the university and founded Flone Initiative together with four friends.
2. Flone Initiative (Flone) is a women's organization and trust you founded in Kiambu, Kenya to work towards "ending violence against women and girls in public spaces by influencing behavioral change and promoting tolerance and acceptance by strengthening capacities at grassroots level." What was your inspiration for starting Flone?
I grew up watching my uncles work as public vehicle drivers, conductors and cleaners, and sadly at one time, I was physically assaulted by public vehicle conductors. These contrasting experiences demonstrated the need for an initiative that would improve the lives of public transport operators, create safer spaces for women, and change the matatu [privately owned minibuses] industry for the better.
3. Flone's most recent project is the Flone Initiative Public Safety Certificate program (Usalama Wa Uma), which trains public transport providers on customer service, gender equality, prevention of sexual harassment, professional and personal development. Could you tell us more about the project and its progress so far?
The Usalama wa Uma programme aims to promote a safe and professional public transport industry in Kenya. It was developed in 2013 in response to increased cases of sexual harassment in public transport and public spaces. The programme utilises the Usalama wa Uma training manual to trains male public transport providers on gender equality and prevention of sexual harassment, with the aim of creating safe public spaces for women and girls.
Additionally, the programme offers personal and professional development training to operators with the aim of ensuring the operators uphold professionalism in their work. Nyeri, Githurai 44 & 45, Bungoma, Mombasa, Nairobi, Kisumu, Kayole, Embakasi and Nakuru have been identified as having recurring incidences of sexual harassment and violence and are the most in need of training. As of March 2018, 586 public transport operators in these areas have benefited from the training. Through the training sessions, some operators' perception of women has greatly changed. For instance, a male operator did not allow female commuters who he thought were indecently dressed to board his minibus, but today he is a great supporter of Flone's work.
4. Flone also works on addressing street harassment and the harassment of women in public spaces in general. One of your focus areas is on women in public transport. Could you tell us more about your efforts in this area and how it has impacted women working in and using public transportation in Kenya?
The Women in Transport programme aims to attract and promote women working in the public transport industry as drivers and conductors. We conduct monthly capacity building workshops for the female operators based on training needs they identified during a needs assessment exercise that Flone facilitated. The training sessions have been very impactful. For instance, after facilitating training on how to handle persons living with disabilities, one of the lady operators identified two people living with disabilities who hawk at their stage and live along her route, and she supports them to board buses to and from work.
5. Another programme by Flone is "Report it! Stop it!" – a crowd-mapping platform where survivors & victims of sexual harassment & assault voice out and map out their ordeals in public spaces, to seek redress and support. Can you tell us more about it?
The Report It! Stop It! programme was developed due to lack of data on violence against women and girls in public transport and related spaces. This crowd-mapping platform enables survivors of harassment and assault to report the incidences via a phone call, a text message, on Facebook and Twitter, as well as directly via the platform. The programme also educates the public on the different forms of harassment and ways to seek redress and support whenever they occur. Report it Stop it! currently has over 300+ cases, and we use the reports to inform our Usalama Wa Uma interventions.