Welcome to part one of our Inspirational Interview with Karin Alfredsson, a journalist, author and activist from Sweden.
Karin's engagement in the cause of violence against women began in 1979, when she published the first nonfiction book about violence against women in Sweden. She has worked on many journalistic projects covering the issue. In 2012, Karin launched the international Cause of Death: Woman project, covering different aspects of VAW in 10 countries. From 2012 to 2015, she was based in Lusaka, Zambia, working as the regional director for the Swedish development support organisation We Effect. Karin has also written five crime novels about violence against women in different parts of the world and was recognised by the Swedish Crime Literature Academy several times. In September 2017, her new novel, "Scream Quietly, or the Neighbours Will Hear," is set to be released.
Part 2 of Karin's interview will be published on 29 May 2017.
Pictures are courtesy of Karin Alfredsson.
---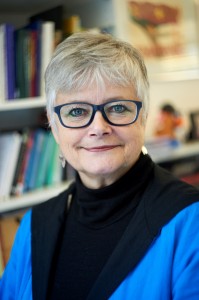 1. What inspired you to become a journalist and author specialising in reporting on and writing about violence against women (VAW)?  
Since my teenage years, I have been interested, and active, in the women's movement. When I was a young evening newspaper reporter, I was covering the birth of the Swedish women's shelter organisations and went to England to do a newspaper story about the British experience.
When the photojournalist Ulla Lemberg and I came home, we had a lot of material – text and photos – that could not be squeezed into a newspaper story, and we approached a publishing house. Our idea was to publish a book about British shelters, but the publisher said: "Why don't you write about Sweden? There is no book in Swedish about violence against women." That is how it started.
The book was published in 1979 and used as a training manual for the fast growing shelter movement. I travelled all around the country to talk about the problem and our book.
2. What are the particular challenges that journalists face when reporting on VAW? 
To fight prejudice and common misunderstandings.
In 1979, knowledge was very limited, and many readers thought that violent relationships just could be found in groups of alcoholics/immigrants/socially isolated/unemployed/you name it.
Now the general understanding is on a higher level in Sweden, but still one question remains: "Why did she not leave at the first sign of violence?" A lot of responsibility for staying in a violent relationship is put on the woman, and the long-time breakdown of her self-esteem is not understood. Neither is the fear of what will happen if she leaves, a fear that she has good reasons to consider.
3. The mainstream media worldwide has been criticized for either ignoring or poorly reporting stories of VAW, whether as an issue in general or in terms of particular cases. How do you think the media can improve the way they approach and report VAW? 
It is important to see the structures behind individual stories. My colleague and friend Kerstin Weigl, a reporter at the biggest Swedish newspaper, Aftonbladet, has been studying every single woman who has been murdered by her present or previous partner in Sweden since 2000. She has examined society's mistakes, the relationships' and individuals' similarities and differences, and helped to identify methods to identify and help women in danger. She has also been able to have deep interviews with women, men and children. By never giving up, she and her colleagues have created a broad understanding of the magnitude of the problem beyond individual sensational headlines.
4. Margot Wallström, the United Nations special representative on sexual violence in conflict and presently the Swedish minister of foreign affairs, has said that through your work you almost single-handedly persuaded Swedish authorities to take the issue of VAW seriously and to act more forcefully in handling cases of domestic violence. What are some of the best practices that Sweden has developed for addressing the issue since then? 
Margot Wallström is too kind. I happened to publish the first book in Swedish about VAW at the same time as the women's shelters movement was born, and my book could be used by them. Their input was a lot more important to put pressure on politicians.
I think our legislation is quite okay, and the matter has been a priority for many governments during the last years. But a lot still needs to be done on the ground, in education for police, judges, social workers, and resources for women's organisations working in shelters, and with formation of opinion.
5. You are one of the co-founders of "Cause of Death: Woman" which is an investigative report on VAW in 10 countries. Could you tell us about the report, how it is progressing, and the impact it has had so far? 
The project was launched by UNIZON, a national women's shelters organisation, in March 2012 and can be found at www.causeofdeathwoman.com.
The photojournalist Linda Forssell, the writer Kerstin Weigl and I travelled to 10 different countries to conduct interviews with survivors and agents for change. On the website, you can find a great deal of journalistic material (300 texts and 750 photos), facts about all the countries concerning VAW, study materials, a quiz and an exhibit that can be used free of charge.
The website has had almost 200,000 visitors from all over the world and been used by Swedish and international women's organisations. This fall, one of the Swedish province museums, Gotlands Länsmuseum, will launch a big exhibition with our texts and photos. It is a replication of another exhibition that was shown at Värmlands Museum in 2015. We are now applying for more money to be able to update the factual material and complete the report with two more countries, focusing on prostitution and refugees.
Join us for Part 2 on Monday, May 29.