Welcome to part two of our Inspirational Interview with Stephanie Harvey, Co-Founder of Misscliks.
A five-time world champion in competitive Counter-Strike, and longtime female pro-gaming icon, Stephanie Harvey currently plays professionally for the all-female team CLG Red. She also worked as a game designer for Ubisoft Montreal, having notably been part of development for Prince of Persia: The Forgotten Sands and Far Cry Primal. Her 16 years in e-Sports as a player and 7 years in the industry as a developer awarded her a Forbes 30 under 30 title in 2014 and one of the BBC 100 women of 2016. She also recently just won Canada's Smartest Person Season 3 on CBC. In this part of her interview, she goes on to talk about what individual gamers and gaming communities can do to tackle online harassment and violence against women.
The accompanying picture is courtesy of Stephanie Harvey.
You can read the first part of her interview here.
Are you a gamer interested in supporting the cause to end violence against women or do you know gamers who do? Check out our Gaming For Pixels campaign that's kicking off with our Spring Slam gaming marathon fundraiser for Sexual Assault Awareness Month.
__________________________________________________________________________________________________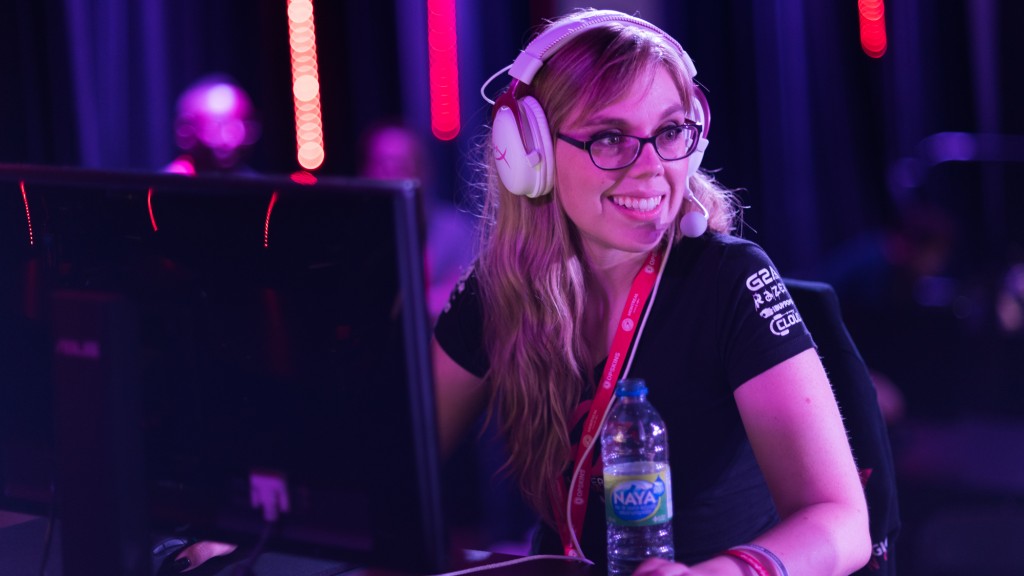 6. What would be your advice to women and girls facing online harassment during gameplay?
Unfortunately, my best advice is to ignore the trolls. Obviously I wish it wasn't the best thing to do, but ignoring them usually tame them. If you fuel the fire with fire it only gets worse.
7. A number of nonprofits, organisations, and game developers are now  as tools for educating communities about sexism, misogyny, and violence against women. Do you think this might be something that the wider gaming and eSports community and industry can support and if so, what are some of the ways that they can support such efforts?
I mean I think it would be great for the community to support an initiative like this, but I also don't think it's realistic at the moment other than raising money through donations and such. Although the eSports prize pools are getting really big, there isn't that much money outside of the main games and the main competitions. There are currently a few companies, such as Intel, that supports female gaming and other diversity projects in tech, but that's pretty much it.
8. As successful gamer-run charity events like Extra Life, Child's Play, and Gamers For Giving have shown – gamers have a huge heart for helping causes ranging from Doctors Without Borders to stopping child abuse. What do you think gaming community can do to help end violence against women and girls?
I am not exactly sure what the community can do about it. I am not an expert in how to help these kind of things, I just have a couple of solutions as to what we could work on as a community because of my personal experiences. Other than raise money and raise awareness, you would need a couple people to sit down and think about what else we could do. The AnyKey organisation is actually already working on similar projects at the moment.
9. How can The Pixel Project's supporters, fans, and followers support any efforts and initiatives by the gaming industry and community to stop violence against women?
I think it starts by looking at yourself and realising that your words have consequences online. Everyone needs to man up and be a better person behind the screen. Also, if you appreciate someone's work, you should let them know. Every positive message really help when you are going through a rough time. Set a positive example, be the better person.
10. In your considered opinion, how can we end violence against women for good?
I have no idea how can we can end violence against women. What I do know is that education is a huge part of someone's behavior in life. That being said, not only do parents need to be more aware on how to raise their child, but the government, the schools, society as a whole, needs to step up and do something about it. I do believe that together we can make a difference.