Welcome to part two of our Inspirational Interview with Anuja Gupta, founder of RAHI (Recovering and Healing From Incest) Foundation.
Anuja is an Educator, Trainer and Therapist in the area of incest/child sexual abuse. She designs and conducts training with mental health professionals, students, parents, teachers, counsellors and social workers. She lectures and presents extensively on the subject at universities, schools, conferences, NGOs and other forums in the country and abroad. She conducts individual and group therapy with adult survivors and their families. In this part of her interview, she goes on to talk about what one can do as an individual to address incest or child sexual abuse.
All pictures are courtesy of RAHI Foundation.
You can read the first part of her interview here.
________________________________________________________________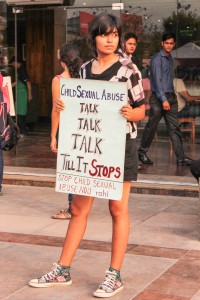 6. What advice would you give to family members, friends, and communities who suspect that their sister/friend/community member might be suffering from incest or child sexual abuse and who wish to take action about it?
If you suspect someone you know has been sexually abused, then find a way to facilitate disclosure. It is important to believe the victim/survivor and let her/him know that you are with them. Supportive family members and allies need to come together and devise a plan of action. Let the victim/survivor know about your plans. In our experience it is often enough for victim/survivor that the abuser is confronted by an elder in the family and asked to acknowledge and apologise for the abuse. If the abuse is still going on, the first step is to find a way to stop it.
You can take recourse in the law, but have a proper understanding of its process and implications.
We need to acknowledge that incest/CSA affects everybody. Allies of victims/survivors should seek support. A survivor/victim's disclosure of incest/CSA can be distressing and those taking action should not feel like they are alone.
7. What do you think men and boys can do to help end violence against women?
Men and boys are often positioned as protectors in the context of violence against women. A definite action they can take is to speak out against and have zero-tolerance towards VAW. In a society where they have certain privileges, this can go a long way.
However, when it comes to incest/CSA, boys are also victims. Ours is a society doesn't allow boys to cry, or men to admit vulnerabilities, and subsequently their voices are silenced. While men and boys do need to raise their voice and speak out against violence against women, they also need to find their own voice and challenge the norms that are hurting them.
Finally, for men and boys to truly bring about a change, they need to overhaul their own mindsets around women and feminism. Some women's organizations hold excellent gender and sexuality workshops. These enable men to start talking and examining their own biases and prejudices.
8. Tell us about the RAHI Foundation's plans for the future. What campaigns, programs, or projects do you have coming up in the next 5 years?
Our focus is definitely going to be on building adult women survivors as ambassadors for this cause. We will be doing this by expanding the range and reach of our support services, through movies, media campaigns, literature, research, as well as our new programme called The Firebird. The Firebird is the female counterpart of The Phoenix, the bird that rises from the ashes. This programme is divided into different phases and will help survivors identify their strengths and take social action accordingly. We hope to organise women survivors into a strong, cohesive and visible group who will work with other groups in advocacy and healing as well as at the policy level to bring about social change. Our effort is to strengthen our other projects in rural communities, schools and college in Delhi and Kolkata.
9. How can The Pixel Project's supporters, fans, and followers support the RAHI Foundation's efforts to stop violence against women?
There are three easy ways the Pixel project's supporters can support RAHI's work.
You can support us online – we will be coming up with a series of campaigns on our Facebook and Twitter pages over the next few weeks, including expert conversations on Twitter, and a Facebook campaign on the little known nuances of incest/CSA.
You can volunteer with us – we always appreciate the work our volunteers put in supporting us through writing, graphic design, campaigning and networking.
You can donate to support our healing services. To know more about how you can donate, send an email to info@rahifoundation.org.
10. In your considered opinion, how can we end violence against women for good?
We all wish we had a silver bullet that would allow us to end Violence Against Women (VAW) for good. Great strides have been made by women's movements in India. While VAW is still prevalent here and the world over, for me, the increased discourse around VAW, the protests and petitions, the amendments and additions to the law (as in the case of Protection of Women from Domestic Violence Act – PWDVA – in 2005 and POCSO in 2012) and seeing the issues of VAW and incest/CSA being vocalized more and more, are achievements of the women's movement. Everyone has to make violence against women and children their issue and I think the strongest action we can take is to not lose momentum regardless of our social or political contexts. No matter how far away it may seem, always keep an eye on the goal of a world free of violence.