Welcome to this month's Inspirational Interview with Anuja Gupta, founder of RAHI (Recovering and Healing From Incest) Foundation.
Anuja Gupta is one of India's leading experts on the issue of incest/child sexual abuse. In 1996, at a time when no one in the country was talking about this taboo subject, Anuja started the pioneering non-profit RAHI Foundation, India's first incest/child sexual abuse response organisation. RAHI's work has laid the foundation for this issue to come to light and continues to shape the way it is addressed in the country.
All pictures are courtesy of RAHI Foundation
You can read the second part of the interview on February 27, 2017.
______________________________________________________________________________________________________________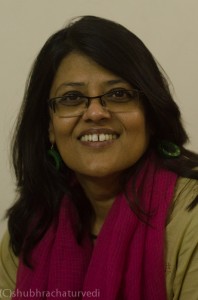 1. How and why did you join the movement to end violence against women?
My younger brother Siddhartha was one of the pioneers of the gay movement in India. He passed away some 20 or 25 years ago. I was teaching French at the Alliance Francaise here and, though I enjoyed my job, I felt a bit rudderless. I could not articulate it at the time, but I was looking for something more meaningful. Thanks to my brother's involvement with various movements in the country, I met some women from India's feminist groups. The intrinsic ideology of the movement appealed to me and I found myself drawn to it. It was only later that I realised this was where I was meant to be.
2. RAHI Foundation is India's first nonprofit focused on address incest and child sexual abuse. How did you start the RAHI Foundation and why did you choose to focus on female survivors of incest and child sexual abuse?
Setting up RAHI was not a linear process. It had origins in my own struggles as I owned up to those parts of me that had been affected by my own sexually abusive experiences and their impact on different areas of my life. At that time I also met my partner who was an addictions counsellor and was coming across women who had been sexually abused in his own practice. I joined a women's sexuality group in which most of the women shared stories of childhood incest. I remember having an 'aha' moment when I decided this is what I wanted to do. It laid the base for a creative space for women survivors of incest/CSA. In hindsight mine was also a search to reclaim my power and find meaning in my abuse.
RAHI Foundation is a space for survivors who are looking to heal and recover. Having done that for myself, I wanted to facilitate this process for others.
3. "RAHI's work includes support and recovery through the distinctive RAHI Model of Healing; awareness and education about Incest/ CSA; training and intervention; and research and capacity building – all established within the larger issue of social change." Can you tell us more about RAHI Foundation's approach and how it works?
Twenty years ago, when we drew out the road map for our work with adult women survivors, we understood we needed to come up with innovations to mainstream incest/CSA. Communication, therefore, became a very important part of our approach so we devised our strategy accordingly. The result was our play, Thirty Days in September, and our book, The House I Grew Up In. We have continued this through various public campaigns and a constant visibility in the media.We back these up with our education and healing services.
Our work is located in childhood trauma, feminism and activism. A few years ago we formalised our model of healing that combines individual therapy, group work and social action, where survivors are trained to become ambassadors for the cause.
4. Over the years, what sort of impact has RAHI Foundation had on the women and girls that you've helped and also on India's approach and attitudes towards the issue of incest and child sexual abuse?
The only data I have is what we experience at RAHI which is more survivors and their allies seeking help. Those who go through the recovery process with us have made significant changes in areas of their lives affected by the abuse. Survivors also want to take social action, and be involved in our work.
Today we have survivors giving interviews to the media, sharing personal testimonies, co-facilitating our training programmes and also participating in our therapeutic interventions and mentoring other survivors. I believe that our work has paved the way for others to pick up on the issue and allow incest/CSA to become a field of its own.
RAHI also receives extensive media coverage, and though we cannot take full credit for all that is happening, I would like to believe that we have laid the ground for this issue to be talked about.
5. What are some of the particular challenges India faces when tackling incest and child sexual abuse and how have these developed or changed over the past few decades?
The challenges we face are all interconnected with women's empowerment, the legal system, and social norms. It is difficult to get information about incest/CSA across the urban/rural divide. Incest/CSA is an epidemic in India and needs to be tackled as a public health issue. The implementation of the law needs to be strengthened, and services made available for victims and survivors. We need public campaigns, research, and prevention programmes. Incest/CSA is everyone's business and communities and the government need to come together and put in their resources.
There have been heartening changes. These include changes in the law (The Protection of Children from Sexual Offences Act – POCSO – was passed in 2012), incest/CSA appearing as a theme in films, increased demand for our workshops and services, survivors speaking out, as well as rallies, protests etc. Sexual abuse is no longer taboo and a new generation of brave young women is taking this work forward.