Welcome to The Pixel Project's "30 For 30″ Father's Day Campaign 2016! In honour of Father's Day, we created this campaign:
To acknowledge the vital role dads play in families, cultures and communities worldwide.
To showcase men from different walks of life who are fabulous positive non-violent and non-sexist male role models.
To provide dads worldwide a positive platform to share ideas about stopping sexism, misogyny, and violence against women and girls.
This is our 5th annual 30 For 30 campaign and through it we will be publishing a short interview with a different Dad on each day of the month of June.
Our twenty-fifth "30 For 30″ 2016 Dad is Albert Plaza Nualart from Spain.
Editor's Note:
This interview was originally in Spanish and part of "30 Padres para 30 Días" – a blogging initiative for all Spanish-speaking fathers that was inspired by the 30 For 30 campaign. "30 Padres para 30 Días" is a joint project by Papás blogueros (Dad Bloggers) and Madresfera (Mumsphere) – two Spanish language parenting blogger communities.
This interview was translated by Nilsa Limaris Correa-Padilla with additional support from Maria del Rio Sanin.
__________________________________________________________________________________________
The Dad Bio
I'm a father of two and I don't work a lot so I can spend more hours with my children. I'm a Youth Counselor, and I like anything eccentric. I love reading and drawing (it's hard to find a space to do it) and I try to transmit all those hobbies to my children. I practice parenting with respect, at least as much as I can. Fatherhood is the best thing in my life and I talk about it with pride.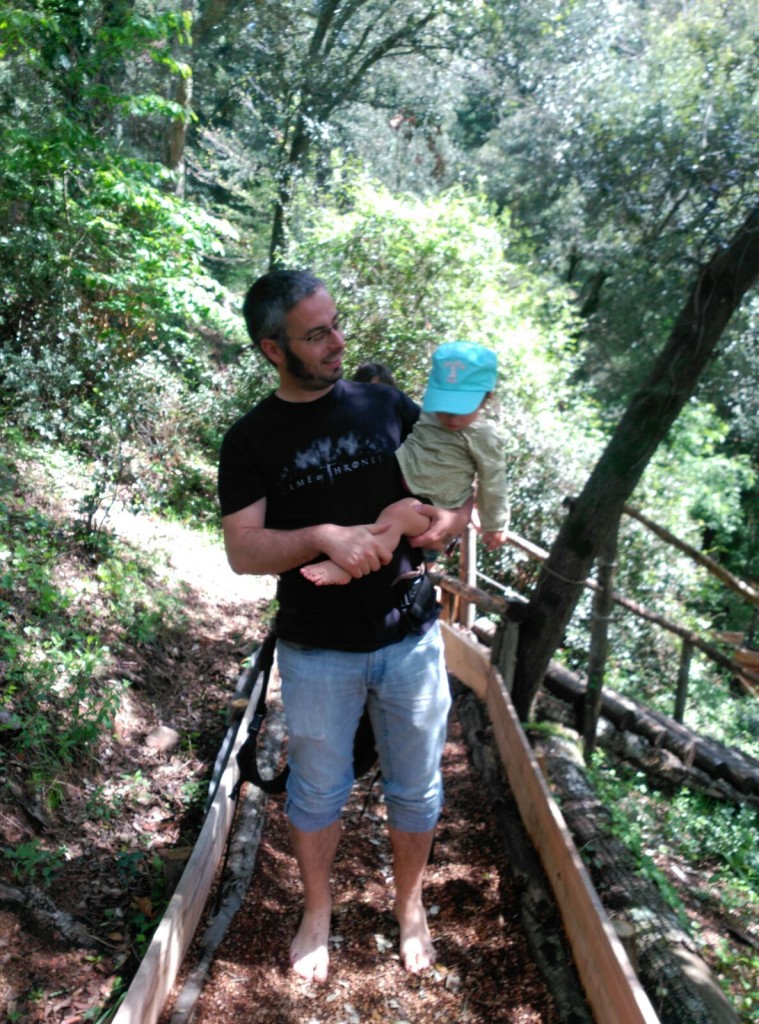 1. What is the best thing about being a dad?
The best thing about being a father, as I see it, is to be able to help my kids' imagination fly with no limits – to see the wonder in their faces every time they discover something new, to see their infinite curiosity, and to see that they learn every day and that they feel proud of their achievements, as little as they are.
To watch kids grow is the best experience we can have!
2. A dad is usually the first male role model in a person's life and fathers do have a significant impact on their sons' attitude towards women and girls. How has your father influenced the way you see and treat women and girls?
In my house, my father was the typical paternal figure who provided the resources, worked long hours, an gave up the day-by-day family responsibilities to my mother. Although he could be at home for only a few hours, he always took time to be with my brothers and me.
I don't think he was a bad example because he always treated all women in his life with respect, but it helped me to try another type of relationship, especially when it comes to the family responsibilities and try to change that vision of the "male provider" and the "stay-at-home woman".
3. Communities and activists worldwide are starting to recognise that violence against women is not a "women's issue" but a human rights issue and that men play a role in stopping the violence. How do you think fathers and other male role models can help get young men and boys to take an interest in and step up to help prevent and stop violence against women?
I think the best way to transmit positive values is to make my children see that a relationship should not create dependency: to break the myth of the "other half". I think dependency relations make people see ourselves as inferiors and take us to a road of bad relationships, where one of them feels superior to the other.
My son and my daughter should know that they don't need a submissive partner to be happy, that way they will respect themselves and consequently will respect their partner, whatever gender they are. And the best way to transmit all those values is to see it every day in their parents' relationship.