Welcome to The Pixel Project's "30 For 30″ Father's Day Campaign 2016! In honour of Father's Day, we created this campaign:
To acknowledge the vital role dads play in families, cultures and communities worldwide.
To showcase men from different walks of life who are fabulous positive non-violent and non-sexist male role models.
To provide dads worldwide a positive platform to share ideas about stopping sexism, misogyny, and violence against women and girls.
This is our 5th annual 30 For 30 campaign and through it we will be publishing a short interview with a different Dad on each day of the month of June.
Our twenty-fourth "30 For 30″ 2016 Dad is Antonio Cabrera Majada from Spain.
Editor's Note:
This interview was originally in Spanish and part of "30 Padres para 30 Días" – a blogging initiative for all Spanish-speaking fathers that was inspired by the 30 For 30 campaign. "30 Padres para 30 Días" is a joint project by Papás blogueros (Dad Bloggers) and Madresfera (Mumsphere) – two Spanish language parenting blogger communities.
This interview was translated by Nilsa Limaris Correa-Padilla with additional support from Maria del Rio Sanin.
__________________________________________________________________________________________
The Dad Bio
I'm 41 years old. For the last 25 years, I have shared dreams and experiences with Elvira, with whom I have 3 kids (Pablo, Marta and David). I'm a family doctor. I love my job, especially the daily contact with my patients and my co-workers. I work part-time to be able to take care of my children. I have also worked a few years as a volunteer in Panama and Mozambique.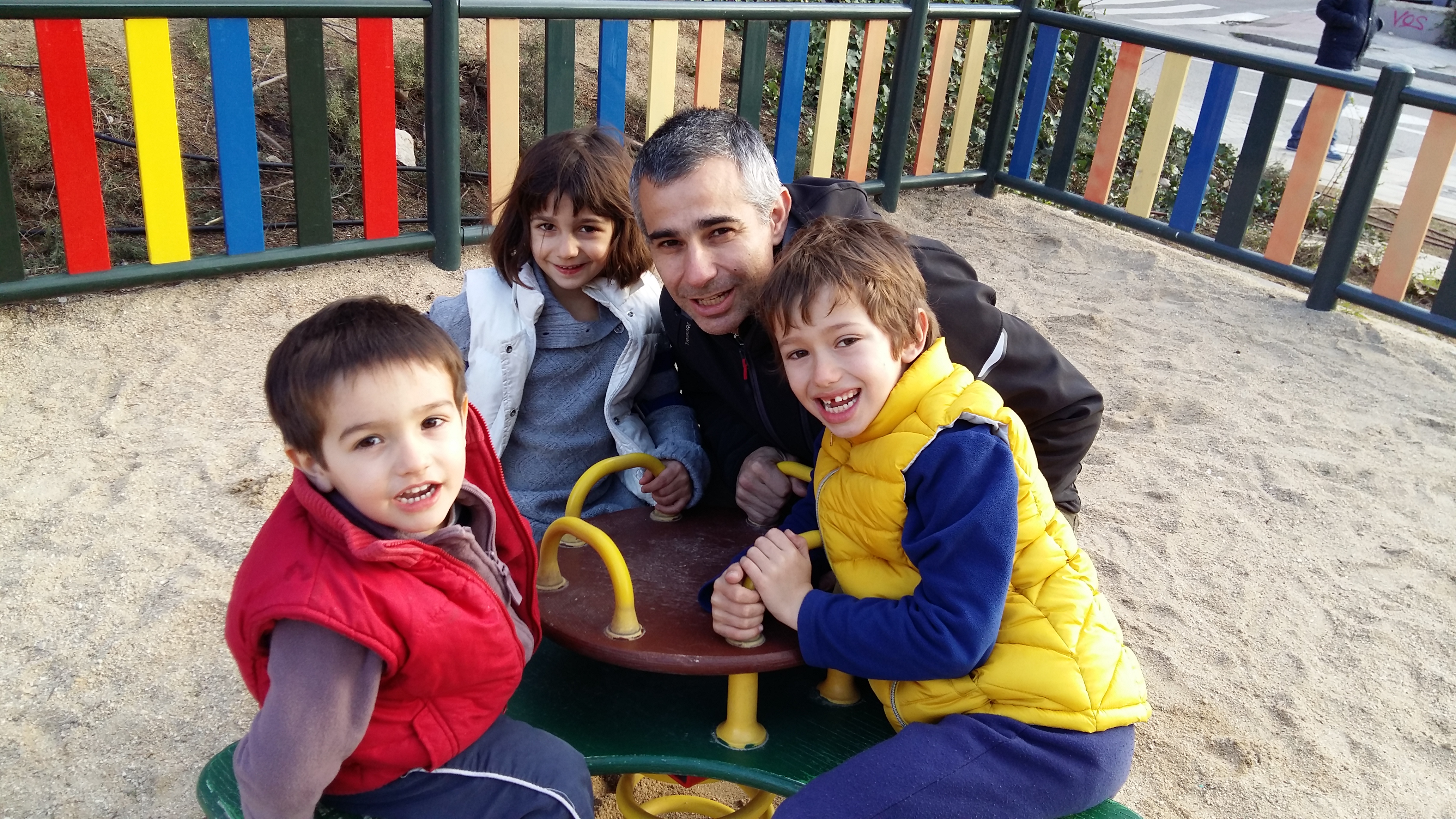 1. What is the best thing about being a dad?
To watch Marta smile as she enters her school, after 3 months of going in tears.
To hear David ask his mother, Elvira, why his Dad is not putting him to bed every day.
To see Pablo happy because we finished a 350 piece puzzle about history.
That at night my children call their Dad when they are sick or something happens.
That Marta asks why I am crying.
Feeling how strong Pablo holds my hand when we are snorkeling.
Missing it when I don't put them to bed.
To know that Pablo loves Vetusta Morla's songs (a popular Spanish band)
That at 18:15 (6:15pm) everyday, they swoop on my legs shouting, each time louder, to tell me something that has happened that day.
To know the names of their friends, the names of their friends' parents, and the names of their teachers.
To see them enjoy me explaining to them how to play a game.
To feel David's hugs and kisses every day.
To see Marta dancing with her friends.
When Pablo shows me the 20 pages he has read that day.
To see them laughing while they swim alone in the pool.
To feel that they take a lot of energy but they give it back.
2. A dad is usually the first male role model in a person's life and fathers do have a significant impact on their sons' attitude towards women and girls. How has your father influenced the way you see and treat women and girls?
The love and respect my father has and shows for my mother has always been a reference for my own actions. He has always treated his children without gendered distinctions and he has done home chores. That has resulted in us growing up with identical responsibilities and with a feeling of commitment in the home.
3. Communities and activists worldwide are starting to recognise that violence against women is not a "women's issue" but a human rights issue and that men play a role in stopping the violence. How do you think fathers and other male role models can help get young men and boys to take an interest in and step up to help prevent and stop violence against women?
To show with actions and with words that respect is a requisite for coexistence. To make them see any hint of violence towards girls and women as bad in order to fight the excuse or justification for this violence that has being extended through our society.