Welcome to The Pixel Project's "30 For 30″ Father's Day Campaign 2016! In honour of Father's Day, we created this campaign:
To acknowledge the vital role dads play in families, cultures and communities worldwide.
To showcase men from different walks of life who are fabulous positive non-violent and non-sexist male role models.
To provide dads worldwide a positive platform to share ideas about stopping sexism, misogyny, and violence against women and girls.
This is our 5th annual 30 For 30 campaign and through it we will be publishing a short interview with a different Dad on each day of the month of June.
Our eighteenth "30 For 30″ 2016 Dad is Ron Cooper from USA.
__________________________________________________________________________________________
The Dad Bio
Ron Cooper, a native of South Carolina and now a resident of Florida, is the proud father of sons Stetson (22) and Levi (18), and daughter Grace (16). He is the fortunate husband of 31 years to Sandra Johnson Cooper. Ron is Professor of Philosophy at the College of Central Florida and is the author of three novels (the latest of which is The Gospel of the Twin, Bancroft Press) as well as poems, short stories, and essays in a number of journals. He enjoys performing bluegrass, despite the embarrassment it causes his children.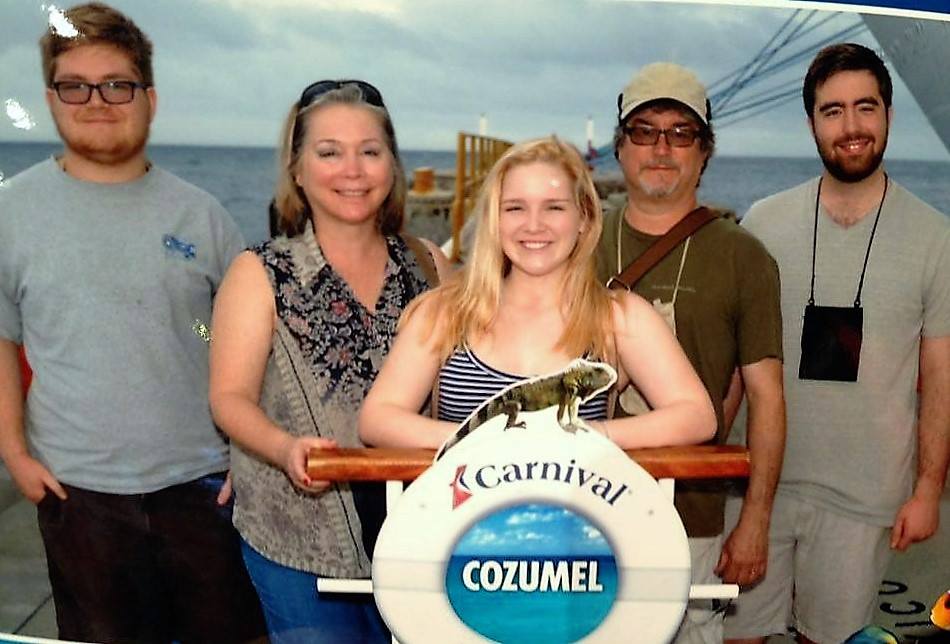 1. What is the best thing about being a dad?
Parenting not only provides delight in the endless, nearly daily surprises presented by growing, inquisitive children, but also produces abundant opportunity for self-discovery. Any thoughtful parent soon becomes accustomed to second-guessing decisions and guidance offered to children – after all, the nearly total control wielded by the parent upon a helpless child can at times feel overwhelming.
The unavoidable, accompanying introspection becomes essential to the parent's maturity. Had I never become a father, I imagine myself living a lifetime of ego-centric arrested development, overconfident in my behaviour, and less caring in how that behaviour affects others.
2. A dad is usually the first male role model in a person's life and fathers do have a significant impact on their sons' attitude towards women and girls. How has your father influenced the way you see and treat women and girls?
Unfortunately, my father exhibited exactly the attitudes that I had to overcome as I matured. Like so many men of his generation, he witnessed the hard work done daily by his mother, his aunts, and women, sweating in the fields alongside the men and then returning home in the evening only to continue the work of cooking, cleaning, and raising children. While this experience should have instilled in him a special respect for the abilities of women and a desire to see them recognised yet – again, like so many men of his generation – his notion that women are inferior to men in every way never swayed.
I am lucky to have been born in a more enlightened time when women insisted that their voices be heard, their self-direction empowered, and their wages equal. I have done my best to see that my sons have a different vision of women than their grandfather's and that my daughter's aspirations are never limited by unfair notions of gender.
3. Communities and activists worldwide are starting to recognise that violence against women is not a "women's issue" but a human rights issue and that men play a role in stopping the violence. How do you think fathers and other male role models can help get young men and boys to take an interest in and step up to help prevent and stop violence against women?
The effort to end violence against women is, of course, part of what should be a larger effort to make children sensitive to and to oppose violence of all types. We have to keep in mind though, that violence against women can take subtle forms and is far too often not treated with the same seriousness as more visible, graphic violence. For example, women are much more likely than men to be subjected to verbal abuse, which is violence in itself and which often leads to physical abuse.
Fathers can impress upon their sons that partners in a relationship are equal in every way—equally contributing to the relationship's goals, equal in the partners' preferences, equal in the partners' career goals, etc. Fathers can also help their sons avoid committing violence against women by instilling in boys that disagreement, tension, and even anger can arise in any relationship. They can practice scenarios with their sons in which conflict arises, and the son is taught to say to himself, "My view is one side of this issue. My partner's view is equally important. I WANT to understand her."
Fathers can remind their sons that men are more aggressive than women, and that they thereby have a duty to be mindful of that tendency. If tension escalates, men should recognise that moment and say: "We need a break. I need to take a walk (or sit quietly or listen to music) for a while, and then we can try to work through this again." If they find themselves regularly getting angry with their partner, then they should seek counselling to get strategies for dealing with that without being violent towards their partner in any way.