Welcome to The Pixel Project's "30 For 30″ Father's Day Campaign 2016! In honour of Father's Day, we created this campaign:
To acknowledge the vital role dads play in families, cultures and communities worldwide.
To showcase men from different walks of life who are fabulous positive non-violent and non-sexist male role models.
To provide dads worldwide a positive platform to share ideas about stopping sexism, misogyny, and violence against women and girls.
This is our 5th annual 30 For 30 campaign and through it we will be publishing a short interview with a different Dad on each day of the month of June.
Our seventeenth "30 For 30″ 2016 Dad is Patrick O'Keefe from the USA.
__________________________________________________________________________________
The Dad Bio
My name is Patrick O'Keefe and who I am is not my career, or my professional accomplishments. Those details are simply unimportant – they are a ways to a means. Who I am is a dad to a wonderful new-born son and husband to the most amazing person that I know. I spend most of my time these days watching my son grow and spending time day dreaming about and planning the amazing future my wife and I have set ourselves up for. It's a humble future but one that involves our hobbies, including but not limited to travel, hiking, exploring new cuisine, understanding new cultures, contributing to society with our non- patriarchal, feminist, and overall accepting beliefs on how we live amongst one human family worldwide.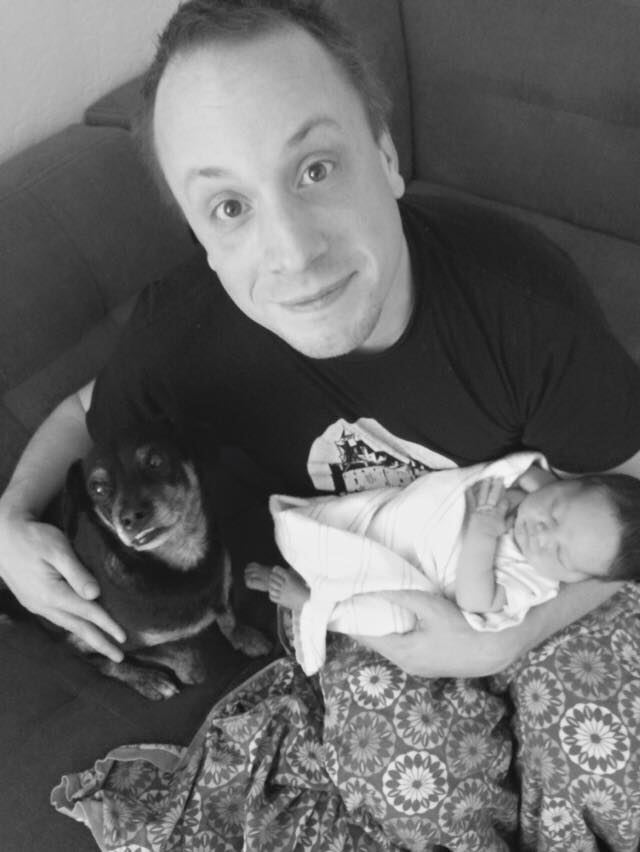 1. What is the best thing about being a dad?
Our son has these moments when he looks at something new: he stops, takes it in, and almost always smiles each time. Whether he understands what it is, that's up in the air but he always accepts it and seemingly celebrates his new experience. I love that about him and I love the fact that we get to show him the world and help him on HIS journey – it's just so awesome!
2. A dad is usually the first male role model in a person's life and fathers do have a significant impact on their sons' attitude towards women and girls. How has your father influenced the way you see and treat women and girls?
My dad ran away before I was born. I learned about this when I was 13 years old. My mom was also not the best example of how to think outside the normal patriarchal ways. So maybe I'm some sort of miracle. I just never thought about it really…I mean men and women are made equal so why shouldn't they be treated as equals? I guess that was my logic.
3. Communities and activists worldwide are starting to recognise that violence against women is not a "women's issue" but a human rights issue and that men play a role in stopping the violence. How do you think fathers and other male role models can help get young men and boys to take an interest in and step up to help prevent and stop violence against women?
I hate to sound too simplistic but the first thing fathers need to do is become non-violent towards all people and not just women. If I go deeper with my answer I would say that it's how we educate our children and how we treat our spouses. As an example, I want my son to see how impeccably I treat my wife and how well she treats me. I will hug and show affection towards my wife in front of my son. I want him to feel more comfortable with his affectionate side and always question any anger he may feel. I think too many people are raised the opposite way. They see so much anger and abuse in the household or on TV that they are comfortable with the emotions that contribute to that environment. How many children become troubled in this environment in comparison to children who are loved, see love, and are treated with respect?