Welcome to The Pixel Project's "30 For 30″ Father's Day Campaign 2016! In honour of Father's Day, we created this campaign:
To acknowledge the vital role dads play in families, cultures and communities worldwide.
To showcase men from different walks of life who are fabulous positive non-violent and non-sexist male role models.
To provide dads worldwide a positive platform to share ideas about stopping sexism, misogyny, and violence against women and girls.
This is our 5th annual 30 For 30 campaign and through it we will be publishing a short interview with a different Dad on each day of the month of June.
Our fourteenth "30 For 30″ 2016 Dad is Barry Caldwell from the USA.
__________________________________________________________________________________________
The Dad Bio
Barry Caldwell has over three decades experience in the music, film, and television industries. A former Polygram recording artist, he has directed two music videos, a cancer documentary, a commercial that aired in five countries, and the award-winning suspense thriller, Reflections. He has worked with filmmakers Quentin Tarantino, Jon Avnet, Rodrigo Garcia, Eli Roth, Vicky Jenson, Allison Anders, and Miguel Arteta on over 50 feature films, including Ride Along 2, Sinister 2 and Cabin Fever. His television credits include Key & Peele, Grey's Anatomy, CSI, Ugly Betty, Alias and 30 Rock. He is currently in development on his first screenplay.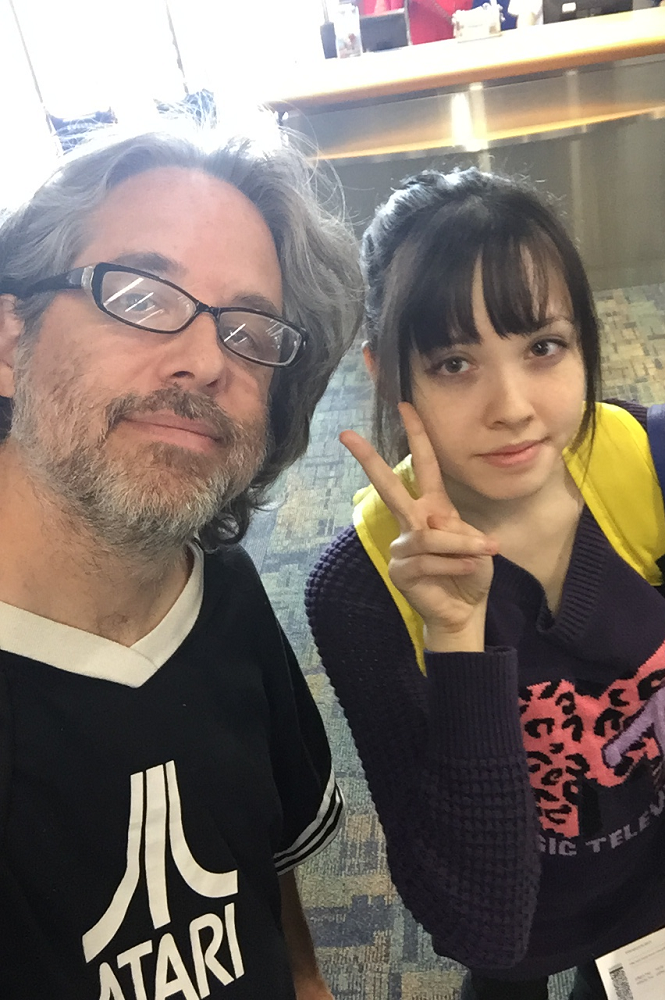 1. What is the best thing about being a dad?
The best thing about fatherhood is hearing your child laugh. The first time I heard my daughter giggle when she was still tiny, my heart exploded. To this day, making her laugh is still my favourite thing in the world.
Watching her grow into an adult and pursue her dreams is the most satisfying feeling. My parents worked hard to give me opportunities they never had; I'm thankful I am able to do the same for my daughter.
2. A dad is usually the first male role model in a person's life and fathers do have a significant impact on their sons' attitude towards women and girls. How has your father influenced the way you see and treat women and girls?
My real father was ahead of his time. In 1967 he encouraged my high-school dropout mother to return to school. He stressed the importance of education, telling her that a woman shouldn't set herself up where she needed to rely on a man for survival.
My mother not only earned her GED, years later she went on to college and received an Associate's Degree in Real Estate. She is now a very successful real estate broker and property manager, owns several investment properties and has built a net worth of over a $1 million.
My stepfather was a simple man who had no patience for men who were cocky. He taught me the more noble side of old-fashioned thinking – that men were required to protect women, that if a man saw a woman being attacked and did nothing to help, he wasn't much of a man.
3. Communities and activists worldwide are starting to recognise that violence against women is not a "women's issue" but a human rights issue and that men play a role in stopping the violence. How do you think fathers and other male role models can help get young men and boys to take an interest in and step up to help prevent and stop violence against women?
Boys need to be taught that girls aren't "yucky" – that's a clichéd and tired trope entertainment uses that went out of style decades ago. They need to see girls playing sports, serving in the military, running for public office, running corporations, being in charge. Exposure to these role models will set a benchmark for when they mature.
While we have made progress in removing patriarchal attitudes about women being the "weaker sex," boys also need to be taught if they witness rape, abuse, or even a man giving unwanted attention, they need to be taught to stand up and not ignore it, and certainly don't just watch and record it on their cellphone.
And while I don't condemn porn per se, young boys today have way too easy access to porn and are watching it way too young before they're taught the context of what they're watching and are learning the wrong signals, sexual etiquette, objectification, etc. This affects how they view women sexually and hardwires them in a way that is very difficult to unlearn. To address this, parents need to be aware of porn in their homes and shed any shyness or discomfort they feel discussing sexuality.