This month's Inspirational Interview is with Fraidy Reiss, founder of Unchained At Last
Fraidy Reiss was 19 when her family arranged her marriage to a violent man. With no education or job, in a religion where only men can grant a divorce, she felt trapped. Still trapped at 27, Fraidy became the first in her family to attend college; she graduated at 32 as valedictorian. Her family shunned her, but Fraidy became an investigative journalist, then a private investigator. She got divorced and won custody of her two daughters. Fraidy knows that most women and girls cannot escape arranged/forced marriages without help. For them, Fraidy founded and now leads Unchained At Last.
The second part of her interview will published on February 1, 2016
All pictures courtesy of Fraidy Reiss and Unchained At Last.
_________________________________________________________________________________________________________________________________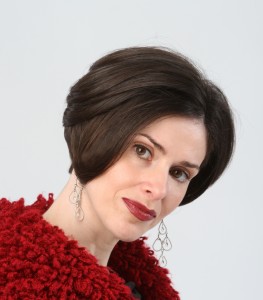 1. What galvanised you to start Unchained At Last, a nonprofit dedicated to helping women in the U.S. escape forced marriages?
I founded Unchained At Last out of my own traumatic experience fleeing an abusive marriage that my family had arranged for me when I was young. I was trapped in my marriage for 12 years before I managed to escape with my two daughters – only to have my family declared me dead. After my daughters and I recovered and rebuilt our lives on our own, I founded Unchained to help other women and girls escape or avoid coercive marriages.
2. How does Unchained At Last help women who are avoiding and/or fleeing forced marriages?
Unchained provides crucial, often life-saving services to women and girls who are fleeing or resisting forced marriages, including coordination of international rescues for those taken overseas for a forced marriage, safety planning, legal representation (for divorce, immigration, domestic violence and other proceedings), psychotherapy, help transitioning from a shelter to a new home, and many other services.
At the same time, Unchained raises awareness about forced marriage in the US, with regular presentations for the public and media interviews, and with educational programmes developed for key groups, such as judges, lawyers, law-enforcement personnel and domestic-violence service providers. Additionally, Unchained advocates for legislative and policy changes to prevent forced marriage.
3. Unchained At Last helps women from different religions and communities avoid or leave forced marriages. Do these factors (religion and culture) affect how you and your approach to each case? If so, how do you tailor your approach?
Rarely are two forced-marriage situations exactly alike, even within the same community, so Unchained tailors its approach to each client based on her unique circumstances.
Unchained clients generally fall within two categories: those who are facing an impending forced marriage and need help avoiding it, and those who are already were forced, tricked, pressured or otherwise coerced into marriage and need help escaping it. In both circumstances, Unchained provides the support each woman or girl needs to help her get out of her traumatic situation and to rebuild her life.
4. Even though many Americans are generally aware of forms of violence against women such as domestic violence and rape, the issue of forced marriage has only recently started gaining attention in the U.S. and many people are surprised that it even exists in the country. How did it stay hidden for so long and why do you think it's starting to become exposed now?
I'm not sure why forced marriage has only recently started gaining attention in the United States. As with other unpleasant issues such as domestic violence, sexual violence and human trafficking, I suppose people like to think it does not happen in their country. When survivors start publicly telling their stories, as I and others have done recently, and people can no longer ignore the truth.
I plan to keep telling my story and keep "shouting from the rooftops." I hope other survivors will continue to do the same, until people no longer assume forced marriage does not happen in the United States.
5. How can members of the wider community (e.g. teachers, coaches, doctors etc) do to recognise signs of forced marriage and what can they do to help victims?
Recognising forced marriage is about staying alert. Pay attention, for example, if a young student suddenly withdraws from school.
Recognising forced marriage is about being informed. Do not assume it happens only to people of a certain age (it can happen at any age), a certain community (it happens in many different cultures and religions) or a certain socioeconomic level (it happens at every level).
Recognising forced marriage is about listening. Understand that girls and women whose families are forcing them into marriage might still love their families and not want to get their families into trouble. They might downplay threats or violence, and they might use the term "arranged marriage" instead of the more alarming-sounding "forced marriage."