Welcome to The Pixel Project's "30 For 30″ Father's Day Campaign 2015! In honour of Father's Day, we created this campaign:
To acknowledge the vital role Dads play in families, cultures and communities worldwide.
To showcase good men from different walks of life who are fabulous positive non-violent male role models.
Through this campaign, we will be publishing a short interview with a different Dad on each day of the month of June.
This campaign is also part of a programme of initiatives held throughout 2015 in support of the Celebrity Male Role Model Pixel Reveal campaign that is in benefit of the National Coalition Against Domestic Violence and The Pixel Project. Donate at just US$1 per pixel to reveal the mystery Celebrity Male Role Models and help raise US$1 million for the cause while raising awareness about the important role men and boys play in ending violence against women in their communities worldwide. Donations begin at just US$10 and you can donate via the Pixel Reveal website here or the Pixel Reveal Razoo donation page here.
Our twenty-seventh "30 For 30″ 2015 Dad is Rob Dyson from the United Kingdom.
__________________________________________________________________________________________
The Dad Bio
I am Head of Communications at a disabled children's charity in the UK. I'm also a founding member, and former trustee, of CharityComms, the professional members' body for charity communicators. In 2007 I founded the Third Sector PR & Communications Network on Facebook, which is used daily by over 2,200 British and international charity communications professionals.
I've blogged for The Guardian, contributed articles to Third Sector and PR Week, and I have spoken at conferences, seminars, and tweet-ups on building relationships with journalists and how to use social media to amplify communications. I am also a 'box fresh' dad!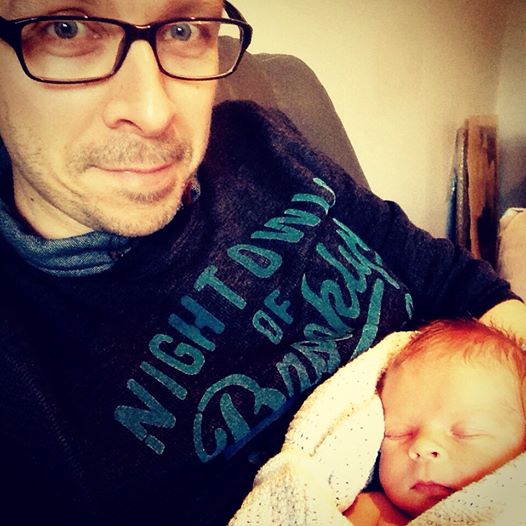 1. What is the best thing about being a dad?
It's extremely early days, as my son Ethan is a month old, but the sense of responsibility for raising a boy to be respectful, moral, and happy is already palpable.
I am looking forward to being a father in the sense of providing support and guidance and also independence.
2. A dad is usually the first male role model in a person's life and fathers do have a significant impact on their sons' attitude towards women and girls. How has your father influenced the way you see and treat women and girls?
My father, like me, has friends who are women, and likes women including co-workers, relations, and friends, so growing up I didn't distinguish between female and male role models, whether they were filmmakers, artists, songwriters, or business owners.
When I went to school, I actually leaned towards having more female friends as I found there was no 'machismo' and I could talk about what I was feeling and thinking. In early education settings, when young men are typically finding their way, though, my male friends would use team sports to bond, but I had no interest in that.
3. Communities and activists worldwide are starting to recognise that violence against women is not a "women's issue" but a human rights issue and that men play a role in stopping the violence. How do you think fathers and other male role models can help get young men and boys to take an interest in and step up to help prevent and stop violence against women?
I think it's about setting the scene early. Children have no religion, pre-judgement, nor prejudices. They learn their identity from their parents, wider family networks, and later through peers and social groups. So, like my experience with my own father, if you grow up in an environment which fosters a celebration of talent, achievement, creativity, and individuality, irrespective of gender, little boys will grow into men who respect everyone.
Yes, there are daily influences which reinforce stereotypes and negativity, but a song on the radio, a bad movie, or a video game can be distinguished from how to live your life by a good role model. Being present and a positive force in your child's life, particularly as a father to a son; promoting friendships and role models of both sexes; and having positive women in your life; can help to raise real men with the self-respect not to harm women.